Each season, different players will rise to the occasion and provide a real bump to their team's chances. This list is not a measure of talent, as much as it is a list of the most impactful players this season. Season results, combined with "what have you done for me lately" are just a couple of the factors taken into account.
1. Eden Hazard
Score the winning goal to clinch the Premier League title. Player of the Year. How can anyone not put Eden Hazard at number 1? Chelsea has dominated the Prem this season, albeit in a "boring" fashion. Hazard has checked almost every box this week, and is absolutely deserving of holding his top spot.
2. Luis Suarez
When asked about Luis Suarez's performance this week, there is one phrase that fit perfectly; "Crushed It." The striker hasn't missed a beat from his Liverpool days, linking up with Neymar and Messi to form perhaps the most dangerous front three in the game. He proved that by getting his first hat-trick at Barcelona against Cordoba. Easily deserving of the 2nd spot this week.
3. Cristiano Ronaldo
Talk about a rebound. After three games without a league goal, Ronaldo goes out and gets three in one match. He also took the La Liga scoring lead over Messi — for the time being. If Real Madrid is going to catch Barcelona in La Liga, you know Ronaldo will be one of the main reasons why it happens.
4. Thibaut Courtois
For a 22-year-old goalkeeper to be one of the best goalkeepers in the world, that is a very rare thing. David De Gea makes for an excellent rival, but Courtois holds the last laugh for this season. That is what happens when you win the league with three matches remaining. He is just beginning his career, and if this season is any indication, Courtois will be one to watch for the next couple decades.
5. Sergio Aguero
While his goal against Tottenham gave them a win at White Hart Lane, it wasn't enough to postpone Chelsea's title. He did add to his Premier League-leading goal total, continuing his great play for Man City. He continues to produce, moving him up the list this week.
6. Lionel Messi
Lionel Messi had a great week on the pitch. He scored another historic goal against Cordoba, netting his 40th of the league season. He even showed a monumental moment of maturity, giving Neymar a penalty chance when Neymar was goalless at that point. That is something that his rival Ronaldo would never do. So why is he this low on the list? He revealed what is perhaps the most ugly sleeve tattoo by wearing short sleeves during the Cordoba match. He got the tattoo in December, but had hidden it by wearing long sleeves most of the time. The sleeve is ugly, which is a shame considering Messi's elite talent on the pitch.
7. Obafemi Martins
The Seattle Sounders man is out in front for the Golden Boot in the MLS with a league-leading six goals. Two of those came in a 3-1 against NYCFC this week. Martins has done well both with and without Clint Dempsey, proving he can be a reliable goalscorer. He hasn't been quite as hyped as other MLS goalscorers, but was in the top 3 for MLS MVP last season, leading us to believe he has big things in store this season.
8. Memphis Depay
Largely considered the next big prospect, the Dutchman is leading PSV in another historic season. The club are dominating the Eredivisie, he is the leading goalscorer for the league. His stock has never been higher, with 21 goals in league competition, while notching six more in European competition. The elite clubs will be clawing for his services this summer, but for now, just sit back and watch his brilliance on the pitch.
9. Clint Dempsey
Like his teammate Martins, Dempsey has been on a roll to start the MLS season. Dempsey has played in six matches so far, notching either an assist or a goal in each one. Injuries have limited him, but he seems to be bouncing back quite nicely. Hopefully he can stay healthy for the MLS season, including this summer's Gold Cup. He captained the US at the World Cup, so it would be a huge boost for his presence on the national team. His form is excellent right now, with no signs of slowing down.
10. Matt Besler/Mustard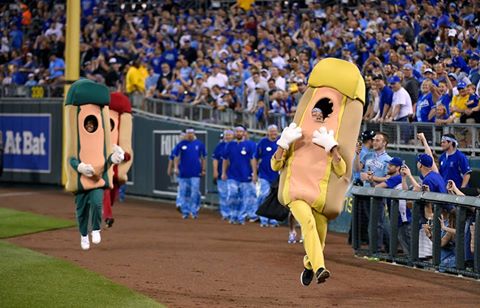 Talk about a rebound. The start of the season was rough for Besler, including his club and national team squads. Sporting KC are beginning to turn it around, as is Besler. On a more serious note, he geared up as Mustard at the KC Royals game for the traditional race of condiments. Besler/Mustard dominated teammates/fellow condiments Dom Dwyer/Relish, and Graham Zusi/Ketchup. He even threw in a little Deion Sanders highstepping his way to victory at Kauffman Stadium. Who knew the secret to getting Matt Besler to dominate opponents was to dress him in a mustard hot dog suit? (Take note, Klinsmann)