This is the summer of international tournaments. With Copa América already well underway, now we anxiously await the kickoff of the European Championships on Friday. Some have argued that this tournament displays more talent than the World Cup, and now I have to pick out the players to watch from each group.
Group A: Albania, France, Romania, Switzerland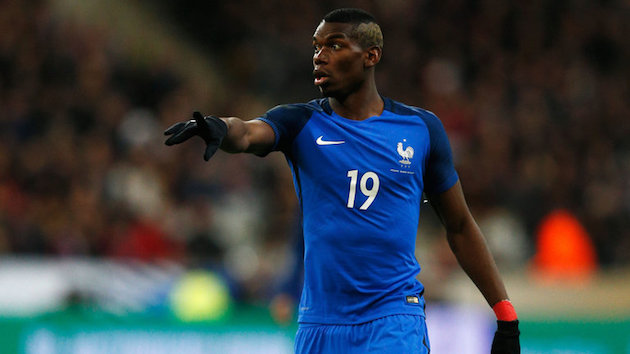 Paul Pogba (France) – There are few more exciting young players than Paul Pogba. The Juventus midfielder is just 23 years old and has already won four Serie A titles, two Italian Cups, two Italian Super Cups and even played in a Champions League final. As much as it pains me to see him perform so well after his early departure from Manchester United, it's awesome to see a possible legend growing every single year.
With France considered one of the big favorites as the host nation, the pressure will be on Pogba and the rest of the team to dominate the field. Memories of Brazil's humiliating 7-1 loss to Germany in the World Cup will surely haunt some of the fans' memories, but I think that they have a more cohesive unit than the Brazilians. Pogba will be the key to the French push for the Euro crown, and it could be his first chance to cement himself as a national hero.
Breel Embolo (Switzerland) – For the second player, I'm picking another young gun: Breel Embolo. The 19-year-old striker is considered one of the best young prospects in Europe, at the moment, and it seems like a move away from the Swiss Super League is imminent. Last year, Embolo appeared 27 times between domestic and European competition and scored 10 times, a career high.
The Euros could provide the young talent with a chance to announce himself on the international stage, and could see his value on the transfer market skyrocket. With veterans like Xherdan Shaqiri, and Granit Xhaka surrounding him on the pitch, Embolo shouldn't have the burden of goal scoring solely on his shoulders. Will the big stage cause him to shrink or shine?
Group B: England, Russia, Slovakia, Wales
Jamie Vardy (England) – Jamie Vardy is having a party. Is that party going to continue in Europe? If you haven't heard of the Leicester City's striker's amazing season this year, I think you must've been under a rock for the last 10 months. After barely surviving in the Premier League two season ago, Vardy led the Foxes to the league title with an unbelievable 24-goal season that earned him a hefty new contract and the love of football fans around the globe.
His goal scoring exploits didn't stop there, however, as he's found the back of the net three times in his last four matches for the Three Lions. Turkey, Holland and Germany were all witnesses to the Vardy Party. With a rumored move to Arsenal swirling around the media, it will be interesting to see if Vardy can stay focused and lead England to silverware.
Gareth Bale (Wales) – For the first time since 1958, Wales will be taking part in a major international tournament. While this daunting tournament drought may make the Welsh team out to be worse for wear, Chris Coleman's squad actually have some proven veterans in their ranks: Aaron Ramsey (Arsenal), Ashley Williams (Swansea City), but the main man has to be the world's most expensive player, Gareth Bale.
The 26-year-old makes up part of the most lethal attacking trio in the world alongside Cristiano Ronaldo and Karim Benzema at Real Madrid. This past season, Bale scored a grand total of 20 goals through all competitions and helped lead Los Blancos to their 11th Champions League title. His unique blend of pace, skill and strength makes him a constant danger on the wings and his finishing ability is second to none on his day. If Wales are going to advance from the group, Bale will need to come up big on the world stage.
Group C: Germany, Northern Ireland, Poland, Ukraine
Mesut Özil (Germany) – Originally, this spot was reserved for Borussia Dortmund's Marco Reus. But the pacy winger just couldn't catch a break as yet another injury ruled him out of an international tournament. With no shortage of talent on the German roster, it was difficult to single out one player that could be their X-factor. I decided to stick with the Premier League route and go with Mesut Özil.
Arsenal's most creative man on the pitch, Özil should perform even better for the national team. Compared to Arsenal's attack, no offense to Olivier Giroud and Danny Welbeck, Germany's lineup is on another level. Thomas Müller, Toni Kroos and even Mario Gomez should provide the bug-eyed magician with more than enough support to shine in the heart of midfield. His passing ability can spark an attack at any time, and with those players around him there shouldn't be any shortage of scoring chances.
Robert Lewandowski (Poland) – Few strikers in the world could argue that they had a better season than Bayern Munich's Robert Lewandowski. In his second year at the Allianz Arena, the former BvB striker found the back of the net 44 times through all competitions. Through 32 league appearances, he scored 30 goals and provided another two assists. In the one international match he's played so far this season, he put two away in a 4-2 thrashing of Iceland.
On the current Polish roster, no player has even scored half of what Lewandowski has on the international stage (34). With the average age of his striking partners a young 21.5, Lewa will undoubtedly have the burden of the goal scoring responsibility on his should, but I don't think he'll mind that all too much.
Group D: Croatia, Czech Republic, Spain, Turkey
Luka Modric (Croatia) – Croatia are always a threat to play the role of dark horse at any tournament they play in. Their midfield features a Spanish league champion, two Champions League winners, and a former Bundesliga champion. The player out of that bunch that I'm going to focus on is yet another former Tottenham Hotspur, Luka Modric.
For Real Madrid, Modric typically sat in a deeper central midfield role. His combination of great positioning and excellent passing ability make him an ideal candidate to occupy the heart of the pitch. The stat sheet doesn't do the 30-year-old justice (three goals, five assists this season), but don't sleep on the Croatian magician.
David de Gea / Iker Casillas (Spain) – I put down two players for this slot because honestly who knows who's getting the nod in net for Vincente del Bosque this month. Iker Casillas has been the undisputed number one for La Roja for as long as I can remember and he captained the football-crazed country to their first ever World Cup title in 2010 and two straight European titles in 2008 and 2012. Currently he is the most capped player in Spanish history. With that being said, if he does get the nod and fails to perform, this could be his last ever major tournament with the national team.
On the other hand, in my completely unbiased opinion, is the greatest goalie in the world: David de Gea. The 25-year-old has almost single-handedly kept Manchester United relevant the last three seasons and some are surprised that he hasn't already taken control of Spain's starting role. Despite his impressive displays at Old Trafford, de Gea has made just nine international appearances, and was the only member of the team not to feature at the 2014 World Cup. A strong showing on this massive stage could solidify his spot as Spain's new net minder for the foreseeable future.
Group E: Belgium, Italy, Republic of Ireland, Sweden
Eden Hazard (Belgium) – To say that last season was a forgettable one for Eden Hazard would be an understatement. Through 31 league appearances, the Belgian winger scored just four times (and the first one didn't come until March 31st). For large parts of the season, it honestly looked like he just wasn't good enough. In comparison to his stats from 2014/15 (14 goals, nine assists), this season was unacceptable from the 25-year-old.
A brief resurgence at the end of the season gave Chelsea fans hope that Hazard could rediscover the form that lead them to a Premier League title two years ago, and the Euros will give him more time to regain his confidence. In a difficult group, Hazard won't find an easy match to dominate, but you can never really expect an easy match in the Euros anyway. Can he show the world that he is still one of the best talents in Europe, or are we going to see the start of a slow decline already?
Zlatan Ibrahimovic (Sweden) – I don't think there's any doubt that Zlatan holds Sweden's European hopes on his shoulders. The 34-year-old, famous for his "arrogance" as some would call it both on and off the pitch, is in the middle of a potentially massive summer move (fingers crossed that the Theater of Dreams is his next stop), and has been constant teasing the media about what awaits him. Can he get rid of the distractions and focus on the Euros?
In his final season at Paris Saint-Germain, Zlatan scored 53 goals in just 50 games. He also led them to their fourth straight French league title, a second straight French Cup, and third straight League Cup, so overall not a bad year. At the international level, he is the all-time leading goal scorer for Sweden. In what could be his last international tournament, it will be interesting to see if the veteran striker has enough magic to get Sweden out of the group stage.
Group F: Austria, Hungary, Iceland, Portugal
Cristiano Ronaldo (Portugal) – Can you talk about X-factors and not mention the man, the myth, the legend that is Cristiano Ronaldo. Some argue that without CR7, Portugal would be little more than an afterthought at international tournaments. He's currently just one appearance away from tying Luis Figo's for most capped player for Portugal, and he already has sole possession of the nation's scoring record.
While he has dominated at the club level, Ronaldo has yet to truly accomplish anything on the international stage. The closest he's come to claiming a trophy for his homeland was in the 2004 Euros where they lost in heartbreaking fashion to Greece giving us the infamous clip of him crying on the pitch. Will this be his chance to finally lead Portugal to silverware, or will it be yet another summer of disappointment for the Ballon d'Or winner.
David Alaba (Austria) – In this "weak" group, David Alaba could be the man to lead Austria out of the group stage. The versatile player can be deployed at the heart of the defense, as a fullback, and also as a central defensive midfielder (his typical international role). Oh yeah, and he's just 23 years old.
Let's just remember that for a second. At 23, Alaba has already won five Bundesliga titles, four DFB-Pokals, and a Champions League title. His experience and versatility make him the most important player on the Austrian roster, and he could ultimately be the reason that Austria do, or don't advance. In his first ever international tournament, can he cement himself as an Austrian great?