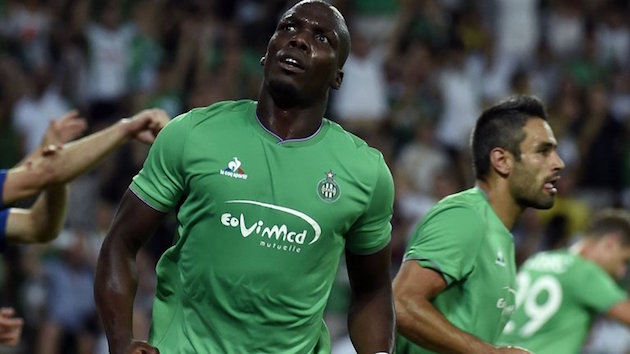 By the time you're reading this, Manchester United and St. Etienne have probably already kicked off the Europa League tie. At first glance, this may seem like a pretty uneventful fixture, but the prospect of sibling vs. sibling competition always attracts a little more attention. That is especially true when one of those siblings is Paul Pogba.
The 23-year-old midfielder has quickly emerged as one of the most talked about players in the world, not just because of his talent, but also because of his astronomical price tag. Manchester United had to fork over nearly £90 million to bring Pogba back to Old Trafford after letting him slip through their fingers back in 2012.
Without a doubt, Paul is the most well-known of the three Pogba brothers, but on Thursday, we'll get the chance to see his older brother share some of the limelight. Florentin Pogba is three years older than Paul, and represents Guinea on the international level. Pending a miracle run from the African nation, it doesn't look likely that the two Pogba brothers will face off on the international stage, so we'll have to settle for a Europa League bout.
Florentin's career has taken a very different path than his younger brother's. As a youth player, he was briefly a part of Spanish side Celta Vigo's academy system, but he was never able to crack into the first team. After failing to impress in Spain, he returned to France in 2009 with Ligue 2 club Sedan. At Sedan, he was able to earn some invaluable first team experience, and after just two full seasons at the club, he was snatched up by St. Etienne.
Since joining St. Etienne, Florentin, who plays in a more defensive role than Paul, has struggled to lock down a consistent spot in the starting lineup. Through three seasons at the club, he's only played 57 league matches out of a possible 114. This lack of playing time could also be attributed to a major injury that he suffered while on international duty with Guinea back in 2013.
As of late, the older Pogba has found himself in the good graces of manager Christopher Galtier. Galtier has selected Florentin as a starting center back for the club's last three league matches, and in that period, St. Etienne have only allowed a single goal. Even with this impressive form, it's unclear whether or not Galtier will actually start Pogba after stating that the Europa League was the least important competition that the club were involved in. C'mon Galtier, give the fans what they want. Give us Pogba vs. Pogba. Otherwise, all of the marketing efforts will have been for nothing.
One person that is easily forgotten in all of this buildup is the fan that will probably be in the most difficult position of all: Florentin and Paul's mother. Florentin told reporters, "It's not going to be easy for her but at the same time what a fantastic moment it'll be for her to see her sons playing out there." The St. Etienne defender would later suggest that maybe the best result for his mom would be a draw.
With the other Pogba brother playing for Sparta Rotterdam, chances are that this tie will be the only time we'll get to see a Pogba vs. Pogba matchup on the pitch. It's going to be a special moment for Paul and Florentin, but I have no doubt that both of them will be giving it all to make sure that the other one loses.