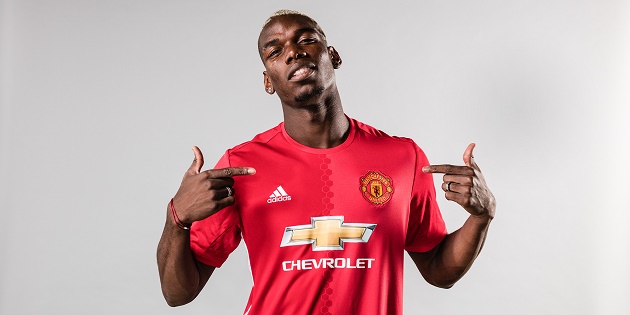 In one of the most on-again/off-again transfers of recent memory, Paul Pogba is finally heading back to Manchester United. Perhaps in the history of the transfer market, no team has made moves as impressive as United without the offer of Champions League football. From Zlatan to Pogba, it's all been big news since the arrival of Mourinho, and fans of the Red Devils would be forgiven for already celebrating before the season even begins. However, although everything has a price, there are some price tags that should never be paid.
United has NOT made a mistake signing Pogba.
United has made a MASSIVE mistake with how much they're paying.
If you're saying I can't have it both ways, then that's too bad…I'm the one writing up the story. United overpaid, big time, for Paul Pogba. Juventus definitely had all the leverage with the star midfielder, and it's not surprising that the old lady held out until somebody dropped, what we here lovingly call, "stupid money" on Pogboom. A great player has definitely been added to United's roster, but the cost was too high. In fact, I'd argue that there's not a player on the planet currently worth the money that United spent (Messi might have been two years ago (at 29, he's starting to show the ails of his size mixed with how much he plays), Neymar might be soon (still not convinced that he can be on the level of the world's 2-3 best without the aid of playing next to Suarez and Messi), but nobody (currently) is worth this much money).
Firstly, he's not an extreme goal scorer. In 49 appearances last campaign, Pogba netted 10 goals. Sure, some of them were absolute worldies, but 10 goals is not lighting the world on fire. To find yourself at the top of the transfer list, then your goal-scoring needs to be elite. Not just decent, but out of this world. His assist totals are good, but Manchester United will probably look to Pogba in a different role than Juventus simply because of how United will line up under Mourinho. Mourinho prefers running a 4-3-3, meaning that either Jose will have to sacrifice his preferred set-up or Pogba is going to have to sit in a deeper role. While Pogba is fully capable of being a defensive mid, there's no way that you pay almost 100 million Euros for someone that sits in front of the defenders. Would it be odd if a returning United player meant the end of Wayne Rooney? It feels like this, despite occupying different positions, might be the English striker's death knell.
The only thing that Pogba has working for his inflated transfer is his age. At 23, the player is capable of nearly a decade at the pinnacle of world football. However, it will take quite a career to justify such an exorbitant transfer fee. If Pogba doesn't return 15 goals/15 assists yearly and bring home some serious silverware, this has to be seen as overpaying. It would be nearly impossible for this to be a complete bust…Pogba is too talented to not bring quality to Man U for years. However, justifying the price tag…that's another matter altogether.
Perhaps the funniest side of this is how United has started to make Manchester City seem tame in their spending. This squad almost dictates silverware (we're talking actual silverware…not the Community Shield), and Mourinho hasn't been on a great run recently. Pogba could become a legend at Old Trafford, and the odds are in his favor…but his asking price has made sure that the pressure on the Frenchman and the narrative of his play are set for many years to come. Pogboom or Pogbust?