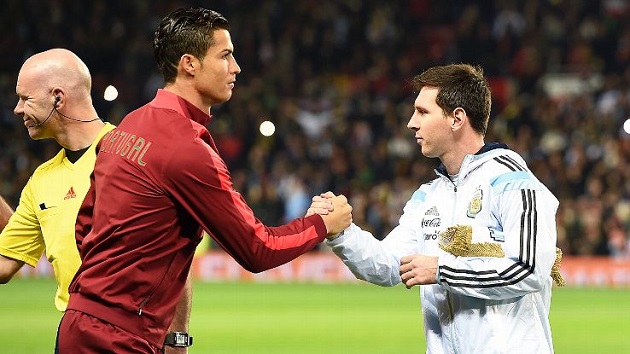 Billed as the battle of Messi vs. Cristiano, the Portugal and Argentina game at Old Trafford featured a tense first half, a sloppy second half, and a fortunate later winner. Both sides can take a few positives from the game, even if the loser, Argentina, was clearly in the front seat most of the encounter.
Ahh, the celeste. Argentina's Starting XI featured an attack minded, but balanced, 4-3-3 with Higuain as the sole striker, Pastore and Messi in support, and Di Maria, Mascherano, and Biglia in midfield. The Argentinians dominated the ball and effectively pressed when they lost. Di Maria, Biglia, and Higuain were constant thorns in the side of Pepe, Joao Moutinho, and Diego Alves. However, despite dominating possession, they struggled to carve our clear chances. In large part, that's because Portugal sat deep and featured a lopsided 4-4-2 with Ronaldo as a second striker.
The result was that Argentina owned the ball, Portugal counterattacked, and neither Messi nor Ronaldo saw much action in their 45 minutes on the pitch. For Argentina, Javier Pastore failed to impress and will probably not supplant Ezequiel Lavezzi anytime soon. For Portugal, most of the promising attacks stuttered once the ball found the feet of Nani. If Pastore was too passive and complacent, then Nani was too aggressive with the ball at his feet (although he did put in a pretty good defensive shift by his standards).
In the second half, both coaches made several changes and the game kinda went to pieces. For Portugal, substitute striker Eder made a positive impact and used his strength to form a reliable box presence. For Argentina, Carlos Tevez replaced Gonzalo Higuain, and the team's attack lost any sense of shape. While Carlitos may be a wonderful dribbler who can carve out his own shot, he lacks the speed, strength, awareness, and movement to be a sole striker. His role with Argentina may be a super sub in the short-term, but he needs to play with a point man like Fernando Llorente (or Higuain) to be effective.
The game seemed destined for a merciful goalless draw when, bam, in extra time Raphael Guerreiro, unmarked, headed home a cross from the endline after Argentina's offside traps fell to pieces. The victory was undeserved, but also kinda worthless. Portugal has a fantastic younger generation of players knocking at the door, but they're not quite ready yet. Euro '16 could be a very frustrating time.