It is no secret that the MLS has been contemplating multiple cities as expansion options in the future. The league will be playing with 20 teams this season, with plans to expand to 22 teams in 2017 and 24 teams by 2020. Multiple cities have stepped forward as potential options, and some look like legitimate contenders to get a team. Lets have a look at some of the cities that have put their name into consideration for expansion.
Confirmed
Minnesota
I wasn't aware that Minnesota had such a large soccer fan base. I thought they were all about the Vikings and hockey. I guess I stand corrected, because two separate bids have been submitted to bring a team to good ol' Minnesota. An expansion team there would really open up the geographical footprint. On March 25th, Don Garber announced that Minnesota would be given an expansion team to begin play in 2018. Give this move an A++ and hope the MLS doesn't screw it up.
Atlanta
This is one of the expansions that makes a lot of sense when it comes to expanding the geographical footprint of the league. The team will begin playing in 2017, after the Falcons have completed construction on their new state-of-the-art stadium. If I were giving a grade to this expansion team, I would give them an A-, only because I am not sure what kind of soccer base there is in Georgia.
Los Angeles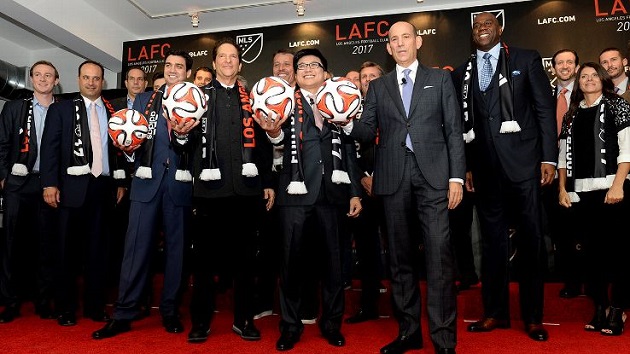 To me, this is one of the stupidest moves ever. Chivas just closed up shop in the LA market because they couldn't get enough fan support. Instead, they are basically just rebooting the team, in a market that may not be able to support two teams. Give another city or part of the country the chance to be the money pit, at least they might appreciate it. Giving this an F.
Miami
Another confirmed franchised that doesn't make any sense to me. I mean, I understand that David Beckham had the option to buy an expansion team, but to choose Miami? The league had a team in Miami that failed, and a team in Tampa Bay that also failed. Orlando City is just starting up, and I really doubt that the state has enough interest that it warrants two teams. Giving this one a D-.
Rumored
Las Vegas
Vegas has been clamoring for any pro sports team to make their way to Sin City, but the MLS will not be that league. Commissioner Don Garber sent Las Vegas a letter stating that they were out of the running for an expansion team. I've always been skeptical on Vegas as a legitimate sports town, but they haven't been given the opportunity to show that they can. The league has shelved the city until 2018. I'll give them an optimistic C+.
St. Louis
St. Louis is rich in soccer history, including being the home of multiple 1950 USA World Cup players. Saint Louis University is one of the most successful college programs in the country. Soccer is in St. Louis' blood, but has yet to see an ownership really step forward to get a team. A large portion of St. Louis potentially getting a team will be highlighted by the need for a new stadium to play in. The city has been in talks to build one, but nothing is official yet. The potential with St. Louis is huge, but obviously there are reasons why the city doesn't already have a team. Give this move a solid B+, with question marks all around.
Sacramento
This is the other major player for the next franchise to be awarded by the MLS. They have a big money ownership group, the highest fan turnout for their 3rd tier team, and a city that is starving for a winning team. The MLS league office seems to be very high on the bidding group and their potential. When it pertains to the geographical footprint, Sacramento may not be as enticing as some cities, but they offer a bit more when it comes to fan support. It will be interesting to see how the MLS approaches this potential expansion city. I'd give Sacramento an A-.
San Antonio
The final city that has created some buzz is San Antonio. Being near the Mexican border and plenty of soccer crazed fans, there is no question that the city would have a fan base. Don Garber has said that the city is "not as far along" as some of the other candidates, but that does not mean that they are out of the running. I see this as an eventual location, even if not right now. There is too much positivity for the league not to expand there. Giving them a solid A.
While it looks like Minnesota is the big winner this time around, there is plenty to be excited about with the rest of the cities. If the league can strategically award cities with teams, we may see the league take leaps and bounds in terms of respect within the soccer community.