GK: David De Gea
It's hard to imagine how much different Manchester United would be right now if Real Madrid's fax machine had worked last summer. After his failed move to Los Blancos, David De Gea returned to his typical unstoppable form. The Spanish keeper was United's Player of the Year for the third straight time. A feat that not even Cristiano Ronaldo can claim. If it wasn't for a stoppage time own goal from Chris Smalling he would've shared the Golden Glove award with Petr Cech.
With a revamped squad and José Mourinho in charge, De Gea looks set for another big season. Hopefully, he won't need to be the player of the year again. Now Spain's starting keeper, the 25-year-old is arguably the most reliable man between the sticks in the entire league. He was the easy choice for preseason number one.
LB: Christian Fuchs
One player that didn't get the same acclaim during Leicester's title run as the likes of Vardy, Mahrez and Kanté was Christian Fuchs. The veteran fullback provided valuable defensive and attacking talent to the squad, and while the stats don't show it off (only four assists), Leicester probably wouldn't have won the title without him.
The 30-year-old may be entering the winter of his career, but he will likely be Leicester's first choice left back for the upcoming season. He doesn't have the same flash and name recognition as some of the other players on this list, but he has proven to be a reliable option. The league doesn't have a depth of good left backs, but Fuchs is one of the great ones.
CB: Chris Smalling
Standing in front of David De Gea is Chris Smalling. A nasty looking gash over the summer has left the English defender out of preseason action, and he's still yet to feature under Mourinho. Last season (other than his own goal in the last match of the season), Smalling formed a formidable defensive pairing with makeshift center back Daley Blind. Now, he'll likely partner up with Eric Bailly to hopefully form a tandem reminiscent of Nemanja Vidic and Rio Ferdinand.
Smalling was one of the few players at Old Trafford to consistently shine during Louis Van Gaal's reign, and I expect more of the same from him under Mourinho. His positional awareness and speed make him one of the most promising defenders in the league, and that's why he's in my preseason 11.
CB: Toby Alderweireld
Lining up along Smalling in this dream team is Tottenham's Toby Alderweireld. In his first season at White Hart Lane, the former Southampton/Atlético Madrid man helped lead Spurs to the joint-best defensive record in the league (tied with United). Alongside Jan Vertonghen, the two Belgians and Hugo Lloris played a major role in keeping Tottenham in the title race for so long.
The 27-year-old appeared in every single league fixture for Spurs last season, and quickly cemented himself as a fan favorite in North London. Several commentators even suggested that he was the best central defender in the league. Can he repeat that spectacular form this season?
RB: Kyle Walker
Joining Alderweireld at the back is one of his colleagues at Tottenham: Kyle Walker. Walker has consistently been one of the top right backs in the league for the last several seasons. His electrifying pace allows him to get involved in the attack and to comfortably get back on defense to stop counter attacks.
Part of England's disappointing Euro run this summer, Walker was one of the few bright spots from the Three Lions' camp. Still just 26 years old, the right back still has a couple years of speed left in his legs, and he will be a key part of any title push that Tottenham hope to mount this year.
LM: Alexis Sánchez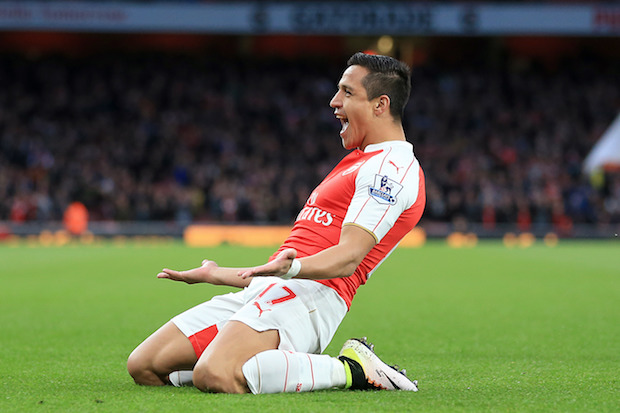 The first and only Arsenal player to join the list is Alexis Sánchez. The Chilean was forced to miss eight league games last season, but still managed to bang in 13 goals (17 through all competitions). An impressive display at Copa América over the summer saw him score three times in six matches during Chile's dramatic run to silverware.
The winger will be coming into this season fully fit and in great form. Without a clear goal scoring option leading the line, at the moment, Sánchez may be tasked with carrying the offensive load on his shoulders for some games. Luckily for Arsenal fans, he has the skill to do just that.
CM: Paul Pogba
Of course I'm going to include the most expensive player in the world on this list. Paul Pogba has to be the most highly anticipated players of recent memory, and it doesn't take long to figure out why. His unbelievable play for Juventus over the last four years has made him one of the most promising talents in the world, and at just 23 years old, his best years are still ahead of him.
The problem for United fans is that he most likely won't be match fit for opening day against Bournemouth. His extended holiday caught the eyes of fans across the world, but it also means that he'll need more time to adapt to José Mourinho's style of play. I think that Mourinho will get the best out of Pogba and hopefully that means he's the same world beater that fans in Turin loved.
READ: #POGBACK: What Pogba Brings to United
CM: Dimitri Payet
For me, Dimitri Payet was the best newcomer to the league last season. You could argue that without him, West Ham wouldn't be anywhere near European competition this season. The former Marseille midfielder's contributions in the midfield earned him a hefty new contract extension during the season, and his world class free kicks made jaws drop around the world.
Over the summer, Payet assured fans that he was committed to the club despite the rumored interest of some major squads around Europe. At the start of this summer's Euros, he was the best player in the tournament, but fell off during the knockout stages. Going back to the familiar settings at West Ham should see him return to the unbelievable form he showed off last season.
RM: Riyad Mahrez
Another player that has been tossed around the rumor mill this summer is Riyad Mahrez. The tricky winger captured our imaginations last season after coming in a as a relative unknown. His unbelievable creativity on the flanks made him one of the key players in Leicester City's title run. Alongside Vardy, Mahrez led Leicester to the league's third-best attacking record.
In the preseason, Mahrez has shown fans that he still has the same flair and confidence that made him so dangerous last season. While it might be a little unreasonable to expect the winger to replicate his 17-goal, 11-assist statistics again, I think he can still lead whatever team he's on to glory.
ST: Zlatan Ibrahimovic
The fourth and final United player on the list is the big man: Zlatan. Despite his age (34), Ibra can never be taken for granted. Last season, the striker had one of his best seasons of recent memory scoring 53 times through 50 matches. During his entire PSG career, Ibra managed to put away an astounding 180 strikes in just 156 matches (average of 1.15 goals/game).
Through his first two games for United, he's continued his impressive goal scoring record. An acrobatic kick against Galatasaray, and a game-winning header against Leicester City in the Community Shield have shown fans at Old Trafford that he can still do an impressive job upfront. Will Ligue 1's best striker become the Premier League's best striker?
ST: Harry Kane
I was tempted to go with Kane or Vardy for this final spot in the table, but Harry Kane's more consistent record made him the choice for me. Over the last two seasons, the Tottenham striker has scored 46 times in the league, and last year he even led the league with 25 strikes. Spurs' packed midfield should provide the 23-year-old with plenty of opportunity to add to his already impressive goal scoring record.
Despite being one of the most disappointing players for England at the Euros, Kane seems to thrive at White Hart Lane. He's the clear first choice striker for Mauricio Pochettino, and his nose for goal should lead him back to the 20-goal mark for the third straight season.