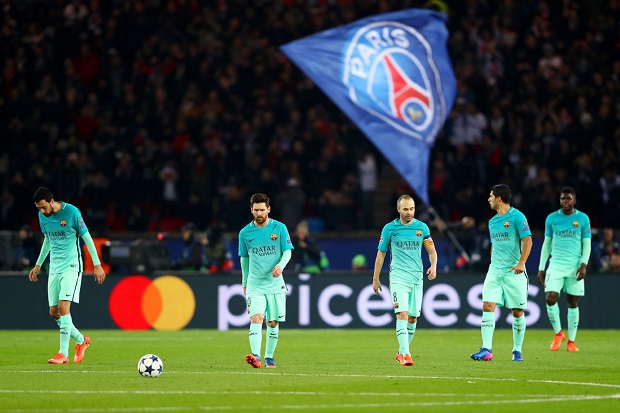 If I would've told people that Tuesday's matchup between Paris Saint-Germain and Barcelona was going to end 4-0, I'm not sure how many of those people would've thought that PSG would be the team to score four goals. From start to finish Unai Emery's side dominated the match, and to be honest, it looked like they might win by more than four goals. For Barcelona, needless to say it was an off night. Some reporters would even venture to say that it was the worst Barcelona performance they had seen in recent memory.
PSG dominated the chances in the early stages of the match with Edinson Cavani and Blaise Matuidi both testing Marc-Andre ter Stegen, but the German keeper was up to the challenge. In the 17th minute, a foul by Samuel Umtiti on Julian Draxler gifted PSG a free kick just outside the penalty area. Angel Di Maria punished Umtiti's mistake with a highlight reel curler into the top corner. Ter Stegen had no chance to stop the Argentine's magnificent strike, and that proved to be just the beginning of a long night in Paris for the Catalan club.
Barcelona struggled to break down PSG's defensive line, and other than a saved shot from Andre Gomes in the 28th minute, Kevin Trapp had a relatively uneventful first half.
On the other hand, PSG continued to perplex Barcelona and it became obvious that they were not going to settle for a 1-0 result. Their persistence would end up doubling their lead just before halftime. Marco Veratti's through ball to Draxler sparked the chance, and the German winger made no mistake as he smashed his effort into the back of the net. 2-0 PSG.
Things only got worse for Barcelona after the break. In the 55th minute, Di Maria delivered a moment of pure class to put yet another dagger in Barcelona's Champions League dream. The former Manchester United man beat two Barça players before curling a his shot just inside the far post past Ter Stegen. It was Di Maria's second world class strike of the night, and it must've marked quite a 29th birthday for him.
Have another look at Di Maria's second goal. ??? https://t.co/fse0aXPmS5

— FOX Soccer (@FOXSoccer) February 14, 2017
The demolition wasn't over just yet. In the 72nd minute, Thomas Meunier ran nearly unimpeded through Barcelona's half before playing an incisive through ball to Cavani. The Uruguayan hit a thunderous first-time effort past Ter Stegen at the near post, and their victory on the night was no longer in question.
For the remainder of the match, Barcelona focused all of their efforts on getting just one away goal to salvage some sliver of hope from the match. The closest they got was a header from Umtiti in the 84th minute that smashed off the woodwork. Unfortunately, for Barcelona fans, it just wasn't their night as the club slumped to a shocking 4-0 result.
While it's easy to attribute PSG's win to just a bad day at the office for Barcelona, I think that it's more than that. Emery did a magnificent job of setting up his side to neutralize Barça's star strikers, and from start to finish, his side just looked like they wanted this result more than their opponents. Going back to the Camp Nou, PSG have to be considered the favorites to advance from the tie, and if they just manage to score once in Spain, Barça will need six goals to make it to the quarter-finals. But, if any team can do that, it's Barcelona.