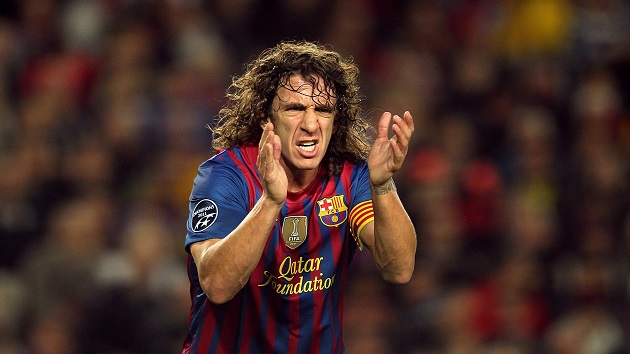 In the grand collective that is world football, there are a few players that have become synonymous with their club. One cannot think of Liverpool without thinking of Steven Gerrard because of his loyalty, one cannot think of Real Madrid without thinking of Cristiano Ronaldo because of his greatness, and one could not think of Barcelona without thinking (after they move past Messi) of Carles Puyol. A servant to the senior team since 1999 (and involved with the youth team since 1995), Puyol has given everything to the club and he seemed destined to fade into the sunset wearing the red and blue of Barcelona. However, after calling a shock press conference, Puyol has announced that his time at the Camp Nou will be coming to an end at the end of this season.
So what does this mean for Puyol?
Considering his age (35), Puyol might consider retirement from the game. Several serious injuries in the last few seasons have cost him regular playing time and his style of play does not lend itself well to a worn and torn body. Puyol did say that he would be taking a "rest" after the end of this season, and he might decide that he no longer needs the game (at least at a player's level) once the summer is over. With a possible retirement, Puyol's intimate knowledge of defending and the style played at Barcelona could help propel him into some type of managerial role with his club or even with another suitor. While his passion would help him out mightily in this respect, it would probably be unwise to place him immediately at the helm of a club and it would be best to simply add him to an already accomplished staff.
If Puyol decides to stay in the beautiful game, where will he end up? Well, every squad needs an accomplished veteran that can be depended on should an important fixture arise or if they have starters removed from the team by injury. Some of the big spenders in the world would be more than willing to have Puyol enjoy the bench in order to acquire someone of such stature (despite being 5 ft. 10 in.), but the simple fact of the matter is that Puyol would probably prefer receiving playing time if he is to leave Barcelona. On top of that, the physical play of Serie A or the Premier League would suit Puyol's playing style and he could shift in quickly for several teams in these leagues.
Puyol seems unlikely to stay in La Liga as he would have to face Barcelona (at least) twice per season. However, the passion that Puyol has always played with makes it difficult to believe that he is truly calling "time" on his career. A possible Vidic replacement at United? Defensive cover for City? Maybe a big time signing for an MLS club? There will be options galore for Puyol…and we at The Center Circle truly hope that he stays involved in football for as long as his body will allow.