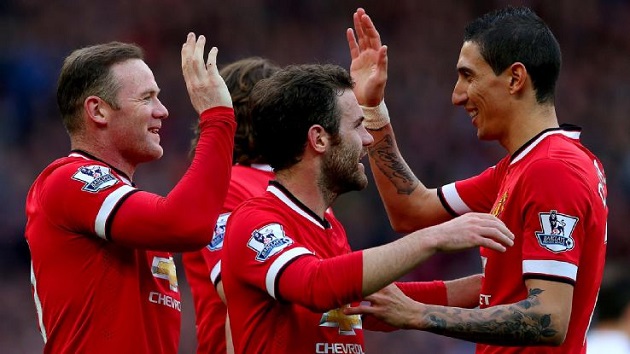 Is Sunday Christmas? No? Oh, you're right, it's even better because it's the Manchester Derby. At 10am CST, I will be firmly planted in front of a TV watching Manchester United host Manchester City at Old Trafford. My beloved United currently sit above that other Manchester team in the league table for the first time since what seems like the Sir Alex Ferguson era, and City have been on a downward slope of form with their manager's fate with the team seeming dire at best.
Louis Van Gaal looks to have finally cracked the winning code at United as his side has won five straight league matches. The midfield combination of Juan Mata and Ander Herrera, paired with the resurgent play of Marouane Fellaini and Ashley Young, has given the fans what they have always wanted: attacking soccer. Since earning himself a spot in the starting lineup in February, Herrera has helped United to six wins out of eight matches. The Spanish midfielder provides constant motion in the middle of the park, and serves as the creative spark for United attacks. If Herrera and Mata are able to continue their dynamic midfield play against the likes of Vincent Kompany and Yaya Toure, United will dominate the play at Old Trafford.
You can't talk about the Red Devils without talking about David De Gea. The newly capped Spanish goalkeeper has undoubtedly been United's best player of the season, and their third place standing is largely due to De Gea's dominating play in net. His amazing saves, like in the game against Everton, have kept United in games and made up for the early poor play of an inexperienced backline. De Gea has managed to keep 10 clean sheets and has played in every minute of United's Premier League campaign. After being beaten with a weak Christian Benteke shot last week against Aston Villa, De Gea will look to get back into his fine form against City.
Schadenfreude is when you take joy in the suffering of others. This describes how I have felt the last couple of weeks watching Manchester City slowly sink further down the table as their repeat title hopes fade away. Losses to Burnley and most recently Crystal Palace have seen City slip from second in the table and within touching distance of Chelsea to fourth place and one point behind United. The drop in form from the Sky Blues has also seen the fans and media begin to turn on Manuel Pellegrini and it appears as if the musical chair game of City manager will continue.
If City hope to return to winning ways, Sergio Agüero will have to step up to another gear. Granted, his back might already hurt after carrying the team for the better part of 2015. The Argentinian attacker has once again been the best player for City, and his presence on the field automatically draws the attention of every opposing defender. Agüero leads the squad in goals with 17 (third best in the league) and has the second most assists with six. United's center back pairing, likely Agüero's compatriot Marcos Rojo and Phil Jones, will have their hands full and De Gea will have to be on full alert whenever the City striker is in the attacking third.
The last time these two teams met, City scraped out a tough 1-0 victory over a ten-man United, and of course Agüero scored the goal. However, this United team is almost completely different than the team City faced in November. Van Gaal's men are in inspired form and Old Trafford has been an absolute fortress with United only losing twice at home. With that said, I expect the Red Devils to get the better of their cross-town rivals with a 3-1 victory. Granted, no matter what form United were in, I was always going to predict that they were going to win this match because what type of fan would I be if I said City would triumph?