This year, the Bundesliga has provided fans with a refreshingly new concept: open competition. Over the last couple of years, the power leagues of Europe have been developed by just a handful of teams. In Spain, you have Barcelona, Real Madrid and Atlético Madrid. In England, with the exception of Leicester City's miracle run last season, the silverware is dominated by the giants (Manchester United, City, Chelsea, Liverpool, Arsenal, and Tottenham). In France, there is only Paris Saint-Germain. Juventus has a chokehold on Serie A, and teams like Napoli and Roma can only fight for second.
While the Bundesliga has been a two-horse race for the last few seasons between Bayern Munich and Borussia Dortmund, this season we've seen some unexpected names rise through the ranks. Bayern are still sitting atop the table, but this season hasn't been a cakewalk. It's a rare occasion when the Bavarians blow out their opponents, and "small" clubs like Eintracht Frankfurt and FC Köln even fought their way to a draw against Carlo Ancelloti's superstar squad.
Dortmund, on the other hand, find themselves all the way down in sixth. You have to go all the way back to September 23 to find the last time BvB won a league fixture. Tough results against Ingolstadt (it took a stoppage time equalizer from Christian Pulisic to salvage a draw), Hertha Berlin and Bayer Leverkusen have thrown a wrench into Thomas Tüchel's title-winning plans.
Outside of Bayern, the current top four of the Bundesliga includes RB Leipzig, Hertha Berlin and TSG Hoffenheim. At the conclusion of last season, Leipzig had just earned promotion to the top flight, Hertha narrowly qualified for the Europa League, and Hoffenheim escaped relegation by just four points.
This relative parity between clubs is a refreshing thing to see in the age of superpower dominated leagues. While it can be fun to watch the PSGs and Juves of the continent dominate matches and run up ridiculous score lines, the excitement of late season title drama is robbed from us. When you have a club win the title with 10 matches left in the season, what real entertainment value and competition is left?
Leicester City's title run last year reminded soccer fans how exciting an underdog run can be. For the most part, these sorts of Cinderella stories are reserved for competitions like the FA Cup. These Bundesliga "minnows," while not necessarily as thrilling as the Foxes, are serving as motivation to clubs around the continent that you don't need to have a roster packed with overpriced superstars to be competitive.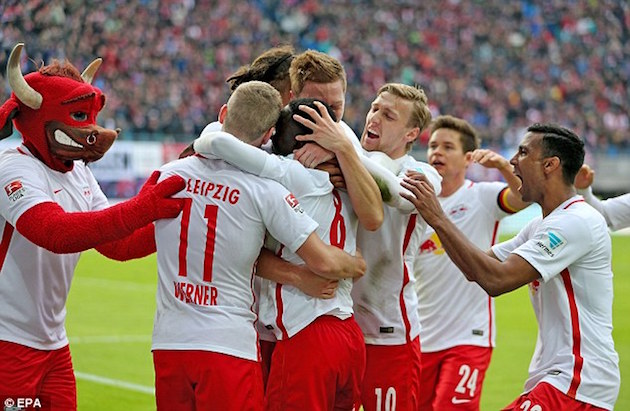 The club that I want to pay particular attention to out of the bunch are RB Leipzig. While they have garnered their fair share of hate from opposing fans because of their corporate ownership (Red Bull), you have to respect their meteoric rise to the near top of the German top flight.
After only forming back in 2009 in the fifth tier of German competition, RasenBallsport (German rules ban clubs being named after companies) Leipzig are now undefeated through their opening eight matches of the season. That impressive run includes a shocking 1-0 victory over BvB, and even a point against Borussia Monchengladbach (aka 'A German Team'), as well.
Granted, their corporate sponsorship has given them more spending ability than other clubs in their position, but money alone isn't good enough to win matches (just look at United 🙁 ). Ralf Rangnick, the club's sporting director, and manager Ralph Hasenhüttl have focused a lot of the club's efforts on developing youth talent rather than investing ludicrous amounts of money on opposing players.
The club's record signing, up to his point, is 20-year-old Timo Werner. Werner, along with 21-year-old Naby Leye Keïta have already combined for six goals. Another prospect that has played a central role in Leipzig's season is 19-year-old Oliver Burke. The Scottish international shined at Nottingham Forest last season, and despite offers from Premier League giants like Chelsea on the table, he opted to join the newly-promoted Bundesliga outfit to continue his development.
One player that has been with Leipzig for the long haul is 22-year-old striker Yussuf Poulsen. The Dane has also attracted rumored interest from Premier League clubs, but right now he seems to be loving life in the Bundesliga. After joining the club back in 2013, he's made nearly 100 league appearances and has scored 27 goals (including the winner against Augsburg earlier this season).
This young core has inspired attacking and exciting performances from the first-time Bundesliga competitors. Their strong start to the campaign has helped to silence some of the criticism leveled at their Red Bull ties, and for neutral fans, it has helped add a little bit of much needed drama to the top of the Bundesliga table.