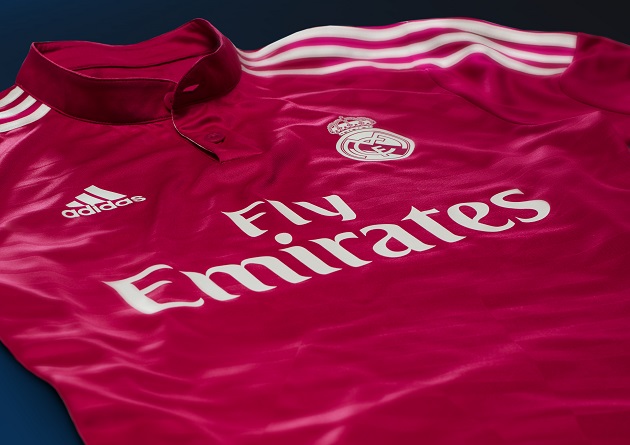 In a truly bold and garish move, Real Madrid and adidas have gone pink for next season's jerseys. We're not talking a light shade either. Full-on bright, hot pink covers the entire away jersey, while little pink accents adorn the classic white home shirt. What is the precedent for pink on soccer jerseys? Well, there isn't much. Recently promoted Serie A side Palermo wears a light pink and Juventus has had a bright pink away jersey in the last few years. Other than that, Real is trailblazing here.
However, when you are the champions of Europe, you can do just about anything you want. After picking up their 10th Champions League title this past season, Real will be going into next season as the favorites in Spain's La Liga. Cristiano Ronaldo is coming off a Ballon d'Or-winning year and Gareth Bale finished the season about as hot as you can get. Things are real nice at Real right now.
The biggest question going into next season? Will Ronaldo be able to keep his new pink jersey on?
Home Jersey
Los Blancos avoided getting irreverent with their home jersey, as adidas outfitted them with the classic white. Keeping with the color theme, there is a thin pink stripe running horizontally across the back and pink accents on the shorts and socks, but this is mostly the typical white home shirt from Real. They didn't want to upset the traditionalists too much.
Across the chest is the Fly Emirates sponsor logo and a buttoned Henley collar up top. It's a classy home shirt from Europe's champs with little pops of bright color.
Away Jersey
Now for the wildly bright and bold away strip. With the same collar and basic design as the home jersey, the comparisons stop there. Hot pink with white accents cover the entire top, making it hard not to notice someone wearing this. Subtlety is still employed on the shirt however, with a hardly visible horizontal pattern streaking across the front. It's a nice touch on what would otherwise be considered one of the showier jerseys around.
No matter what your opinion is on pink soccer jerseys, it ultimately doesn't matter. I'm not trying to make you feel small, just simply reminding you that Real can get away with pretty much anything. Even if this kit is met with outright disgust, it will still garner plenty of attention and discussion, making it a success. Credit is still due to adidas and Real for making this kind of bold move, though. It takes some serious guts to deck the 10-time Champions League winners in this color. With their splashy off-season acquisitions, world-beating mentality, and now hot pink jerseys, Real Madrid will continue to dominate the world football conversation.