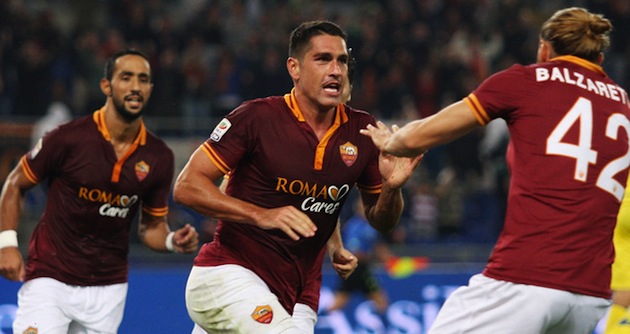 Although the typical style witnessed in Serie A seems to only be for a specific soccer palette and typically pushes new footy fans away, there are too many fantastic story-lines in Italy this season to keep me away. Trying to digest Italian soccer if you are relatively new to the game and have only started enjoying the style used in the EPL can be difficult, but with old powerhouses faltering, new stars emerging, old stars thriving, and one team dominating in a manner typically seen only on FIFA video games, Serie A is providing plenty of popcorn necessary footage this season.
The biggest story for anyone that loves soccer or hopes for the American reach to grow and the perception of Americans in world football to improve can be found in Rome. Within the city's most beloved sports team there is a type of belief that cannot be found anywhere in the entirety of European leagues and a level of football that demands respect and attention. Roma is absolutely dominating in Serie A. After rattling off ten wins in a row and only allowing one goal throughout the run, some are starting to entertain the idea of Roma (owned by Americans) actually being a contender for the Serie A title.
Why is that so special?
Well, this off-season, Roma sold off several of their most prized possessions to the highest bidder. One only needs to look at how vital Erik Lamela will prove to the Tottenham midfield this season to see that the offloads were also players with massive quality. Roma also brought in a brand new coach that was largely unproven outside the borders of France. However, with Totti performing like a player in his mid-20's (and becoming an undeniable Italian national squad call-up), the defense stifling every attack, the midfield controlling the games, and maligned transplants coming good for Roma, this ten game streak is no fluke.
Despite wishing to give American international Michael Bradley more credit than he is due, he has been injured for most of the run. However, a game saving goal in a recent fixture and his slow return to the side may boost the team and Bradley's overall outlook. If the U.S.A. hopes to make a deep 2014 run, a high performing Michael Bradley is a must. However, with Bradley out, Danielle De Rossi has looked every bit the player that had big money clubs salivating over the summer. Dominating from a defensive midfield position is always difficult and the plaudits rarely are given to Sergio Busquets, Lucas Leiva, or other defensive mids, but De Rossi has been putting in performances that have him sitting atop the heap for his position.
Although this run will have to, eventually, come to an end, Roma's current team mentality seems capable of making a very impressive Serie A campaign. If they find themselves at the summit of the Italian league once the season comes to an end, this early season performance will be seen as the main catalyst for their success. If you are not currently paying attention to the Roman club, then you are making a major life mistake…correct that situation as soon as possible!