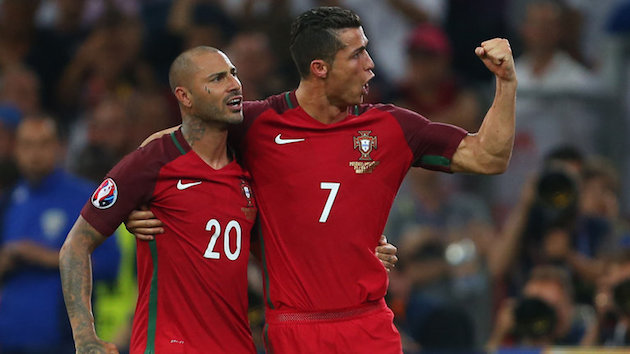 When it comes to club competition, you can only really argue that one player may be better than Cristiano Ronaldo. CR7 has shown time and time again that with Real Madrid, he is borderline unstoppable. In every one of the last six seasons, the former Manchester United icon has scored at least 50 goals. He has claimed three Champions League crowns, four league titles between England and Spain, three domestic cups, two Club World Cups, and, oh yeah, three Ballon d'Or titles.
While he has thrived for club, he has struggled for country. The most vivid memory of his international career has to be the 2004 European Championship final in Portugal. A heartbreaking defeat at the hands of Greece left a then 19-year-old Ronaldo in tears on the pitch. That image marks the closest that the Real Madrid superstar has gotten to winning a piece of silverware for Portugal.
Similarly, to Lionel Messi with Argentina, Ronaldo catches a lot of criticism for his inability to replicate his dazzling club performances on the international stage. Whenever Portugal fail to win, it somehow always appears to be the captain's fault. All of this criticism has come despite the fact that the 31-year-old is the nation's current leader in caps (131) and goals (60).
This year's Euros have been no different. A thoroughly disappointing draw to Iceland in the opening match of the tournament saw Ronaldo and Portugal get completely dismantled by pundits and fans alike. Ronaldo didn't really help matters too much with his postgame criticism of Iceland's celebrations.
A scoreless draw against Austria in the second put A Seleccao in an unfavorable position going into their final match against Hungary. On paper, Ronaldo and company should've completely dominated this group, but the match isn't played on paper. Against the Hungarians, Portugal and Ronaldo once again struggled.
On three separate occasions, Hungary lead the match. Thankfully for Portugal, Ronaldo took control. When Hungary were leading 2-1, CR7 delivered a beautiful back-heeled flick into the bottom corner. When Hungary were leading 3-2, Ronaldo again played savior with a picture perfect header to salvage a third place finish in the group and a place in the knockout rounds.
In the knockout rounds, Portugal have been just as uninspiring as they were in the group stage. Against Croatia, I don't think anyone would've blamed you if you fell asleep until the last minute of extra time. The only meaningful moment from the Portuguese came at the last possible moment as Ronaldo's darting run set up the easiest of tap-ins for Ricardo Quaresma.
Against Poland, it took penalty kicks to find a winner. Despite the dubious nickname of "Penaldo," the 31-year-old hammered his spot kick home as Portugal went on to win and secure a place in the semi-finals. Now, they're in the final four of the tournament without having won a single match in regulation time.
Even though Ronaldo has come up big at vital times for his country, people still find a way to criticize him for his performances. I don't think that's fair. It's not fair to assume that he can replicate what he does at Real Madrid on the international stage. It has nothing to do with his ability, it has to do with the ability of the players surrounding him.
Just look at who he plays with at Madrid: Gareth Bale, Karim Benzema, Toni Kroos, Luka Madric, Sergio Ramos, the list could go on for a while. Now, take a look at his Portuguese teammates: Manchester United castaway Nani, 18-year-old Renato Sanches, an aging Ricardo Queresma. No offense to those players, but they're nowhere near the level of talent that Madrid provides Ronaldo.
Portugal has notoriously been a one-man team for the last several years, and that means that defenses can focus the majority of their attention on just containing Ronaldo. They don't have to worry as much about Quaresma or Nani, that they would have to worry about Bale and Benzema. You can see the frustration on Ronaldo's face when he is unable to influence the match as much as he would like, and sometimes that drives him to try and do it all himself (not always the best strategy).
Despite these frustrations, CR7 and co. are still in the final four of the tournament. He has gotten more support in recent matches than in years past, particularly from the Bayern Munich youngster Sanches. I think that Portugal have shown they are fully capable of scraping up ugly wins, and that might be just what they need to take home the title. A semifinal match up against either Belgium or Wales awaits Ronaldo; can he finally lead his homeland to glory?