While there might be a few celebrations still cooling down from Manchester City's victorious 2013/14 campaign, all of the players and staff associated with the Citizens are either firmly focused on the World Cup or they are looking towards City retaining their title. While the only real change that this club might need is to re-examine their "birthday celebration" policy, the amount of money available to the blue side of Manchester means that moves WILL be made and the champions will still improve their squad.
First, the simplest goal for any team we have discussed thus far: 1st place. When you win a title, there is no way that your club should aim for anything other than repeating! While it might have been a little closer than Pellegrini and City would have wanted thanks to the absolutely out-of-nowhere performance from Liverpool, City still got the ultimate prize and they will see no reason that a title will be on the cards for 2014/15.
Considering that Pellegrini has already tried his hand in other major leagues in Europe, it seems highly unlikely that he will depart and create a coaching issue for City. No other manager would have stuck by Demichelis after the Barcelona fixtures, but Pellegrini is certainly in the realm of managers that can quickly go from being "safe" in their job to being on the "hot-seat." One season without any trophies will have people quickly forget any past success…and City are starting to clamor for European success to match with domestic success. Can the Chilean manager fulfill these dreams?
Players that NEED to go – City needs to cash in on players that are not seeing the pitch. Micah Richards, Jack Rodwell, Stevan Jovetic (I know he only had one season), and the returning Gareth Barry can all be sold for enough cash to help offset whatever summer spending spree has already been planned. With FFP starting to crack the whip (albeit a very small whip in the grand scheme of things), City need to try and cut any "fat" that will hurt their bottom line.
Positions that NEED to be filled – You just won a championship, so are there truly any actual needs? Outside of some non-Lescott central defensive back-up to Kompany and co., any actual needs will only be dictated by any important players being sold off. It also could not hurt to develop more youth within City's own infrastructure, so perhaps the biggest positions that need to be filled are outside the senior side. Once again, what do you really do with a team that just won the title?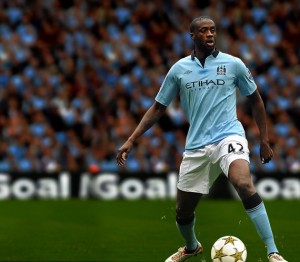 The KEY to next season – Health. It is an absolute no-brainer with this club after a few issues with player health nearly cost them the title. Aguero playing most of the season, Kompany staving off injury, and healthy midfield pair Silva and Toure playing the majority of the upcoming campaign will allow City to challenge for another title. Considering the amount of injuries that major players sometimes sustain at the World Cup and have those injuries hurt their club season, this will be a huge part of how City return in 14/15.
Surprise boost – Twilight careers. No, nothing having to do with the horrible book involving vampires, but many of City's key players are entering into the back-end of their illustrious careers. Because of that, every season will start to feel like it might be their last to snag silverware, their last to win a bigger sponsorship, and their last to get a better wage/big-money transfer. Kompany, Silva, and Toure (easily three of the biggest pieces for the Citizens) are all either 28 or older, meaning that nothing is guaranteed for them anymore. The upcoming season will dictate how their careers all begin to end…bringing increased effort from all involved.
Most of the focus for Manchester City next season will be on becoming a bigger force in the Champions League, but there is no reason to believe that their performances in the EPL will suffer. The money is still there, the players are still there, and the Etihad will still be there next season. Factor in that City will still probably be the more successful Manchester club for a second season running, and they have as easy a road to the title as they can ever hope for.
City goal finish: 1st (and CL semi-final (at least))
Players purchased for more than $7.5 million: 4
Players sold: 4
New coach? No.
Will more "new" fans coming in from the World Cup exposure flock to City over United for the first time ever? New fans flock to a winner…so, yes.
Previously: Manchester United – Tottenham Hotspur – Everton – Arsenal – Chelsea – Liverpool