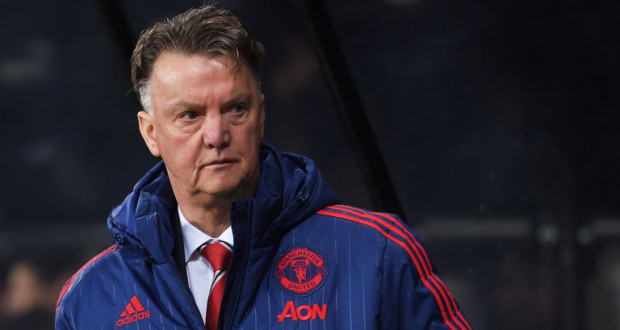 It hasn't been a very fun season being a Manchester United fan. My beloved Red Devils currently sit on the outside looking in when it comes to the Champions League spots. Our playing style is reminiscent of the excitement you feel when sitting in the waiting room before seeing the dentist. The biggest difference between these two situations is that when you walk out of the dentist's office, you're usually better off than before you went in.
Whenever a team of Manchester United's prominence is performing at any level below fans' expectations, the blame falls on the manager. It's no different in this case as United's Louis Van Gaal is rumored to be on his way out the door after every poor result. Cries from fans calling for either a change in leadership or a change in style are growing louder and louder by the match. Even with an unhappy fanbase, will the United board ever pull the trigger on letting LvG leave?
Under Sir Alex Ferguson, the Red Devils were known for their exciting, attacking style that kept fans riveted from start to finish. The likes of Cristiano Ronaldo, Wayne Rooney, and Ryan Giggs terrorized opposing defenses and orchestrated so many of United's famous "Fergie-time" winners. At the start of Van Gaal's reign, Ed Woodward reassured fans that the Dutchman would bring back this exciting style of play after a less than stellar season under David Moyes.
This statement has fallen on deaf ears as of late. United's fixtures are now defined by a seemingly endless series of backward and sideways passes. Perhaps the most damming stat of the season is United's abysmal amount of shots on target. At Old Trafford, once considered to be a fortress in Europe, the Red Devils have the lowest total of shots on target than any club in the top four tiers of Europe.
In their last two fixtures the Red Devils registered just two shots on target through both matches. Luckily for Van Gaal, Rooney's shot on target against Liverpool was all they needed to steal an undeserved 1-0 victory. The Dutchman wasn't so lucky against Southampton as a late Charlie Austin goal downed United at Old Trafford.
Some fans could excuse this boring and uneventful style of play if the results were still coming in. Unfortunately for them, United currently have their worst point total through 23 games in the Premier League era than any previous United team. Van Gaal's men are actually three points below where Moyes' United was at the same point in the season.
The height of this horrendous form came throughout the entire month of December. During that cold, cold month, the Red Devils failed to win a single match. In the league, they won just two pints out of a possible 15. Perhaps the biggest blow to morale came as United failed to advance past the group stage in the Champions League despite having one of the "easier" groups in the tournament.
After this disastrous month, many fans and media outlets believed that Van Gaal's time at United had finally run its course. Some outlets were even reporting that the Dutchman had offered to resign at several times throughout the run. If you read the papers, you probably thought that Jose Mourinho was already leading training at Carrington.
Despite the large call from fans and swirling rumors, Ed Woodward and the United board decided to stick with Van Gaal as their main man. After the Southampton defeat, the rumors started to swirl once again and fans unrest seemed to grow even louder. The criticism of the United manager in the papers led to the Dutchman hitting back at reporters during his pre-match press conference before an FA Cup tie against Derby County.
During that press conference, Van Gaal berated reporters for spreading these harmful rumors. He told them that with every wave of rumors he receives messages and calls from his friends and family voicing their concern for Van Gaal. Throughout the week, the Dutchman had acknowledged that the fans were right for being disappointed with the his performance as manager and the team's form, but did not seem to hint at any disbelief from the board.
At that same press conference, Van Gaal had one of his most telling quotes of this horrendous campaign. The former Barcelona boss said, "I cannot lose anymore because then I will be sacked for the fourth time [referring to the previous incidents where the media spread rumors he would be sacked], maybe then it will be true."
Even with Van Gaal admitting that he is concerned for his job, and the unacceptable form shown by the team, I don't think that the board will pull the trigger pending an absolute collapse in dressing room morale. If the December winless streak wasn't enough to convince Woodward to seek new leadership, I don't know what it will take. In my personal opinion, with a manager like Mourinho supposedly waiting in the wings, it's time for United to move on from Van Gaal and salvage what's left to fight for this season.