Can they get over their Champions League struggles?
When the giants of world football are snoozing, you expect them to rise again with a vengeance. That is what has been so mystifying about Juventus' arc over the past decade. This European giant hasn't woken up.
The Italian heavyweights haven't come up so big on the European stage recently. Serie A's premier club are going to finish this season with their fourth league title on the trot. Even though Italy's league is struggling mightily, and has been for awhile, that's undoubtedly impressive. However, one thing remains for Juventus since their banishment to Serie B in 2006 after the Calciopoli scandal: Where is the continental success?
Their recent struggles in the Champions League actually extend back further than '06. After finishing runner-up at the 2003 Champions League Final (in penalties to AC Milan, that had to hurt), Juventus couldn't get past the quarter-finals over the next three campaigns.
Then came the Great Italian Football Scandal of 2006, which wasn't so great for Juve. Match-fixing accusations implicated I bianconeri (the White-Blacks) in rigging games by picking favorable refs. They were stripped of their 2005 and 2006 Serie A titles and relegated to Serie B for the first time in club history (that's 109 years, for those keeping score at home). Stars such as Zlatan Ibrahimovic and Fabio Cannavaro fled the scene.
After a brief trip riding coach, they were back flying first class following their domination of Italy's second division. For the next couple seasons, they were still getting their feet back under them in Europe, losing to a better Chelsea team in 2009 and failing to advance from their group the following year. Poor finishes in the 2009-10 and 10-11 barred them from Champions League play, but they would ascend the table as Serie A victors in 2011-12.
Unfortunately, this was the first season where Serie A's inferiority began to have a tangible effect. UEFA dropped them to 4th in their coefficient, meaning only three Champions League spots were granted to Italy.
Of course, Juventus are not innocent in Serie A's decline. Their weak European exits haven't helped matters. In 2013, they got back to the UCL quarters, only to get railroaded by the Bayern Munich monorail. Last season, Juve only needed a draw vs. Galatasaray to advance from their group. Instead, an impotent 1-0 loss sent the team with world-class talent to the Europa League, the Beau Bridges to the UCL's Jeff.
There they would find success, rightfully defeating lesser clubs like Fiorentina and Lyon. However, Portuguese titan Benfica provided a stiff test in the semi-finals, albeit one Juve should have handled. Amidst a 2-1 loss in the first leg, a Carlos Tevez score gave them a valuable away goal – which was then squandered in the second leg when a scoreless draw at Juventus Stadium knocked The Old Lady out.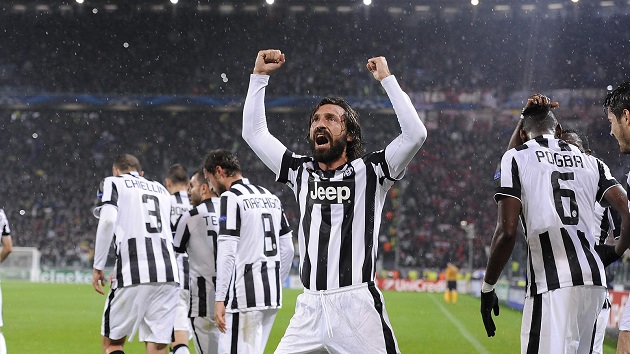 Despite all these disappointments, there are plenty of reasons to be an optimist this season. Back in the UCL quarters again, Juventus' core – Buffon, Chiellini, Bonucci, Marchisio, Vidal, Pogba, Pirlo — has now been around for at least a few seasons now. This isn't a bunch of immensely talented and expensive stars haphazardly thrown together. These guys have won three (soon to be four) Serie A titles together; they have to be hungry for broader success. Also, their Champions League draw has to be considered favorable, since Monaco is probably the 7th or 8th best team left.
This doesn't mean Juve will cruise though. Monaco's stout defense ground up the excellent Arsenal attack and could easily do the same to Juventus. Carlos Tevez was rampant against Dortmund, knocking in three goals over two legs, but BVB pretty clearly didn't have Monaco's organized backline. Injuries are another consideration, with Pogba and Pirlo nursing leg issues. Not the best time for those.
Until Juventus can prove their Champions League merits, all these Serie A titles won't mean too much. Their cohesive talent suggests they have the necessary parts to get back to the semi-finals for the first time since 2003. Or maybe the giant will keep sleeping for another season.