Every week at The Center Circle, we are highlighting a different player in a feature we call "On the Spot". We'll take a look at superstars, underrated gems, aging veterans, and young unknowns who should be known. We'll peruse their club and international careers, taking note of their teams, statistics, and highlight reels. We'll illuminate their strengths and weaknesses and comment on their personalties and reputations. It will be some fun. If there is anyone you want to see "On the Spot", feel free to comment below.
Paul Pogba
When Paul Pogba won last year's Golden Boy award (given by journalists annually since 2003 to the best European player under 21), his name immediately joined a few of the game's best players. Past winners of the award have included Wayne Rooney, Lionel Messi, Cesc Fabregas, Sergio Agüero, and Mario Balotelli. This is an illustrious group and expectations for Pogba's future undoubtedly have been raised. However, it remains unfair and really difficult to predict the future form of a 20-year-old. Pogba is still in the process of figuring out what kind of player he will be. The jury is still out on what his role is for his club and national sides. Is he a superstar in the making or just a solid role player on good teams? No matter the answer, Pogba is a young talent you need to know about now.
The Little Brother – Club Career
"I feel like a little brother, like the baby of the team. I like it." – Paul Pogba
It isn't hard to see how he came to fill the "little brother" role on Juventus FC so well. Growing up near Paris with two older twin brothers (also professional football players), Paul must have gotten used to being the young upstart trying to prove himself. This has been a theme throughout his career thus far.
When he moved to the Manchester United youth academy in October of 2009, his bright future was recognized immediately, even if some didn't see it so clearly. Before the 2011-12 season, Man U manager Sir Alex Ferguson claimed Pogba would feature on the senior team that year. Although he would make his professional debut in September 2011, Pogba would see extremely limited play all season, only getting 7 appearances. Many around Old Trafford believed he was better than this and Fergie was holding him back. Pogba himself seemed to think so too, signing with Serie A powerhouse Juventus in July of 2012.
There is little doubt Pogba still harbors some ill will toward his old manager, saying he was "disgusted" when right back Rafael received play in the midfield over him. Pogba was the little brother trying to earn the respect of one of the great managers and club teams in history, but to no avail. Since hindsight is 20/20, many United supporters believe Fergie missed a huge opportunity in featuring the talented Frenchman in his lineup.
At Juventus, Pogba has been given plenty of opportunity, and he has seized it. Starting in a 5-man midfield, he has meshed wonderfully with teammates Arturo Vidal and Italian legend Andrea Pirlo. The offense he provides from the midfield (6 goals and 5 assists in 20 Serie A appearances) has been a key addition for Juve so far this season. Sure, Chilean international Vidal and forward Carlos Tevez are more valuable players, and Pirlo and keeper Gianluigi Buffon are more notable names, but the promise Pogba has showed out of Juventus' midfield has left fans ecstatic. Their team is stacked and they know it. Currently cruising to their 3rd straight Serie A title, Pogba will continue to improve his game to help Juve find Champions League success next season.
International Career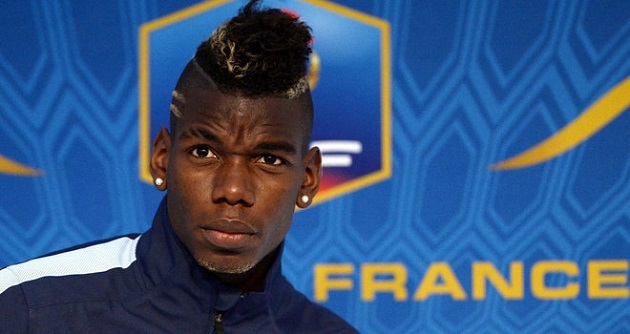 Since he hasn't even hit his 21st birthday yet, Pogba's international experience is limited. However, last year saw him show off his national team chops for the France youth team. They won the 2013 U20 World Cup and he was awarded the Golden Ball (best player of the tournament). Last March he made his senior team debut in a World Cup 2014 qualifier. Since then, he has appeared in 7 national team matches with one goal.
Along with Yohan Cabaye, Samir Nasri, and Blaise Matuidi, Pogba will be featured heavily in the French midfield. This summer could be his coming-out party. France is set up rather nicely in Group E with highly beatable teams Switzerland, Ecuador, and Honduras. If they can get into the knockout round and make some noise, look for Pogba to be a large reason why. Franck Ribery will garner most of the attention, but it may be Pogba providing more of the foundation for French success.
Style of Play
Known for his highly visible athleticism and impressive all-around play, Pogba is still refining his game. His offensive and defensive play has shown he is fully capable of becoming one of Europe's top midfielders. The immense talent around him allows Pogba to contribute in true younger brother style instead of feature prominently, but he sits in Juventus' top 4 in most offensive and defensive categories (such as tackles, key passes, and successful dribbles per game).
Off the Pitch
Fortunately, young Pogba has stayed out of the headlines so far. In November 2012, he missed games due to consistent tardiness to training sessions, but he has seemed to rectify that issue. Most of all, he just seems like an amicable, eager young fellow determined to succeed on the biggest stage. If he continues his poise on and off the field, he will find that success.
Born in 1993, Pogba makes most soccer fans feel ancient because of his youth. Having found quick team success with Juventus, individual accolades and possibly World Cup success lay ahead of him. His quality attack and defensive play reveals a well-rounded and diverse player with a remarkably high ceiling. He's obviously comfortable playing the little brother role to Juve's older players right now. The interesting part will be watching him grow out of that and into a respected leader in club and international play. For now, though, let's just enjoy the insanely talented little brother in front of us.