Every week at The Center Circle, we are highlighting a different player in a feature we call "On the Spot". We'll take a look at superstars, underrated gems, aging veterans, and young unknowns who should be known. We'll peruse their club and international careers, taking note of their teams, statistics, and highlight reels. We'll illuminate their strengths and weaknesses and comment on their personalities and reputations. It will be some fun. If there is anyone you want to see "On the Spot", feel free to comment below.
Thomas Muller
Thomas Muller certainly doesn't have the haircut of a superstar, nor the flashy dribbling to showcase. In fact he is one of the most ordinary football players in the world, with exception to his excellent dancing. With his trademark low socks, Muller has quickly grown into one of the sport's most unheralded young superstars.
Club Career
Born in Weilham, Bavaria, Muller grew up in the small village of Pahl with his parents and a younger brother. He played for the local club TSV Pahl as a youth before heading to Bayern Munich's youth system at the age of 10. By 2008 he began playing for the club's reserve team, even becoming the fifth highest scorer in 2007-08 season. He made his first team debut, under Jurgen Klinsmann, on August 15th, 2008 against Hamburger SV as a substitute. The next year, under Louis van Gaal, Muller began to feature on the first team with van Gaal even saying "with me, Muller will always play." He was voted among league players as the best newcomer for the 2009-10 season, during which he scored 13 goals in 34 Bundesliga appearances. Muller helped lead Bayern through much success the next few years, culminating in a historic treble in the 2012-13 season.
Under several different managers Muller has had several different positions. He has been used as a forward, out wide as a winger, and also as an attacking midfielder. Every manager Muller has played under has lauded his mental ability on the pitch to find open space, with himself admitting that he is a very "unorthodox" player. In the 2013-14 season under manager Pep Guardiola, Muller turned in his best goal scoring year to date, with 26 goals in 51 appearances. With injuries to Franck Ribery and Arjen Robben, look for Muller to help new addition Robert Lewandowski with the goal scoring load for Bayern early in the season.
As for playing somewhere else besides Bayern, Muller hinted that the Premier League would be the "obvious choice," but that he is happy with Bayern Munich. Despite transfer rumors with van Gaal's hiring at Manchester United, Muller signed a contract extension with Bayern through 2019. For now, Muller will look to help Bayern to their third straight Bundesliga title, while improving upon a semi-final appearance in the Champions League.
International Career
Not many players have seen too much international experience by age 25, but Muller has already experienced two World Cups, and Euro 2012. Muller represented Germany on multiple U-21 call ups, and made his senior team debut in January 2010 in a friendly against Argentina. He was a surprise addition to the provisional squad for the 2010 World Cup, and earned a place in the starting XI. Muller scored his first international goal against Australia in the opening match of the 2010 World Cup, and ended up scoring four more and assisting in three more. Germany went on to take third in the tournament, while Muller won the Golden Boot award, for the top scorer in the tournament.
Muller was included on the squad for Euro 2012, but did not make any notable contributions as they were once again bounced in the semi-finals of another major tournament. Muller helped qualify Germany for the 2014 World Cup, where he scored a hat-trick in Germany's opening game against Portugal. He helped Germany break the streak of semi-final losses and then beat Argentina in the final. His 10 World Cup goals are already enough to tie him for 8th all time, and he will only need six more to tie compatriot Klose's record of 16.
Style of Play
Muller describes his play as unorthodox, with the term "Raumdeuter," which translates to "interpreter of space." Managers have described him as efficient and doing whatever it takes to get a goal. Another major attribute is his mental toughness, with German national team manager Joachim Low even saying he is "impervious to pressure." He has been used in a variety of attacking roles, but is seemingly always clinical with his technique. Above all, Muller may not win the Ballon d'Or, but he certainly will help his team win.
Off the Pitch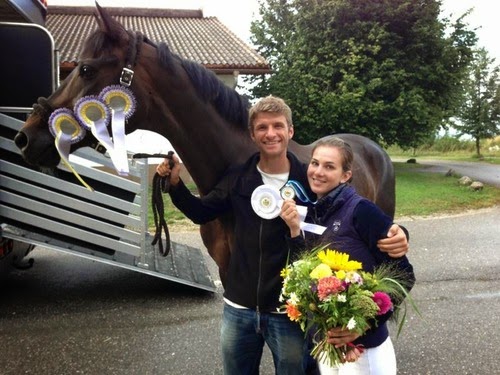 Muller doesn't make a lot of headlines off the pitch, preferring to join his wife Lisa working with equestrian on a farm getting away from football. While in the spotlight, Muller has a knack for cranking out witty one-liners to the press, while being polite and courteous in the process. At 25, he is still young, but responds as though he is wise beyond his years. He is even an ambassador for YoungWings, a charity to help children who have suffered trauma.
He may not have the flash of Ronaldo or Messi, or the acclaim of a "superstar," but he is the epitome of Bayern Munich's phrase "mia san mia," "we are who we are." Muller is a well-rounded attacker who has accomplished much, but still has plenty ahead of him. A World Cup goal scoring record is within reach, and yet, he is the type of player who would shrug it off as an individual accolade that is below team success. A good player, and a good person, Thomas Muller will be exciting to watch for the next decade.