Every week at The Center Circle, we are highlighting a different player in a feature we call "On the Spot". We'll take a look at superstars, underrated gems, aging veterans, and young unknowns who should be known. We'll peruse their club and international careers, taking note of their teams, statistics, and highlight reels. We'll illuminate their strengths and weaknesses and comment on their personalities and reputations. It will be some fun. If there is anyone you want to see "On the Spot", feel free to comment below.
Yaya Toure
It's difficult to quantify exactly how valuable Yaya Toure is for his club and continent. The 6'2" box-to-box midfielder has what ESPN's Bill Simmons calls (referring to LeBron James) the car wash "everything package". LeBron is probably an easy comparison, but it's apt considering their uncommon mix of mind-boggling natural ability and world-class refined skill. However, Toure's brilliance is harder to capture, mostly because, until recently, he was never a heavy goal scorer.
Since he went to the blue side of Manchester, City have not finished below third place. He's won four consecutive African Footballer of the Year awards (tied with Samuel Eto'o). It's clear Yaya has carved a place in soccer history for himself. His modest beginnings in Ivory Coast make this all the more fascinating.
Late Bloomer Extraordinaire
Although his youth career didn't begin until he was 13 (quite old for European soccer stars these days), Toure took off in a hurry. From 1996 to 2001, he honed his skills at ASEC Mimosas, Ivory Coast's premier soccer academy based in the capital of Abidjan. Despite not getting his start at a major club in Europe with money to spare, Toure was clearly a monster talent. When manager Jean-Marc Guillou, a French national team player in the 70s, left for Belgian club Beveren, he brought Yaya and many other Ivorian young guns with him. The club is now defunct, but it was a launching pad for Toure.
He moved to Ukrainian club Metalurh Donetsk for a season and a half, then on to Olympiacos in 2005 to gain more notoriety and respect. After a season there, Ligue 1's Monaco showed an interest in 23-year-old Toure. This is a late age for an aspiring star to join a European Big 5 league (EPL, La Liga, Bundesliga, Serie A, Ligue 1), but the late bloomer kept proving himself.
So much so, that world-power Barcelona took notice in the summer of 2007, signing Toure a day after their blockbuster acquisition of Arsenal's Thierry Henry. Through three seasons there, Yaya couldn't quite establish himself, having trouble beating out defensive midfield maestro, Sergio Biscuits (or Busquets, however you like to spell it). This doesn't mean he wasn't integral on a few of those utterly dominant Barca squads, assisting in two La Liga titles and ascending the Champions League throne in his time there. In the 2009 Champions League final, he displayed his versatility by starting at center back, a position mostly foreign to his career.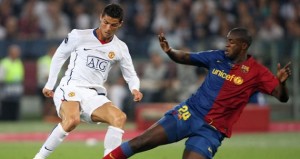 Still, Toure needed to find a place where he could thrive long-term, where his job security was more intact. In September 2008, Sheikh Mansour and his Abu Dhabi United Group acquired Manchester City, pumping in crazy money in the hopes of becoming a Premier League power. Yaya Toure became central to this mission. A 24 million pound transfer in July of 2010 teamed him up with his older brother Kolo and placed him on a roster where he would be the central force.
It didn't take long for the newly-rich Citizens to take trophies back to Manchester. Toure struck home the winning goal of the 2011 FA Cup, Man City's first title in 35 years. He would've been a City legend even if he had stopped there, but that victory was just a sign of things to come. The next season famously saw them lift the Premier League trophy in wildly dramatic fashion. Finishing second behind rival Manchester United the next year, the following 2013-14 title season became Yaya's defining campaign thus far.
With 20 goals and 9 assists, he became just the second EPL midfielder to score 20 (behind current teammate Frank Lampard). It helped that City were an unstoppable offensive flamethrower (102 goals), but Toure had to be considered the flammable petrol in the canister. After the season, there was drama about whether Yaya would even stick around City after his monster year. Apparently disgruntled with the delay in extending his contract and that City didn't properly celebrate his birthday (what the?), Toure's agent suggested he could be leaving soon. He came back this season though and has a contract that runs through 2017, but his recent comments on the subject don't seem especially promising for City fans.
International Struggles
I've written at length about Ivory Coast's disappointing Golden Generation. As one of Africa's best players, Yaya has been an integral part of both his country's successes and failures. There's a general feeling that he doesn't bring the same intensity to his Ivory Coast matches as he does his club teams. With a new guard coming up in the Ivorian ranks, can Yaya push past the letdowns and lead his country to an Africa Cup of Nations championship this year? In a few weeks' time, we will see how they fare.
Style
Cross-sport athlete comparison: I already linked Yaya with LeBron James at the beginning of this, but it bears repeating again: Yaya is the LeBron of the Premier League. Late last season in a match vs. Aston Villa, he went on a blazing run over half of the pitch with the ball, showing off his physicality and speed in the open field. It was eerily like watching LeBron with a full head of steam in transition before he flushes it at the other end. Still in the midst of a title race with Liverpool at the time, Toure cemented his stamp on it with a captivating goal.
Telling statistic: During that unstoppable 2013-14 season, Toure's scoring rate dramatically went up (he finished third in the EPL), but his shots per game somehow went down. In fact, no one else in the top 10 had under 3.1 shots per game – Yaya averaged 1.8, revealing his outrageous efficiency.
Boot choice: Signing with Puma in 2011, he used to wear the Puma King, but has since swapped it out for the new evoPOWER. It's a boot that perfectly fits his game of stability and athleticism.
Off the Pitch
The Brothers Toure have been two of Ivory Coast's best soccer imports, but Kolo and Yaya's younger brother Ibrahim was also a professional player. His unfortunate death due to cancer right before their first World Cup match last summer certainly had the brothers playing with mixed emotions in Brazil.
When signing his Puma deal, he designed it to contribute shoes and clothing to West Africa, giving back to the continent where he saw his start.