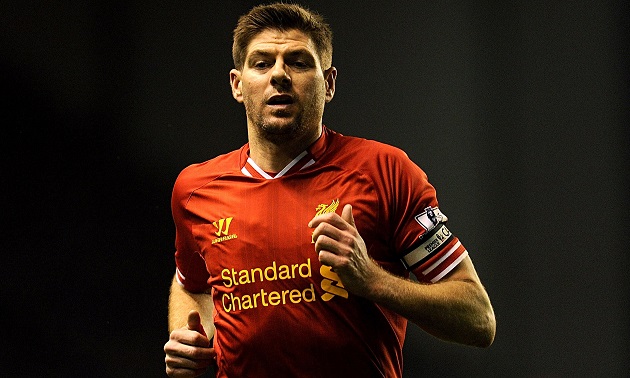 The pride of anybody that writes about sports at any decent level is removing yourself from the equation.  Never mention your team(s) as "we," never let emotion creep into the writing, and never ever ever ever let a reader be able to gauge your personal preferences through your writing.
This writing breaks every rule that a decent writer is supposed to follow…but, luckily, I've never considered myself a decent writer.  Still…
Steven Gerrard has retired.  A social media post ending his career, and the English midfielder fades off into the next venture of his life.  The only door that has been closed is Stevie G walking back onto the pitch with the number eight on his back and his boots laced up.  I'm not going to sugarcoat my reaction then, and I won't sugarcoat my reaction now: I cried when I read the news.  This player who, at times, sometimes walked a realm that seemed beyond what we should ever place on a player's shoulders and yet, somehow, on a rather alarming number of occasions, lived up to that billing.
Steven Gerrard is a player that has divided opinions during his time on the pitch and, as a certain unnamed ex-teammate of Gerrard's has shown in the wake of the retirement news, will continue to divide opinions now that his playing career is over.  However, as a fan that makes me a definite member of the "we" following "our" captain, Steven Gerrard was hope.
Steven Gerrard was hope.
The masses might crawl over themselves to point to Istanbul and the Champions League final that will define the good portion of Gerrard's career, but Gerrard was so much more than one half of football.  Steven Gerrard, to a Liverpool fan, meant that there was no lost cause.  There was no game of football that got too far away to see the reds overcome.  There was no finish in the table that felt permanent.  Despite a goal that will fade into the nether as an unobtained trophy, and a hole on his mantle that many a historian will hold against him, we never felt as if Gerrard couldn't finally make the final leap…no fan will ever see it as Gerrard's fault.  Even with the most ill-fated slip of our lifetime, the finger still points firmly in every other direction…Stevie G gave it all.  No mountain too high, no cliche too bleak…if Gerrard was on the pitch, it only took a moment for him to grab it by the scruff of the neck…
Steven Gerrard was hope, and the only thing that could stop him was a final whistle.
It might be the love affair that we all have with hometown players.  The momentary thought when they kiss the badge that, for at least a moment, the crest on their chest means more than the check in the bank.  The thought that the big transfer, the possible courting from Madrid or Barcelona, or the threat of heading a bus ride away to play for a different club, means nothing because the club that you grew up with simply means more.  Gerrard was that player for Liverpool.  During an era where loyalty meant sticking around for a few seasons….or merely accepting the offers that no sane man could really refuse…Gerrard stayed, and it merely grew the legend.  A chant that will ring round Anfield for decades to come…yet, it somehow feels about fifty verses too short in terms of truly encapsulating the man.
Steven Gerrard was hope, and gave fans a rare glimpse of trust and belief in a professional footballer.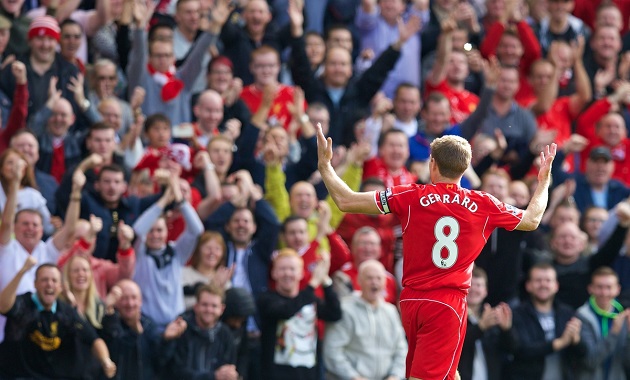 Playing in front of the Kop is like performing any task right in front of a tutor.  Every big positive is quickly applauded, while every negative is met with a fairly quick rap on the wrist.  Gerrard molded his game in that fashion.  The Kop never found themselves only applauding a swift attack, or a raking cross-field pass, but also stellar defending…or even extensive hustle (sometimes from the opposition).  It takes a special place to praise Dirk Kuyt for merely being a tireless outlet.  Gerrard formed his game around hunting that praise.  Box-to-box, hard tackling, driven passing, and the occasional shot from somewhere around "Dear God why'd you shoot that, oh…that's why you shot that…please continue to shoot that" range were all reinforced by a crowd that quickly grew to love a player whose armband slowly seemed to become a part of him.  The pain and scars left by Hillborough can be acknowledged with armbands and moments of silence, but only someone from the area would truly know the suffering.
Steven Gerrard was hope, and he may have embodied his club almost as much as he shaped it.
Despite leaving for LA Galaxy and still showing glimpses of why Liverpool never wanted him to go, there was no grudge.  Despite not bringing home any silverware for his American troubles, it leaves no mark on the legacy left.  Despite Gerrard never fulfilling the ambitions his nation longed for him to fulfill, he gave England his best.  Despite a smattering of red cards that might have been a bit rash (although, given Gerrard's affinity for United and Everton…probably worth it), a groin that must have been made of something pieced together by twine and plastic, and a pair of boots that didn't do their job in the greatest moment of need…Stevie G leaves no regrets in his wake.
Steven Gerrard was hope, and he can look back on the whole tale with pride.
The hole that Steven Gerrard left might end up being the greatest gift that he could give to his beloved club.  Once Liverpool realized that so much had depended upon a red wheelbarrow that carried the entire power of their midfield, they realized how much work they had to do.  A manager that needed to develop players instead of letting the captain do the molding, a midfield that possessed the aspects Stevie G showcased but without the ability for oppositions to merely prevent one player from brilliance, and a set-up that can have true competition…because, let's be honest, nobody was taking a roster spot from a healthy #8.  Klopp knows that this team is his, because Gerrard left a gap for a man at the top.
Zidane left us with tears for the stumble at the final hurdle.  Ronaldhino still helps us smile through the pain of his departure.
Gerrard takes a piece of every Liverpool fan with him into retirement.  Tears for an armband that will never fit the same.  Shouts for strikes that will never fly as fast.  Fear in the unknown future where a club will have to rise up in the face of adversity, instead of turning towards one man.
Steven Gerrard was hope.  He retires a legend.  He retires a hero.  He retires with the unwavering love of a club.  He will never walk alone.
Oh, you beauty.