If you're the prohibitive and perennial favorite, when is it okay to start freaking out? Are you allowed to have a few off nights? For Manchester United and Barcelona, apparently not. Certainly the situation at Old Trafford is more dire than over at Camp Nou, but still, these two sides are not in their usual form – and people are beginning to lose their minds. This is more justified for Manchester United, as they staggered early in their English Premier League season and currently find themselves still struggling to catch up. Barcelona has just lost their second game in a row for the first time since March. So, what's wrong with these giants? Should fans of both of these sides start buying Arsenal or Real Madrid jerseys, or is all this concern and worry for naught?
Rooney and the Rest
One thing that Manchester United isn't worrying about right now? Wayne Rooney. He has been far and away United's best player this season. Without even glancing at the numbers (8 goals, 5 assists in 11 EPL games, by the way), he looks more fit and confident than anyone on his squad. The issue seems to be everyone else. No one else has more than 2 assists in EPL play and only Robin Van Persie has put in more than 2 goals. Speaking of RVP, he's missed three league games already, including the last two games that saw them draw with Cardiff City and Tottenham Hotspur.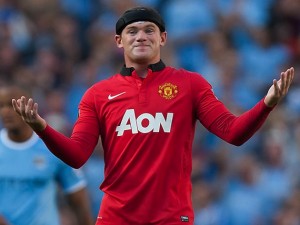 Midfielder Michael Carrick has also missed two games, meaning they have had important pieces out for significant time already. However, this is Man United. They bring in the best players from all over the globe. They shouldn't be using a couple injuries as an excuse to why they are sitting 8th in the Premier League table. Right now they are knotted with Southampton at 22 points, which is a point behind Newcastle United. These aren't the teams Man U is accustomed to dwelling among, meaning there is good reason for unrest.
Last season at this time, United was sitting pretty at 10-0-3 with a goal differential of +14. This year they are at 6-4-3 with a GD of +5. While this makes it look like they have a slim shot at climbing back up the table, there are still 25 EPL matches remaining. Arsenal has a strong 9 point jump on them, but there is much soccer left to be played. Not to mention they sit atop their Champions League group, 3 points clear of anyone. Of course there is reason to fret for United fans, but if RVP and Carrick can stay healthy, there is quite a bit of football in front of this team to contend for the EPL title.
No Messi, big problems
FC Barcelona have not yet experienced the kind of sustained struggle that Man U is going through so far this season, but you can feel the tension starting to grip the club. Without the best player in the world, they are obviously finding it hard to get the same scoring opportunities. Neymar is next in line of course, but he has found it hard to fill Lionel Messi's shoes in the last few matches. It's not like that is an easy feat, but someone needs to finish for Barca. After suffering a hamstring injury on November 10th, Messi is on schedule to return in 3-5 weeks, meaning he won't be back for at least 5 more Barca matches.
However, it isn't only his absence, but Jordi Alba and Dani Alves as well. Without these two providing their usual spark, the squad is at a deficit. The past two matches (losses to Ajax and Athletic Bilbao) have featured the usual heavy possession control minus the usual goals converted from it. They are hogging the ball, just not getting as many shots or scoring chances.
As with Manchester United, it isn't the end of the world for Barca supporters. Sure, the Madrids are nipping at their heels. The superb Atletico side is tied with Barcelona at the top of the La Liga table, with Real just 3 points behind them and Ronaldo returning from injury very soon. However, their recent struggles have come against an Ajax side that could very well join Barca in the Champions League knockout round and Athletic Bilbao, who currently sit in a Champions League-eligible 4th place in La Liga. Again, these aren't teams Barca is used to struggling with, but I need to see this team play a few more games sans Messi before I would even think about throwing up any red flags.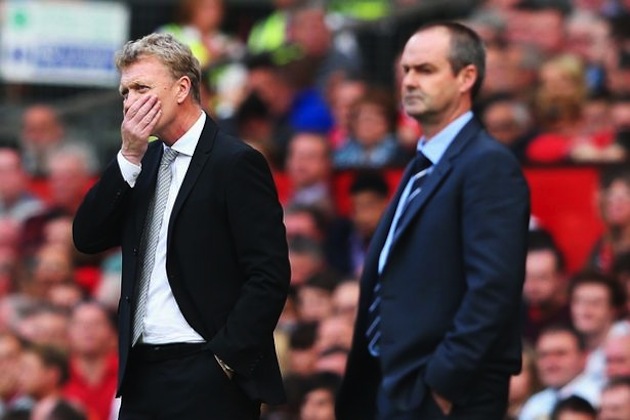 Managerial Transitions
Both of these clubs are also experiencing managerial changes. Doubts have certainly started to cloud around Man United manager David Moyes. The longtime Everton coach has struggled to find cohesion with this group thus far, spurring Man U faithfuls to already pine for the days of Sir Alex Ferguson, and we are only 5 months removed from it. He has lost the interest of Chicharito, who seems ready to bolt. Could his seat get hot by the end of the season if – God forbid – Manchester United don't qualify for the Champions League?
Then there is new Barcelona manager Gerardo Martino aka Tata, who cruised through his first 20 matches with 16 victories and 4 ties. Now that he has back-to-back losses on his plate and no Messi to make everything right, how does he respond tactically? Does Fabregas continue to play the 'false nine' or does he move Neymar or Alexis Sanchez around? Considering they have just one goal (on a penalty, to boot) in the last 180 minutes of action, something will need to be done. Could Barcelona drop to (gasp!) 3rd in the La Liga table?
If Barca find themselves continuing to struggle like their fellow powerhouse Man U, expect the negative hyperbole to rain down on them. However, just know that this is one of the more dominant club teams in recent memory. As with The Red Devils, they won't be down for long. These giants are never out of it, they just stumble from time to time.