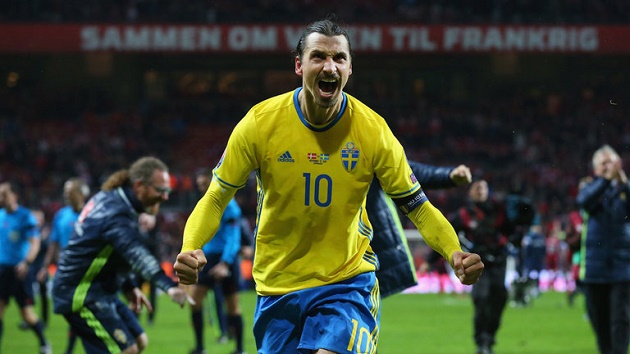 There can be no doubting Zlatan Ibrahimovic's exploits as a club team player. With some of the most renowned teams, such as Inter, AC Milan, Barcelona, and PSG, he has won titles and effortlessly become one of the world's greatest strikers. Of course, on those clubs he played alongside some of the game's very top talents, like Messi, Iniesta, Xavi, and Pique (and that's just from his time in Barcelona). On the international side, however, success has not come so easily, which makes his time in a Sweden shirt totally unique to most superstar players.
For the last several years, Swedish soccer has been synonymous with Zlatan. When you think of Sweden's national team, you think of Zlatan and Some Other Guys. Those Other Guys don't play for the world's richest clubs. They play for teams like Malmo, FC Copenhagen, and Olympiacos. On PSG or AC Milan, Zlatan is a larger than life figure, due to his 6'5" stature, his otherworldly skill, and his grandstanding personality. So you can imagine what he means to his birthplace, the Scandinavian country ranked 89th in population. After Euro 2016, he's retiring from international play.
Zlatan is unsurprisingly Sweden's all-time leading goal scorer with 62. He's a ten-time Guldbollen winner, the award (means "Golden Ball" in English) given annually to the best Swedish footballer. If he wasn't retiring, he could probably win that award into his 40s.
Over the last ten-plus years, any time Sweden has needed a huge goal, they have turned to one man. Consequently, they haven't reached a major tournament semifinal since 1994. Don't get me wrong, that's not a knock on Ibrahimovic; it's just part of soccer's simple reality. Hoping one player – albeit one as wildly talented as Zlatan – can carry you all the way just doesn't work. In basketball, one player can make an outsized impact on the game and sometimes carry lesser teams to surprising heights, like LeBron James' early days with the Cavaliers. Soccer doesn't lend itself to that.
This is why, despite having one of the world's best strikers, Sweden has missed the last two World Cups. That's especially disappointing since they advanced past the group stage in both the 2002 and 2006 World Cup, before Zlatan became a global superstar. In '02, he was a 20-year-old late match substitute, having only made his international debut in 2001. By '06, he had become a starting forward, scoring 8 goals in World Cup qualifying. Both times, Sweden advanced from the group stage before losing in the Round of 16.
Zlatan's nation has hardly had more success in the European Championships, although they've at least qualified for the last four straight. In Euro 2004, Sweden won their group with Zlatan scoring twice. He also scored twice in each of the next two Euros, but they were knocked out in the group stage both times. For Zlatan's final showing on the international stage in Euro 2016, it only made sense for his team to look downright futile, as they crashed out after three Group E matches. There was no Swedish fairytale for Ibra in the end.
No matter who they had as manager or what type of team they had built around Zlatan, it always seemed like a miracle just to qualify for these competitions. Maybe that's because it often was.
In 2014 World Cup qualifying, Portugal and Sweden ended up meeting in a two-legged playoff to determine who would go to Brazil. This pitted two generational stars — whose individual talent towered over their national teams — against each other. As you may remember, the matchup with Cristiano Ronaldo didn't disappoint.
After Ronaldo scored the only first leg goal, the second leg featured a wide open match that was as close to 1 v. 1 as it gets in international soccer. CR7 kicked things off with a goal early in the second half, only for Zlatan to strike two times within minutes of each other, turning the match entirely on its head. Not five minutes later, it was Ronaldo finding acres of space in Sweden's end to give Portugal the lead. He then capped it all off with a hat trick soon after, thus effectively ending Zlatan's chances at playing in his final World Cup.
Despite this lack of team success, our memories of Zlatan with Sweden will be plentiful. Of his 62 international goals, many were utterly sensational. Most memorably, he won the FIFA Puskas Award in 2013 for a ludicrous bicycle kick against England that no one else on the planet would've attempted. It was his fourth goal of the game.
Then there was Euro 2004 vs. Italy , when he miraculously created a goal ex nihilo with the side of his foot. It's hard to imagine there's ever been a goal quite like that in the game's entire history.
Even just to get to Euro 2016 took a memorably heroic effort from Zlatan. Sweden ended up facing Denmark in a qualifying playoff, with a trip to France on the line. The Swedes won the opening leg 2-1 on a Zlatan penalty kick. In Copenhagen for the second leg, it took a double from Ibrahimovic to hold off a charging Denmark, 4-3 on aggregate. In all, he scored 11 of Sweden's 19 goals in Euro 2016 qualifying matches.
By any individual measure, Zlatan just finished a remarkable international career. And yet his team never made a major tournament semifinal appearance, failed to qualify for two World Cups, and failed to get out of their group at three consecutive Euros. How do we classify the uniqueness of a career like that?
In the end, I think it's weirdly fitting that Zlatan's divine skill level and titanic ego dwarfed his teammates for the entirety of his Swedish playing days. He so often seems larger than the game itself, and for Sweden, he was.