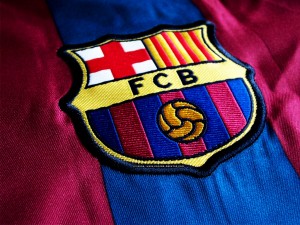 Much like being a fan of the United States of America and Blue Bell ice cream, following Barcelona is usually an easy and rewarding experience. The history, the success, the Messi. I mean, the only consistently difficult aspect of being a cule is choosing which trophy to smash in the face of Real Madrid fans.
So when I say that Barcelona is in the middle of a rough patch, I don't expect much more than eye rolls from the non-Barça contingent (or The Great Unwashed, as they are known inside of my head).
What does a 'rough patch' at (arguably) the best club in the world look like? Let's take a peak under the blaugrana hood at what I view as the three biggest problems in Catalonia.
Personnel
First, let's recap Barcelona's transfer movement this summer:
IN: Neymar
OUT: Fontas, Muniesa, Abidal, Villa, Thiago, Bojan (loan), Deulofeu (loan), Rafinha (loan).
You may recall Barcelona's crushing 7-0 aggregate loss to Bayern in April. There were several reasons for that loss, but the most glaring were the small squad, a lack of true number 9 forward and a weak defense. These problems have been stirring for a while, but the talent of the starters have masked it, only for Bayern to expose it brutally.
Since the $70 million signing of Ibrahimovic fell apart, Barcelona have lacked a number 9. Villa has been shunted out wide, Messi plays a false 9 and no youth player has stepped into the void (keep your eyes on Dongou though). So there's no strength, no aerial threat and no alternative to the Barça tiki-taka.
Meanwhile the club refuses to address the gaping hole in the middle of defense. At present, there are THREE first choice center defenders at Barcelona; Puyol (who has missed about 10,000 games through injuries), Pique (mentally unstable without Puyol's leadership) and Mascherano (a converted midfielder). That's appalling. Factor in that Barcelona just let 3 more potential CBs leave (Muniesa, Fontas and Abidal) and you should be slamming your head into a concrete wall.
So what's the problem? Stupidity, more than anything. Barcelona is slow to look away from its famed youth system for players, but when you play 60 games a year, you need a larger squad than the 16 or so that got consistent minutes last year. Youth players won't cut it.
What's more, the club hasn't realized it yet. Thiago Silva has committed to PSG, Marquinhos has is close to signing with the Parisian giants and the other options, Luiz and Agger, seem distant at best. As far as a striker, Barcelona have stated repeatedly they won't sign anyone, leaving their attacking options as Messi, Neymar, Pedro, Tello and Alexis. Admittedly, that's strong. But if one of them gets injured, it'll be a long season.
Incompetence of Leadership
This. This more than anything. This multiplied by 10 bajillion. The mistakes made by president Sandro Rosell and director of football Andoni Zubizarreta are countless, so let's highlight the biggest.
Thiago's leaving. Honestly, this should have meant Zubi's head (and it might). Thiago is an unbelievable player, with the ability to replace Xavi or Iniesta; he can run every position in the midfield, possesses tremendous vision, excellent control and dribbling abilities. He can score, defend and influence games better than Fabregas. And now he's gone, due to some ridiculous contract loophole and a lack of confidence in his abilities. Thiago is a potential World XI player, and he left for 25 million euro. He's going to be replaced by Sergi Roberto, who is solid and virtually untested. Let that sink in.
Smear campaigns. Joan Laporta, Rosell's predecessor, led the club to 2 (and a half) Champion's League titles, developed Messi, hired Pep Guardiola and placed an emphasis on La Masia. Unfortunately, he also piled on debt. Since Rosell has taken over, he hasn't had a word to say about Laporta that hasn't been accusatory. What's more, Pep has come out and said that the club used Tito Villanova's fight with cancer to hurt the former coach's reputation. Pep lived in New York this past year, where Tito was receiving his chemo and radiation. Reportedly, he only visited Tito once — just before a meeting with Laporta. Pep came out in the past week and blasted Rosell, saying he was unable to visit Tito (although he didn't give details). Pep is a legend at Barça. Untouchable. 

Transfer failings. Here are some mind-numbing accusations Rosell and Zubizarreta are facing: Barcelona passed on Thiago Silva two years ago. Isco last year. They lost Thiago this year. They lost the battle to sign Javi Martinez. They let Villa leave for 2 million euro, without including a clause to sign Atletico Madrid's wonder kid Oliver Torres. Think about that. Isco is one of the brightest prospects in world football right now. Thiago Silva is now worth over £50 million. We've talked about Thiago's ability. Javi Martinez will probably start at the World Cup in 2014. And Torres looks like a future Xavi. Essentially, Barcelona refused or botched the opportunity to ensure another decade of world class players. Neymar is their only recent signing that looks set to influence the future.
Problems in La Masia
What? La Masia is floundering? The world is ending?
Not quite. Barcelona are still producing superstars of the future, like Grimaldo, Dongou, Rafinha, Sueng Woo Lee and Deulofeu. But next year's Barcelona B team will likely battle relegation from La Liga Adelante (after placing third in 2011/2012). Current coach Eusebio is completely out his depth, and the club has stalled on beefing up the side with loans and purchases, to the point where next year's B squad will be the youngest in the history of Barcelona B (according to Sport).
So is it all doom and gloom in Catalonia? No, not quite. Messi, Neymar, Iniesta, Xavi and Busquets continue to ply their trade at Camp Nou. But the club faces very real questions about their ability to build for the future. About their ability to compete for European glory. And about their willingness to address that their tiki taka is no longer as fear-inducing.