As we approach the final weekend of the Premier League, my heart fills with sadness knowing that it will be another summer without Manchester United. But that's besides the point. With essentially all of the season done and dusted, it's time for me to pick my Premier League Team of the Year.
Goalkeeper: David De Gea (Manchester United)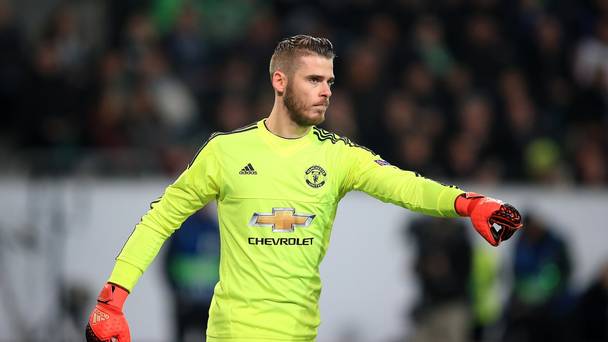 If it wasn't for David De Gea, there's no telling how far down the table Manchester United would be at this point in the season. Ever since the soccer gods intervened and messed up Real Madrid's fax machine, the 25-year-old has been nothing but brilliant for the Red Devils. Despite missing five games at the start of the season because of the transfer saga, De Gea is currently tied with Kasper Schmeichel, Petr Cech and Joe Hart for most clean sheets in the league (15). He was without a doubt, in my mind, the best keeper in the league this season.
Left-back: Danny Rose (Tottenham Hotspur)
Before this season, some Spurs' fans were ready to sell Danny Rose off after an unimpressive year, but Mauricio Pochettino kept faith in the English defender. Rose has grown into one of the most important parts of Tottenham's defensive unit. This season, Rose has helped Spurs to the best defensive record in the league, allowing just 30 goals through 37 matches. His pace on the wing makes him a constant threat going forward and also allows him to track back and cover in the defensive third. While Christian Fuchs was also a strong contender for this spot, I think Rose deserved it more.
Center-back: Wes Morgan (Leicester City)
Now we have the introduction of our first Leicester City player into the lineup. Wes Morgan captained the Foxes to the most unbelievable title run in not just league, but arguably world history. Other than Schmeichel, Morgan is the only player on Leicester to start every single league match this season. Their best defensive run of the season came late, as they kept five consecutive clean sheets to cement their position atop the table. As noted in this awesome ESPNFC graphic, Morgan led his side in blocked shots and was a key man in protecting Schmeichel's net.
Center-back: Chris Smalling (Manchester United)
Lining up next to Morgan has to be Chris Smalling. It wasn't too long ago that some United fans wanted to see the towering center back out of Old Trafford after a disastrous red card performance against City last season. Now, Smalling is arguably England's best central defender going into the Euros. When asked who was the most difficult defender in the league, Jamie Vardy told reporters the United defender was the toughest test he'd faced all season. The Leicester forward said, "He's always tight and always around you to stop you from doing your bit on the ball or getting turned."
Right-back: Héctor Bellerin (Arsenal)
Few players in the league can match the pace of Héctor Bellerin. The young Spanish defender continued to build on a successful first season with the first team, and has become Arsenal's first-choice right-back for every match. At 21, Bellerin has started 35 league games for the Gunners this season, and for the most part he's been world class. A two-assist performance against Tottenham in the North London Derby showed how dynamic the Spanish defender can be on both ends of the pitch, and he could very well be in the Team of the Season for years and years to come.
Left-midfield: Dele Alli (Tottenham Hotspur)
This time last year, Dele Alli was helping MK Dons earn promotion to the second division. Now, he's helping Spurs qualify for the Champions League with a second place finish. The 20-year-old has surpassed any expectations that Tottenham fans would have had at the start of the year scoring ten goals and assisting another nine through 33 league matches. His late winner against Crystal Palace may have been the best of the bunch. Despite his inexperience at the top tier of English competition, Alli has thrived at White Hart Lane as either a left midfielder or an attacking central midfielder. Even though a late suspension cut him out of Spurs' late title push, Alli still ranks as one of the best in the league this season.
Center-midfield: Dimitri Payet (West Ham United)
Another Premier League newcomer to join this team has to be West Ham's Dimitri Payet. The Frenchman joined the Hammers from Marseille over the summer, and has been an absolute revelation at Upton Park. His creativity on the ball, combined with his lethal free kicks, has made him a key figure in Slaven Bilic's squad and has helped West Ham compete for European qualification this season. The Frenchman is currently the joint-top scorer for his club, and also the leading assist provider as well. Without him in the lineup, West Ham struggled and that showed just how vital he has been to their climb up the table this season.
Center-midfield: N'Golo Kanté (Leicester City)
N'Golo Kanté came into this season as a relatively unknown name. Before joining Leicester, he had plied his trade with a mid-table team in Ligue 1, and I doubt any Premier League fans expected him to make much of an impact in England. Luckily for Leicester fans, the 25-year-old was apparently built for life in England. His bulldog-like approach in the heart of the pitch gave Leicester a firm defensive footing in any match, and his high soccer IQ allowed him to position himself perfectly to cut out opponents' passing lanes. Even though he scored just once and provided only four assists, his impact for Leicester was unbelievable.
Right-midfield: Riyad Mahrez (Leicester City)
Riyad Mahrez was one of the most exciting players to watch this entire season. On the right wing, his tricks and turns on the ball baffled defenders all season, and his partnership with Jamie Vardy propelled Leicester to the title. With 17 goals and 11 assists, the Algerian was a no-brainer for the team of the season, and Leicester fans will be hoping that he doesn't jump ship for one of Europe's "elite" clubs this summer. Costing the Foxes a reported fee of just £500,000, I think it's fair to say that Mahrez may go down as the bargain of the century.
READ: The Unlikely Dominance of Leicester's Mahrez and Vardy
Striker: Harry Kane (Tottenham Hotspur)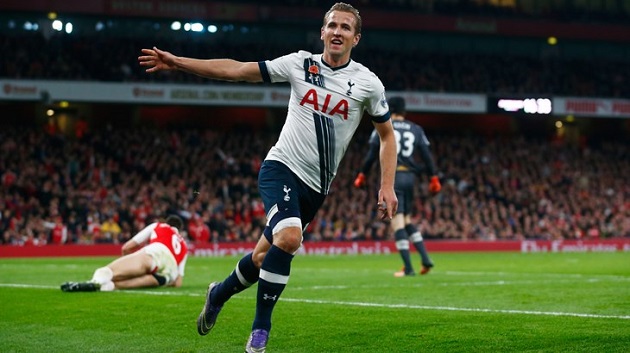 It would have been easy to write off Harry Kane's 21-goal season last year as a fluke. When he scores 25 the next season it's a little bit harder to do. The 22-year-old striker leads the league in scoring this campaign, and the added pressure of being a top striker clearly hasn't phased him. Seven multi-goal games (including a hat-trick against Bournemouth) highlighted Kane's emphatic season, and his lethal finishing touch was a big reason that Tottenham were even in the title race so late in the season.
Striker: Jamie Vardy (Leicester City)
If one phrase could encapsulate this year's Premier League, it would be: Jamie Vardy is having a party. The polarizing striker started off the season in fine form, breaking Ruud Van Nistelrooy's record of consecutive matches with a goal by scoring in 11 straight games. Through 35 games (he was forced to miss two matches through suspension), the 29-year-old has scored 24 times. His electrifying pace, and poacher's instinct made him the key man for the Foxes, and even earned him a nice new contract to stave off advances from other English clubs. With a game to go, we could still very well see Vardy take home the golden boot ahead of Kane and Sergio Agüero (not a bad bunch to beat).