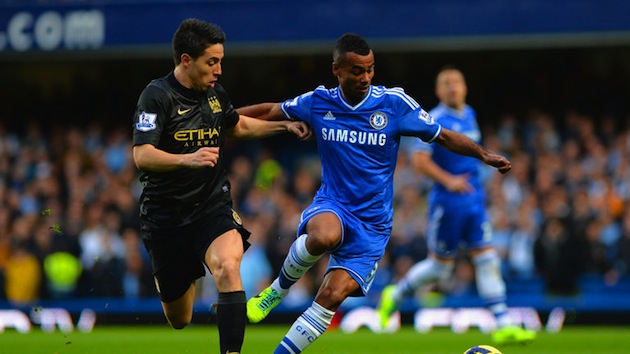 Fans of both types of football will recognize a few similarities between the Super Bowl on Sunday and the monumental English Premier League (EPL) match the very next day. Most notably, unstoppable forces vs. immovable objects. Most of the Super Bowl excitement stems from the thrilling prospect of watching the NFL's #1 offense (the Denver Broncos) go against the #1 defense (the Seattle Seahawks). What do we have in the Manchester City vs. Chelsea tilt on Monday? The Citizens' #1 league offense vs. Chelsea's #1 league defense. It may not have 1/100th of the hype, but the EPL has its own regular season version of the Super Bowl on its hands.
Unlike Broncos-Seahawks, it's not a championship match (or even a Champions League match), but the result will weigh heavily on the final Premier League standings. With a loss, 3rd place Chelsea drops 6 points behind City, but with a win, they're suddenly knotted with the table leaders. Man City's monstrous current form suggests they are the favorites to propel themselves further up the standings, especially since they will be comfortably playing at home. However, Chelsea manager Jose Mourinho and his men will, by no means, be intimidated walking into Etihad Stadium.
In fact, that's one area where there is no Super Bowl parallel, since NFL's biggest game is played on a neutral field. The home/away aspect of Man City-Chelsea makes for a fascinating study. City, of course, has been unbeatable at home with 11 wins in 11 games. They are also averaging an insane 3.8 goals per game at home, easily leading the league. Chelsea, meanwhile, have surprisingly had issues on the road, posting a 5-3-3 record away from Stamford Bridge. Actually, Newcastle and Manchester United, both much inferior sides, have more away points than the Blues right now. In all fairness, this is mostly due to offensive issues. The defense has stayed strong, allowing the least amount (11) of EPL away goals this season. So, you can see the titanic offense vs. defense battle we get to enjoy.
This is where the easiest Super Bowl comparisons come into play. Much like Denver, Manchester City has a high-powered offense capable of attacking from anywhere. While the Broncos scored over 600 points this season (the most in NFL history), City average a league-leading 18 shots per game (via WhoScored.com), leaving teams exhausted from the barrage. It's tough to find an apt comparison to soon-to-be league MVP Peyton Manning (David Silva? Yaya Toure, maybe?), but I think Man City forward Sergio Agüero is their version of standout Broncos' wide receiver Demaryius Thomas. Both are big-time finishers: Agüero has poured in 15 goals so far this season, which is good for 2nd place in the EPL. Thomas finished the regular season with 14 touchdowns, also second in the league. Although, Agüero will not figure into the matchup vs. Chelsea, considering he has just been ruled out for a month with an injury after just coming back from one. Look for these two teams to relentlessly attack their opponent the entire game.
Tidy parallels between the Seahawks and Chelsea FC form when analyzing these two matchups as well. Both sides stand firm on the strength of their defense and are inherently defensive-minded. Chelsea concedes less than 10 shots per game and has allowed just 20 goals, both statistical league leaders. At the risk of forcing this article's conceit with more (potentially silly) cross-sport direct player comparisons, I would say Chelsea defender John Terry could be considered the Seahawks' cornerback Richard Sherman. Both are divisive figures who also happen to be the heart of their respective defenses. Furthermore, goalkeeper Petr Cech would be Seattle safety Earl Thomas – the quiet, insanely talented back line defender who saves his team time and again.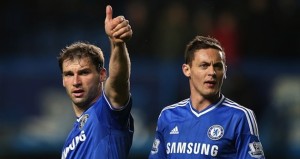 Of course, all of this talk hyping up the City-Chelsea match completely ignores 2nd place Arsenal. The Gunners sit two points above Chelsea, but you wouldn't know it from the current discussion around the Premier League. Most pundits have been predicting City as the title favorites before they were even first in the table. Others think Chelsea's defense-first soccer and their young offensive playmaker Eden Hazard will see them to a 4th EPL title. Right now, it's Arsenal (with recent injuries to key cogs Aaron Ramsey and Theo Walcott) that is getting overlooked. Sure, they have slowed their torrid early season pace, but I don't think they are out of the race.
For now, we get to enjoy two incredible Unstoppable Offense vs. Immovable Defense battles on Sunday and Monday. Which side will win out in each game? In the Super Bowl, I could see the cold weather cooling Denver's white-hot offense a bit, but don't expect them to get shut out, even by Seattle's stout defense. In the Premier League Super Bowl, it will be interesting to see if Jose Mourinho becomes somewhat of a hypocrite by employing a similar "19th century football" strategy that West Ham used against his squad this week. Considering Man City can score in a nanosecond, it might make sense for Chelsea, especially if they get an early goal.
No matter the result in either of these monster matchups, we will see some of the best team and individual performances in both types of football this weekend.