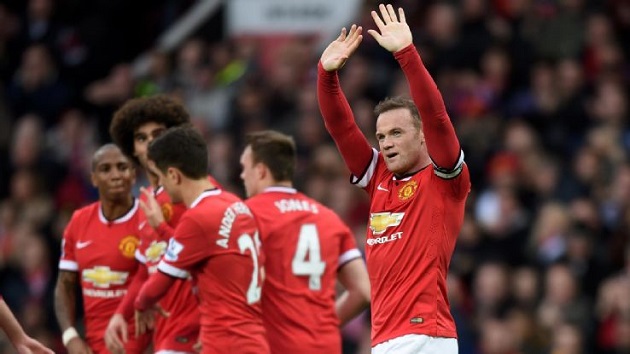 Louis van Gaal is a better coach than David Moyes. While he has sifted through more tactics and starting lineups than I care to remember, the Red Devils still have more points at this point than under Moyes. Most importantly, the confidence, self-belief, and effort are there. Last season, the Spring was marked by embarrassing, multi-goal losses to stronger sides. The team capitulated. Moyes' stubborn 4-4-2 and reliance on aging defenders and under-performing attackers unstuck a once proud team. LVG, however, has United at least in contention.
It's easy to gloat on a manager after a convincing win. However, LVG's best asset this term has perhaps been his flexibility. He really wanted his 3-5-2 system to work at United, but the central defenders lack the positional sense and aggression to play such a system. Chris Smalling stands too far up the pitch, Phil Jones is too passive, and Jonathan Evans is perpetually injured or suspended. Marco Rojo can play CB, but he's a better leftback. Thus, against Tottenham, the team reverted to a four-man backline and looked much more comfortable when defending.
On offense, LVG fielded an attack without Falcao, Robin Van Persie, and Di Maria. This was due to injuries, loss of form, and suspension. However, the spacing and movement were excellent – Juan Mata, unlike Di Maria, stayed wide right and stretched the defense, Rooney's movement up top was economical but sharp, Ashley Young's pace stretched the defense on the left, and both Fellaini and Herrera played more at ease with Carrick behind them. You can call this system either a 4-1-4-1 or a 4-3-3, but a rose by any other name would smell as sweet.
Thus, United fans should not get carried away (the defense still includes Tony Valencia, remember), but have reason for optimism. Beyond the point total, LVG has ignored big names, tried out various tactics, and finally fielded a balanced side and strong starting XI. Most importantly, Rooney has also rediscovered his goalscoring forward form from years past. Will it be enough for fourth place? Probably. Given City's current slide, it may even be enough for second.