The biggest news today happened to be that Liverpool and their fans would be receiving an early Christmas present in the form of crazy-hot striker Luis Suarez signing a long-term deal. A player that tops the EPL scoring charts and also is in the mix for European golden shoe (despite missing a large chunk of the season through his ban), Suarez is arguably the best striker in the world at this moment. With Liverpool ensuring that Suarez is tied down for the rest of this season, they are announcing that their pursuit of the top-four is locked in. Although some are proclaiming an outside chance at the title, the depth still is not there for that type of push, but retaining the Uruguayan maestro will definitely be a huge positive for Liverpool.
Considering it was only a few months ago where Suarez and Arsenal were flirting with each other, the turnaround for Suarez has been attributed to how the Liverpool fans treated their star man. Now, this new contract will have pushed most of the English clubs out of being able to afford Suarez and it will make any deal coming in for Suarez be absolutely gargantuan. Although there will be a bit more pressure on Suarez as he returns to the pitch, the team and management will definitely be heaving a sigh of relief and may hit the pitch without the worry of losing their key player.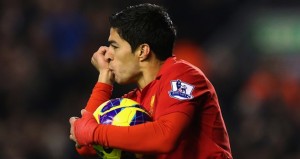 Now, just because Suarez has signed this massive contract it does not mean that Luis will not be a Liverpool man forever. However, it is a really smart move by Liverpool no matter what happens. Either Suarez remains a red and helps them attempt to return to Europe's elite or a team decides that they must have Suarez and they will have to pay through the nose. After this contract, we are talking Bale-sized transfer fee if someone decides to bring Suarez to their club. Especially if the Uruguayan continues his scoring form, the money needed to pry Suarez away would be staggering. A fee that would definitely allow Liverpool to purchase several players in order to recoup post-Suarez.
This contract was more than Liverpool trying to keep Suarez happy and more than Suarez deciding Liverpool had ambitions that matched his own, this contract was so that Liverpool would be taken care of. If Suarez stays, they keep their scoring machine. If he leaves, the treasure chest gets filled to the brim. If he stays, he has another 5 or so years of top-tier football. If he leaves, the fee could almost pay for an entire top-tier squad. The only people that do not win from this deal will be anyone that was considering buying Suarez in January or anyone hoping to pry Suarez away for cheap during this upcoming summer. Sorry Arsene, El Pistolero is going to continue terrorizing defenses for Liverpool and his transfer fee just jumped way outside of your transfer budget.