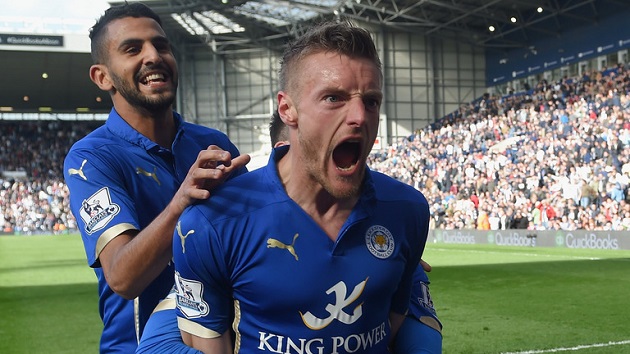 We'll call him Jamad Vardez. That's the totally-made-up player I just made up to represent the combined success of Leicester City striker Jamie Vardy and midfielder Riyad Mahrez. Together these two virtual unknowns have run roughshod over the Premier League through 15 matches this season. If you combine their production, they surpass most EPL offenses so far.
With 24 goals, Jamad Vardez has found the back of the net more often than 14 (FOURTEEN!) Premier League teams, including rich giants like Manchester United, Liverpool, and Chelsea. Vardez is averaging almost seven shots per game, while Man United's entire lineup averages just over 11.
If Alexis and Giroud were doing this for Arsenal or Aguero and Yaya were doing this for City, it would be one thing. This? Well, this unlikely madness is another thing entirely.
How are these guys outplaying entire fleets of expensive attacking players?
First and foremost, it helps to have a few skills that directly translate to goals at the highest level of English soccer. Neither Vardy nor Mahrez is a complete package like Aguero or Eden Hazard (well, last year's Hazard). Those guys ooze athleticism and otherworldly skill. What Vardy and Mahrez bring to the table are very specific to their role on this Leicester team.
Vardy has been the one reaping accolades, but it may be Mahrez that has been more essential to the Foxes' crazy run to start the season. Almost three months ago, I wrote the following: "Through five matches, Mahrez has lit up the scoreboard with four goals and two assists. Those probably aren't super sustainable numbers." Ten games later, Mahrez has put up 10 goals and six assists, so maybe it's somewhat sustainable. Mahrez's best qualities give Leicester a dangerous attacking piece from the wing. He may not be physically imposing, but Mahrez's agile runs and intelligent work on and off the ball have made him a nightmare for Premier League defenses.
Where Mahrez has been lethal mostly from the outside, Vardy has eaten up back lines time and again by leading the Leicester charge up front. It doesn't matter whether manager Claudio Ranieri has played Vardy alone or paired him with another forward, the 28-year-old Englishman has gotten it done. While Vardy does have surprising pace, it's not in an Alexis Sanchez-kind-of-way. The key to Vardy's success has simply just been by getting into great position close to the goal – and that's not always a matter of wandering around in the box hoping the ball lands at your feet. Vardy clearly has a knack for discovering the weak spots in the defense before unleashing his highly clinical finishes.
That's really the main point when analyzing Jamad Vardez's half-season goal-fest. They have been producing high percentage, close-to-goal shots and converting them at a remarkable clip. Ranking only sixth in shots per game and 18th in possession percentage, Leicester haven't dominated in the way those tiki-taka Barcelona teams did. Where Pep Guardiola's style passes you to death, never allowing you to even think about scoring because you can't get the ball, Ranieri's club doesn't care so much about losing the ball, because they are going to press more than most to win it back in dangerous areas. They have used the counterattack to great effect, scoring a league-high four goals off the counter. Because of this, Vardez simply gets more quality shots than teams that hold onto the ball by endlessly passing backwards and sideways, like Man United. Ranieri has clearly trained Vardy and Mahrez to go for the jugular when they do get the ball.
Of course, there are outside factors that have given Vardez a helping hand. Defensive-minded midfielders N'Golo Kante and Danny Drinkwater have been invaluable in allowing Vardez to bomb forward. Kante relentlessly provides tough tackles and numerous interceptions (leading the club in both), while the immaculately named Drinkwater is the central link between the defense and Vardez. The dirty work influence of these two has made it easier for Vardez to bask in the limelight.
Another factor has been Leicester's easy-ish schedule. They've definitely gotten some excellent results against top opponents so far, such as draws against Tottenham and Manchester United and a victory at West Ham. However, we will really know whether Leicester is here to stay after the month of December. Their next four matches come against Chelsea (should be a win, unless Hazard and Fabregas wake up), Everton, and then Liverpool and Manchester City within three days of each other. Talk about a gauntlet.
Is Jamad Vardez for real? I think by the time we turn the calendar to 2016, we will have a much better idea. Right now, there is really no knocking what Vardy and Mahrez have managed to do. Their numbers and position atop the Premier League speak for themselves.