By now, you know that the U.S. Men's National Team has been drawn into Group G with Germany, Portugal, and Ghana for next summer's World Cup. By now, you also have probably heard and/or read dozens of differing opinions on this. First, the doomsayers came out in full force, almost imploring our team to not even travel to Brazil. Optimists quickly worked to replace these sentiments, in order to rescue us from their predecessors' dark dystopia. One side seems to think we will be out of the tournament before you can say "Rio de Janeiro". The other believes we will be shouting "U-S-A! U-S-A!" as we cruise to a spot in the knockout round. Right now, the reality probably lies somewhere in between.
Here's the cold, hard truth: We are in the Group of Death. There is really no getting around this. All four teams got into the knockout round in the last World Cup. Additionally, Group G also has the highest average FIFA ranking of any group with an 11.3. For reference, the next closest is Group D at 14.3 (Uruguay, Italy, England, Costa Rica) and in a distant third is Group C (Colombia, Greece, Ivory Coast, Japan) at 20.3. We did not get a favorable draw, as many had hoped. This was undoubtedly due to the U.S. being the best team in Pot 3, eliminating many of the nations we would prefer to play.
Countless sources would have you believe we got the worst draw imaginable. But, how bad is it really? I think, for example, a (entirely possible) group of Spain, Chile, and the Netherlands would have been categorically worse. However, let's take a look at the history and the matchups against each of the USMNT's Group G opponents: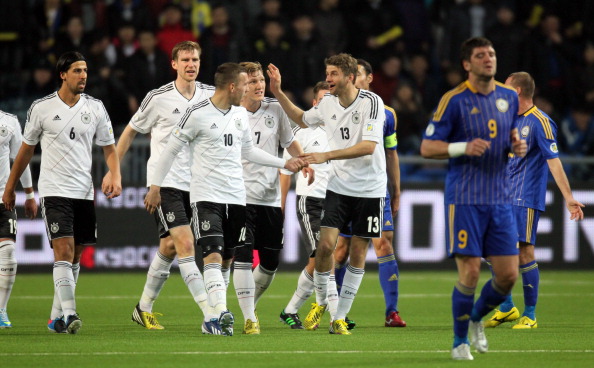 Germany
The Germans are about as complete a football team as possible. This is a national side that could conceivably refuse to start Mario Götze or Marco Reus. That is unbelievable. They might have the top goalkeeper in the world in Manuel Neuer and the best midfield (although Spain probably still holds that title). There just isn't a serious flaw on this squad. The U.S. side is going to have loads of trouble with these guys, as will just about anybody they play.
The one thing we have that no one else does, though: German Jurgen Klinsmann. The US manager was Germany's national team manager from 2004-2006 and finished 3rd with them at the '06 World Cup. If anyone knows German soccer, it's Klinsmann. Leftover players also remain from that '06 team such as Bastian Schweinsteiger, Philipp Lahm, and Lukas Podolski. Another silver lining to drawing Germany? We play them last in the group stage. Therefore, it's possible they could have two wins and might be resting key players. Call it a Group of Death best-case scenario.
Portugal
They needed a masterful performance from Cristiano Ronaldo in a qualifying playoff versus Sweden to even get in, but it really doesn't matter how much Portugal seems to be limping into World Cup qualification. This is mostly because they have Ronaldo squarely in his prime at age 28. He can wreak havoc on any defense in the world, but I think the Americans back line could especially have issues. This is the weakest part of the field for Klinsmann's crew, as he still hasn't figured out the names for our starting four. Will our defense be organized or talented enough to slow down number 7?
Still, this is not a very complete team, not even close to what the Germans bring. They have Pepe and Nani who can make game changing plays, but I think USA has the better overall team. We also beat the Portuguese in the 2002 World Cup in South Korea. Outside of Landon Donovan, not many American players will remember that game too well, but I still think this knowledge can lend some confidence.
Ghana
Is it time for the US Men to exorcise some demons? The Ghanaians have been a thorn in Donovan, Dempsey, and Howard's side for the last two World Cups. In 2010, we were of course dramatically knocked out by a clutch goal from Asamoah Gyan in extra time with a quarterfinal berth on the line. 2006 saw us ousted in the last match of the group stage by Ghana, when we needed a win to advance. Their physicality and athleticism has proven to be too much for the US in the last two Cups.
The good news is twofold: The Black Stars' core players are aging a bit and they aren't considered the best team in Africa anymore. They made it to the knockout round in their first two World Cup appearances, but are they starting to slide internationally? Michael Essien is 31 and Gyan is 28, so their main guys are no longer young upstarts. We will see if that plays a part come June, but if I'm a US player, I'm glad we drew Ghana. This is an inferior team that has ruined our chances of advancing to World Cup glory since 2006. The returning players from 2010 have had four years to ponder what could have been in a very winnable game in South Africa. To beat Ghana in the opening match of World Cup 2014 would not only drastically raise our chances of advancing, but would be rich with revenge.
In Brazil, we have to play World Cup title favorites, the 2nd best player on earth, and an African team that has our number. However, the hyperbole being thrown around is a bit much. We are not "screwed" or out of the tournament already. We very well may be the 2nd best team in this group, so let's temper some of the exaggeration and overstatement. This may be looking too far ahead, but if we are to earn our way into the knockout stages, we are paired with one of the weaker groups. Our opponent would most likely be Belgium or Russia coming out of Group H.
Lastly, you are going to hear a great deal of fretting about how much travel the Americans will have to do in Brazil, and they are correct. We will be traversing over 9,000 miles – the most of any team. But, this will undoubtedly be an issue that is over-publicized in the run-up to the Cup. It will be something that hardly affects play, yet the media will use it as talking point. Ignore this and other storylines that will try and cast doubt over the USMNT. Sure, we have the misfortune of sitting in the Group of Death, but that hardly means we are out of it. You have to get out of the group stage to win it all anyways, right?