After an entertaining group stage, we finally got to see the knockout stage matchups for this season's Champions League. I know that this happened on Monday, but it's finals week here and you'd be amazed at how much time someone can spend studying communications law before they have a passable understanding of it. With that being said, here are a couple of my quick thoughts on the draw.
UEFA has it out for Arsenal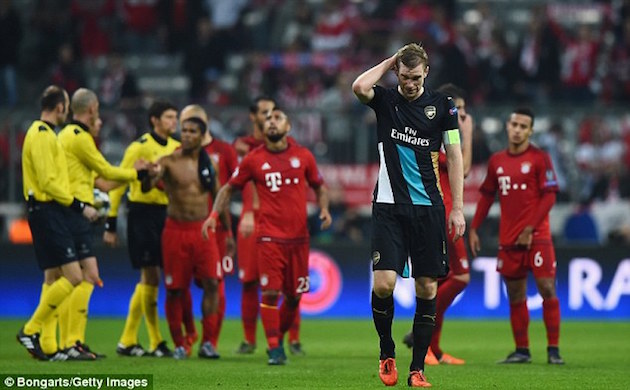 I feel like we all knew what was going to happen when one of Arsenal's potential knockout stage opponents was Bayern Munich. Even Bayern made a joke about their seemingly inevitable trip to London by tweeting at Arsenal if they should just book their tickets in advance.
No matter how well the Gunners do in the group stage, it always seems like they just can't avoid the tough teams in the Round of 16. Last year, they were knocked out by Barcelona. Two years before that, they were knocked out by Bayern.
Granted, if there was ever a year for Arsenal fans to feel confident going into this type of fixture, it's this year. The Gunners are in the midst of what could be a very real title challenge (ignore their latest loss to Everton), and their superstars Alexis Sanchez and Mesut Ozil are both beginning to hit peak form. Bayern, on the other hand, have struggled to assert their dominance as easily in the Bundesliga (they're currently tied with RB Leipzig for the top spot in the table). Could this finally be the year that Arsenal breaks their UEFA-imposed curse and advance to the quarter-finals?
We'll finally have a new Europa League winner
For the first time since 2013, Sevilla will not win the Europa League. The Spanish club has dominated the "consolation" competition for the last three seasons, but they could never quite find their footing in the Champions League. Last season, they were essentially placed in the group of death alongside Juventus, Manchester City and Borussia Monchengladbach, and they struggled to a 2-0-4 record.
This time around, they had Juventus in their group again, but with a little bit easier competition outside of the Italian giants. Through their six matches, Sevilla lost just once (3-1 to Juventus) and secured the second spot in Group H. Now, they face the tournament's crowd favorite in Leicester City in the quarter-finals.
The Foxes could actually prove to be quite a difficult test for the Spanish club after going 4-1-1 in the group stage. On top of that, if you look at Leicester's performance against Manchester City last weekend, it looks like they could be close to rediscovering their title winning form from last season.
Real Madrid are the favorites
Out of all of the "big" sides left in the competition, I think that Real Madrid got the easiest of the draws. At this point in the tournament, none of the sides can really be considered easy opponents, but I think that Real have more than enough talent to deal with a Gonazlo Higuain-less Napoli.
Los Blancos are the most in-form team in Europe at the moment. When they came back to dramatically beat Deportivo La Coruña last weekend, they set a club record for longest unbeaten streak at 35 matches (now 36). They may very well be on their way to setting another record as the first club to repeat as Champions League winners.
Standing between them and the quarter-finals is a Napoli side that is fourth in the Seria A. Despite their rather unimpressive position in the table, the Italian club has put together a fairly impressive unbeaten run of their own with their last loss coming all the way back in October. There's plenty of time between now and their date with Real Madrid, so they could also reinforce their squad over the January Transfer Window, but even then I don't think they'll be able to compete with Real over two legs.