If anyone out there has a player that is under-performing horribly or a player that is moments away from being sold at half their original price (besides Fernando Torres…even I can't help him), then just let me get ready to label them a "bust" and watch their stock begin to soar and their place in their team's starting eleven get solidified. This article is about three such players that had, for me, already justified their trip back to whatever team they had been purchased from and a big black mark on the manager's transfer workings.
First, Aaron Ramsey. The hottest kid within the entire EPL this season and this year's "Gareth Bale." He scores whenever he wants and he has a confidence that, if it could be bottled, Chelsea would buy it by the bucketful for their strikers. His transformation shows why Wenger places so much faith in youth and how great the French wizard is at judging young talent. What has changed for Ramsey? He is playing with confidence and the pressure for him to replace Wilshere was lifted off his back. Although Wilshere is back to struggling with health issues, Ramsey now has the ability to succeed without worry about the "next Gerrard" replacing him. Look for Ramsey to be absolutely huge for Arsenal if a true title push is on the cards!
Second, Lucas Leiva. Now, anyone that followed Liverpool during the Benitez-era was required to frequently stare at the television in disbelief and start asking "WHY IS THAT GUY PLAYING FOR LIVERPOOL?!" Sub-par performances seemed constant as other players lining up beside him, Xabi Alonso and Javier Mascherano, flourished and made it look even worse for the Brazilian. Now, however, the Liverpool squad depends on Lucas to have the depth necessary to compete. In order for players like Steven Gerrard and Jordan Henderson to have the freedom to push forward, Lucas has to make sure that the back-line is protected. Lucas is now one of the easiest choices for Brendan Rodgers and any club with a decent sized purse would gladly accept the Brazilian. Maybe Rafa wasn't so insane…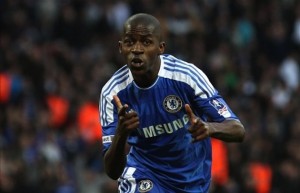 For years of Chelsea juggling managers and still bringing home a random assortment of major trophies, one thing never really made much sense every single time that the Blues took the pitch: the inclusion of Ramires. Another Brazilian on the list, but a player that I could never accurately label. Was he meant to protect the back-line as a defensive mid or was he some type of roving mid that was supposed to reinforce the attack? Now, Ramires is capable of giving extra cover to the Chelsea defense OR going on a forceful attacking run that typically results in a promising attack. Although I still cannot label what Ramires' position actually is, it really does not matter anymore. He has become that important to Chelsea…Juan Mata cannot get a constant run with this squad but Ramires is always chosen…you do the math.
Honestly, all three of these players have been moments away from receiving the full brunt of my keyboard. Moments away from me calling for their immediate departure and questioning the scouts that may have suggested their purchase. However, they now show how difficult it is to call this game. Do I hate that? A little. But, at the same time, that is exactly why I love it! Now…if Joe Allen or any other players start to turn the tide, you can guarantee that I am solely responsible…