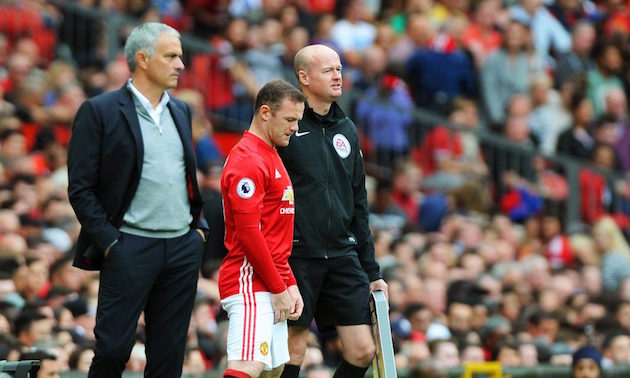 He'll move on a club and international legend. His history will not be nearly as defined by his hairline as some of us might have guessed. Heck, my wife and I actually named our first dog after him…but, it's time to see Manchester United part ways with Wayne Rooney and press forward into the future. The era led by the ex-Evertonian is truly ending, and his club needs to finally cut the cord.
Let's be very upfront about this situation. This is not the first time that I have said this. The third time that he held Manchester United ransom for more money and did nothing to destroy rumors actually tying him to United's biggest rival…that was one time too many. United should have cut Wazza free the second time he played this game, and we are now at a point where the famous #10 needs to go.
Why is it so important that the team cuts him loose right now? Well, you're paying him a ridiculous amount of money. Rooney is bringing home around $300,000 a week…$1.2 million a month…over $14 million a year…and that's just ridiculous. Considering that the talent level at the club currently has him relegated to the bench, then you're paying a man several million dollars to enjoy sitting and watching. He's no longer your best striker, he's not even close to being your best midfielder…so, unless your defensive injuries mount as they have in previous years, he's not worthy to be in the squad.
Another big reason is that Rooney's market value drops more and more every season. At the end of the day, this is a business. No matter how big your attachment is to Shrek, you need to make sure that you fund some of your big summer transfers. Gerrard says he's retiring from the LA Galaxy after this season…they'd splash the cash. China is willing to overpay for nearly every player that's ever had a decent moment in the Premier League. You wait another year or two to sell Rooney, and you might watch the man leave on a free transfer! You might could even convince Everton to have a big homecoming for Rooney's final years…you just need to make some money!
The last point is that his play just isn't up to the standard of an elite Premier League team. He no longer is the best (even top three) at any position within his own team, and his selection feels based more on his legacy than his current level of play. He doesn't fit into a quick changing set-up that Mourinho likes to play, moving him on would free up squad space and space in the hearts of United fans for a new captain and favorite, and teams know that they can still get under his skin with the right type of play (See: Watford). I understand his thought that being at United is the only way he will continue to be part of the English scene, but…don't even get me started on that one…
Rooney has every right to get one last check and hurrah from United. However, he's been snagging that "one last check" for a few seasons now…and gotten more than his fair share of victory laps. The future for United involves Rashford, Martial, Pogba, and a strong supporting cast of younger players. Rooney needs to be part of the past. A glorious past with Rooney, to be sure, but no longer part of the present. Can you imagine what Rooney would do for the MLS though?…Atlanta United gets their start next year…just a thought…