Tottenham have not been the story during the first half of the Premier League season. Exciting underdogs Leicester City and hapless favorites Chelsea have been the story. Jurgen Klopp and Jose Mourinho and Louis van Gaal have been the story. Even the clubs tied in 7th, West Ham and Watford, have been the story more often than Tottenham Hotspur. But maybe that's how they like it.
Tottenham kicked off this season without a victory in their first four matches. "Solidly under the radar" would be a good way to describe their early season exploits. Now, at the midpoint of the 2015-16 campaign, the Spurs reside in 4th place, easily within striking distance of the top.
Sort the league table by goals against and you'll find them with a league-low 15 given up in 19 matches. More significantly though, they have serious balance. Sort the table by goal differential and you'll see Tottenham aren't just a disciplined, defensive-minded squad, although they are that. Under manager Mauricio Pochettino, Spurs can also play a fun, attacking style. They're fourth in shots, but second in shots on goal, showing Pochettino's men are getting high quality chances.
They haven't produced "star-making" performances, at least not mainstream ones like Vardy, Mahrez, Watford's Odion Ighalo, or Harry Kane last year. However, many of Tottenham's players have improved by leaps and bounds. Mousa Dembele has been around since 2012, but it's only this season that he's been a consistent, all-around excellent presence in the midfield. 19-year-old Dele Alli started the year on the bench, but quickly became a fixture in the starting XI. Eric Dier, or "The Dier Wolf" as Men In Blazers call him, was recently converted from center back to defensive midfielder, where he's been nothing short of spectacular.
Behind him, the back line has been quite impressive. Belgian center back tandem Jan Vertonghen and Toby Alderweireld has held strong, while the underrated Hugo Lloris has continued his beyond steady play. Together, this crew hasn't given up more than two goals in any game during the first half of the season. That's 19 games with two goals or less.
Of course, I couldn't write a piece on Tottenham without mentioning young Harry Edward Kane. After a remarkably slow start where he netted just one goal in nine matches, it seemed like we were either witnessing (at worst) a one-season wonder or (at best) a sophomore slump. Well, the next ten games he poured in ten goals. So much for that theory.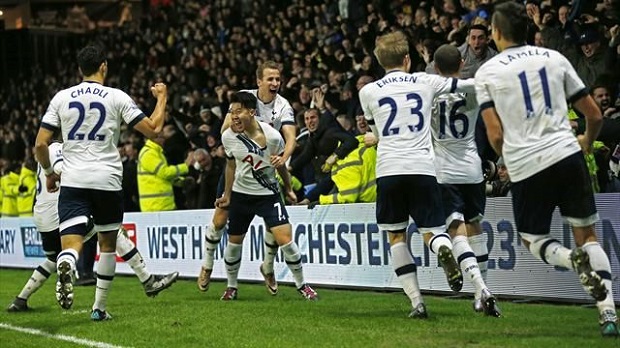 In addition to Kane's red-hot form, Christian Eriksen is healthy and his irrepressible talent will only further propel the Spurs through the second half. You've really got to credit Pochettino for keeping his club in the mix despite Kane's early struggles and Eriksen's early health issues. The Dier-to-midfield move and realizing that Alli needed to start undoubtedly kept them afloat.
Now the question is "how high is their ceiling?" Is this nothing more than a Champions League contender, or are title aspirations completely reasonable? I'd argue the latter, especially since there doesn't seem to be a legitimate juggernaut this year. Man City is quite flawed and showing it at the moment. Arsenal's awesome recent play won't last for the entire second half; they will surely hit a few speed bumps along the way. Leicester? Who really knows with them, but if they lose either Vardy or Mahrez you can't expect them to remain near the top. In contrast, Spurs are balanced and fairly deep, two traits that enhance the chances of a club desperate to end a 55-year first division title drought.
So, no, Tottenham hasn't been the story during the first half. And that's okay, especially because they could be The Story of the whole season when it's all said and done.