It's amazing the difference a month makes. In March, Real Madrid and Barcelona played the most entertaining clasico in a decade. The game had goals, drama, controversial decisions, everything – you expected the roof to blow off the Bernabeu before the game ended. Barca won 4-3 and seemingly revived its hopes at a treble of the Champions League, La Liga, and the King's Cup. Now, though, things are complicated.
Barcelona fell to Atletico Madrid in the Champions League quarterfinals. They are also four points off Atletico in the La Liga standings. More importantly, the team looks discombobulated under Martino's "Cesc as False Nine" system. They often resort to a 4-4-2 with Neymar and Messi pinned to the sidelines. This allows outside backs and center backs to double-team them quickly and corral them away from the penalty area. That is less than ideal. Cesc may be in better form than Pedro and Sanchez, but the team plays better with Messi as a False Nine.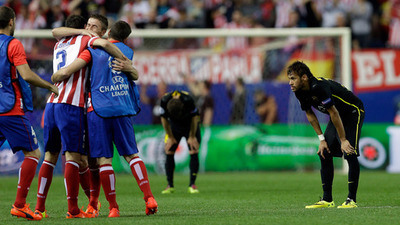 If Barca has hit a poor run of form, then Real Madrid has righted the ship. They hung on against Dortmund to advance to the semifinals of the Champions League. They are also only 3 points behind Atletico de Madrid in La Liga. Most importantly, the team has learned how to win without Cristiano Ronaldo. Carlo has simply pushed Di Maria back out wide and given Isco a run of games at attacking mid, where he's shined.
Still, the last clasico showed a hole in Carlo's game plan: Real Madrid hum on offense, but need to figure out defensive match-ups. During the Mou era, the team was very well-drilled off the ball: Ozil sat on Busquets, Xabi stepped up to Xavi, and Sammy harassed Iniesta. Under Carlo, the team hasn't shown the same finely-tuned match ups. Furthermore, the team under Mou pressed well in midfield, but under Carlo lacks a coherent tactic to win the ball back. Rather, the midfield drops and waits for Barca to make a mistake.
Most importantly, Carlo often gets his starting XI right, but has never been a manager to make a game-changing substitution. If a player is knocked, he'll come off. However, in the 2005 Champions League final, his AC Milan side started strong but then wilted in the second half. His substitutions came too late. If Barca get an early goal, Real may wilt. However, if Madrid can score a quick one, then cules could be in for a very long night.