For anyone watching the Manchester United/Stoke City fixture on Saturday, there was not any result that could have occurred after half-time that would have truly lifted United's spirits. If United had ended up winning 20-1 after half-time, they would have still left the Britannia with two of their best central defenders looking unlikely to return any time soon. However, as if to compound the woes of the Red Devils, Charlie Adam made sure that David Moyes would be heading back to Old Trafford with even more to worry about.
Although we are yet to hear how serious both injuries are to Evans and Jones, the view while watching does not lend itself to a very positive view. Evans seemed to get a non-contact injury that forced him off before he was even able to play for a full ten minutes, and non-contact issues like that tend to be fairly serious muscle issues. Jones took a hard blow to the head and then received even further damage as he landed on the pitch with his head snapping back with a truly scary motion. As he was carried off on a stretcher, Jones did not give any type of signal to lessen the fears about his injury and the fact now stands that injuries/concussions mean serious time outside of the starting line-up. After seeing how nervous Smalling always seems on the ball and with the fact that Vidic is not as commanding a presence as he once was means that United will have to suffer through even more defensive instability this season.
The loss of points against Stoke will mean that United now sit four point behind Tottenham and five points behind Everton. Liverpool are also six points ahead of United, but they are yet to play their fixture this weekend and could extend the gap between United and the top four to 9 points. That would translate to United needing Liverpool to lose on three weekends where United emerged victorious…not an impossible task, but definitely not a situation that David Moyes would have wanted to find himself in. United still has Liverpool on the upcoming fixture list, but the possibilities for sneaking into the top four are fading.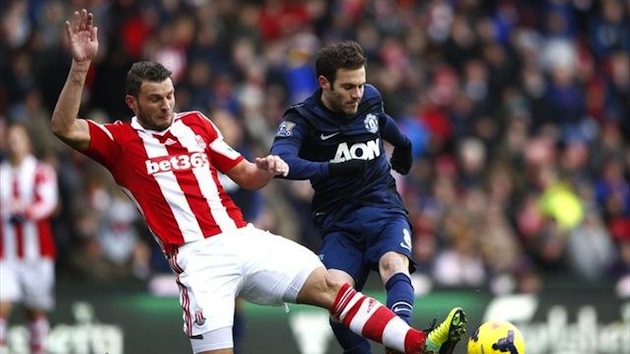 There is no doubt that Juan Mata will be seen as a positive transfer for the club and the Spaniard will definitely become a key player for the Red Devils, but a truly great squad absolutely must have some sense of defensive stability. There is a reason that Liverpool still are not challenging for the top spot, a reason that Manchester City are starting to run away, and a reason that Arsenal performed so well this season…and that reason is that their defensive unit has been able to field a consistent pairing for their starting 11. Yes, RVP will score and he will continue to be huge for United, but United are not built like their Manchester counterpart and cannot handle getting into shootouts for the rest of the season.
Stoke will also have taken away another cloth from United's shroud of invincibility when the final whistle blew. Evra was bossed by Odemwingie and seems to be fading a bit this campaign. Welbeck seemed to be unable to control the ball effectively in important attacking positions. A squad that seemed to always have the answers in 2012/13 seems to have been overwhelmed with questions this season. Another nagging thought in the back of every United supporter minds will be whether Wayne Rooney has outlived his time with United. Rooney will undoubtedly still provide goals and there is no doubt that Wazza is still an amazing player, but if his current attitude turns out to be another case of him looking for a better contract, it is time to send the English international packing. With Sir Alex, the club never let a player think that he was bigger than the club and Rooney is starting to have that feel around him…considering that his value will start to lessen soon as his age creeps towards 30, it might be time to move on.
With Manchester United, the current generation of fans are not used to the manager turnover that any non-Arsenal club will have experienced in the past twenty years; regardless, Moyes does not need to be given an incredibly long leash. Yes, United fans want another coach that can have a twenty year tenure, but those coaches are definitely the exception and not the rule. Anything less than a last-match result, meaning that United finish fifth should result in the departure of Moyes. In fact, if Moyes experiences more than 2 losses in the remainder of the season, it might be worthwhile to start the turnover early.
Anyone that has not started to face the reality in Manchester is definitely lying to themselves at this point. City are starting to march while their rivals are starting to fall apart. There may be 14 fixtures left until all eyes shift to the World Cup, but United might already need to start bailing water. The ship is taking on water and changes need to be made. Can United salvage anything from this season? Would Europa save Moyes from an untimely departure? Time will tell…