This is probably one of the few Premier League weekends where I couldn't care less about what happens. Chelsea could lose to Swansea City and I wouldn't even take the time to send a taunting email to my editor Drew. The reason behind this apathy: the EFL Cup Final. I know what you're thinking, "Collin, no one cares about that tournament," "Collin, why does it change names every other season?" I can't really answer the second question, but in reply to the first one, I care about the cup when it involves my team and I'm sure you'd feel the same way. With that being said, let's do a quick preview of this weekend's final between Manchester United and Southampton.
Starting off with the Saints, a January signing could prove to be the difference maker for Claude Puel's side? The club splashed out nearly £15 million for Napoli's floundering Manolo Gabbiandini. In just two games, Gabbiadini has scored three times. It took him 13 matches to match that total with Napoli this season. While he isn't the flashiest striker, the 25-year-old has shown that he can punish opposing defenses if they're not on their toes. His resurgence couldn't have come quicker for Southampton. Before he arrived, the Saints had only managed to score 23 times through the first 23 weeks of the seasons. No team above them had scored less than 29, and the only non-relegation team to have fewer strikes was Middlesbrough. Will Gabbiadini continue to lift this struggling attack, or will United's defense silence him for the first time at Wembley.
One player that won't be able to help Southampton orchestrate an upset on Sunday is their star defender Virgil Van Dijk. The Dutchman has been out of commission since the end of January, and it doesn't look like he's going to come back anytime soon. Van Dijk provided Southampton with a talented, ball playing center back that could contribute on both sides of the pitch. In his absence, 23-year-old Jack Stephens has been thrown in alongside Maya Yoshida. While the pair is coming off of a 4-0 shutout of Sunderland, they've been anything but consistent. Before the Sunderland match, the Saints lost three straight matches (Arsenal, Swansea, West Ham), and in that three-match span, they allowed ten goals. United have no shortage of attacking talent, so Southampton could be in for another long day at the office.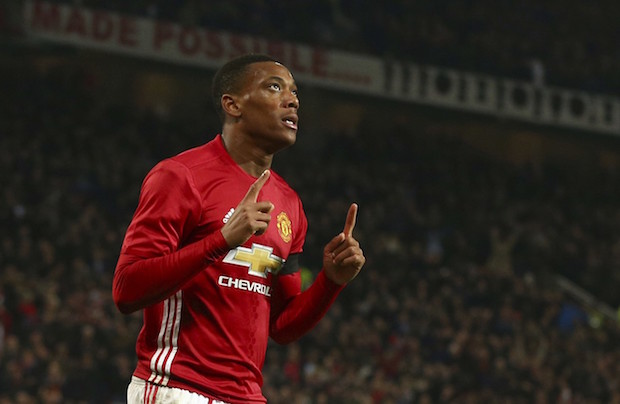 For Man United, the struggle of advancing in so many competitions is starting to take its toll. The last time Southampton had to play was all the way back on February 11th. United, on the other hand, have played three matches during the Saints' break. On Wednesday, they had to travel to France for the second leg of their Europa League tie with St. Etienne. That match saw the Red Devils advance, but it also put the status of Henrikh Mkhitaryan and Michael Carrick in doubt for Sunday's final. Jose Mourinho attributed these injuries to United's hectic schedule telling reporters, "It's the result of the accumulation of matches you have always, the risk of it, but every time when somebody is missing it is an opportunity for another one."
Luckily, for the Red Devils, they have plenty of depth in the wings and in the center of midfield. With Mkhitaryan doubtful, look for Anthony Martial to be restored into the starting 11. The Frenchman has had sort of a rollercoaster season under Mourinho. At times, he looks absolutely unstoppable, and fans remember why the club paid such a hefty sum for his services. Other times, Martial can hardly even break into the starting lineup. Personally, I think that Martial should be a constant starter for United and I'm excited to see what he can pull out of his hat at Wembley. Last season, he played cup hero for United against Everton, can he recreate some of that magic against Southampton?
I don't think that any of you were expecting me to predict anything but a Manchester United win. Even with the wear and tear of playing such a hectic schedule, the Red Devils have more than enough talent to secure a result at Wembley. Final score: United 2-1 Southampton