CONCACAF (for those of you who are interested, that stands for Confederation of North, Central American and … oh, who cares) World Cup Qualifying has come to a very satisfying close for the U.S. Men's National Team. Not only did we qualify for the Cup in Brazil next summer, but, in a great reversal of fortunes, Mexico had to rely on the Stars and Stripes to give them even a shot at advancing. With the USA's October 15th 3-2 comeback win over Panama, Mexico was granted a fourth place finish and therefore, a home-away series showdown against Oceania Football Confederation champion New Zealand in the intercontinental playoff starting November 13th.
Even the most optimistic of fans were not sure the Americans would cruise to a first place finish in the CONCACAF table. But, after a rocky start where they only mustered 2 goals in their first 3 Cup Qualifying games, they did just that. Now that the Yanks (as well as Costa Rica, Honduras, and possibly Mexico) are on to Brazil, what's next for our national team heroes?
It's been 12 matches and over 5 months since the United States have lost or tied at home. This stat is meaningless for the rest of the year, as there are just two matches remaining – both outside the country. First, a friendly at Hampden Park in Glasgow, Scotland on Friday (3 pm ET, ESPN2). Then, they travel to play Austria on the 19th (2:45 pm ET, NBCSN). Jurgen Klinsmann just set his lineup for those two matches on Monday and, like usual, there are notable names both omitted and included.
It looks like Jurgen is giving MLS stars in between legs of their conference championships the trip off. This means Sporting KC's Graham Zusi and Matt Besler (both of whom have probably already played their way onto the final roster), Houston Dynamo's Brad Davis, and Real Salt Lake's Kyle Beckerman were not invited. This also means the disappointing finish for the Seattle Sounders has allowed three of their team members to join the USMNT, so Clint Dempsey, Eddie Johnson, and Brad Evans will all be flying to Scotland this week. However, Landon Donovan, whose Galaxy was eliminated by Real Salt Lake last week, is not on the roster. He's had ankle issues, but was this Jurgen's decision or Landon's? Barring something major, Donovan will be on the final team, but these two friendlies could give a young buck an opportunity to threaten his starting spot.
Positional Concerns
As far as the US defense is concerned, it looks like centerback John Brooks will be given a chance to play his way onto the squad. He's big and would make for an opposing tandem with Omar Gonzalez. If Klinsmann plays them together, it will be interesting to see how effective they can be. Nottingham Forest defender Eric Lichaj has found the favor of the US manager this time around and will undoubtedly be pining to get on the field and show he can fit in on the back line.
At the midfield, we see the familiar trio of Michael Bradley, Fabian Johnson, and Jermaine Jones. However, the other guys are fighting to secure a spot on the final roster. Alejandro Bedoya, Mix Diskerud, Anderlecht mid Sacha Kljestan, and Stoke City's seldom-used Brek Shea will all be given opportunities to catch Klinsmann's eye. Diskerud and Bedoya saw significant play in the last few UMSNT matches. Shea found the back of the net a couple times during the Gold Cup, but remains a fringe contender to make the final cut. Similarly, another fringe candidate is the 28-year-old Kljestan, who will be looking to prove his chops as a veteran leader on this trip overseas.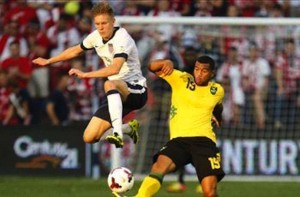 The US situation at forward deserves its own article, but these next two games will be interesting for the sheer fact that we get to see who Klinsmann decides to play. Jozy Altidore is scoreless in 10 appearances with Sunderland and Clint Dempsey has found his own form lacking since making the move back home to play for the Sounders. This leaves room for Terrence Boyd and Aron Johannsson, who both have looked solid recently for their own club teams. Also, I found it interesting that Klinsmann went with Chris Wondolowski as his sixth striker, ignoring Herculez Gomez and Juan Agueldo. I'd rather see the young Agueldo get more time on the national stage, but it's obvious that Klinsmann prefers Wondo at this point. Maybe next Cup cycle for the 20-year-old Agueldo.
Just a Friendly
Neither Scotland nor Austria should present an overwhelming challenge in these friendlies. Per FIFA's October World Rankings, Scotland is 35th and Austria sits at 53rd compared to the US' 13th position. Still, if we were to lose both, it would be no reason for panic. These are international friendlies and should be treated as such, even just 8 months from the first World Cup match kicking off. The biggest question – and concern – will lie, not with the outcome of these friendlies, but with Jurgen Klinsmann's strategic and rotational decisions and therefore the quality of the US play. What does he do about the fullback position? Is Aron Johannsson going to be featured regularly? Where the heck is Geoff Cameron going to play? The answers to these – and many others – will continue to be hashed out starting Friday in Scotland.