Who got snubbed?
The theme for Jurgen Klinsmann's fringe choices for the 30-man preliminary roster? What Have You Done For Me Lately. This explains why notable names that assisted in getting the USMNT to the World Cup were left off. The biggest "snub" you have undoubtedly heard about is forward Eddie Johnson. The 30-year-old DC United man scored 4 World Cup qualifying goals and 2 in the 2013 CONCACAF Gold Cup. It wasn't good enough. In 8 starts during the 2014 MLS season thus far, Johnson has failed to score and provided just 1 assist. To top it off, he recently criticized his United teammates, not exactly the sign of a player who contributes positively to team chemistry.
Then there's the others: Sacha Kljestan, Brek Shea, Danny Williams, Tim Ream. In Kljestan's case, he had to think all of Klinsmann's emphasis on playing overseas had to help him. Then he got locked out of his Belgian club side Anderlecht's lineup, riding the pine in six consecutive matches. We don't know if this was the sole reason Kljestan wasn't invited to the party, but it didn't help.
The one player who had done big things lately was Tim Ream, a name many thought was actually the biggest snub. The Bolton Wanderers' defender is coming off a spectacular season for the Championship side, winning Bolton's fan-voted Player of the Year award. With a USMNT back line that is far from set, you'd have to think Ream would've had a shot to play his way onto the final team.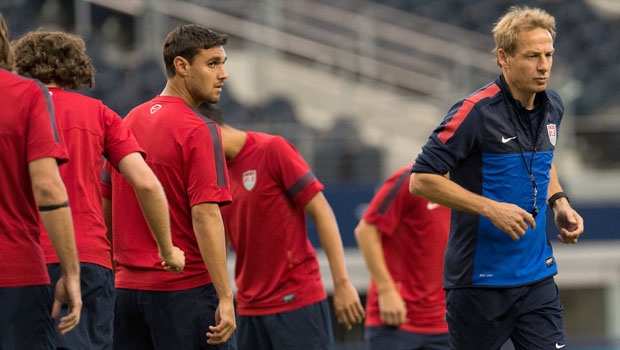 Who's making the final 23?
Now that Jurgen has officially chosen his final 30, it's time to start wildly speculating (because, let's face it, nobody really knows) on who will make the final 23-man cut by June 2nd. All 3 goalkeepers are going, so you can mark that down in ink. Where the defense is concerned, you would think at least 3 of them are going home. One of the most uncertain positions is right back, and Jurgen brought in plenty of insurance for that spot. This has to mean he is still making up his mind who to put there. It could be Geoff Cameron, but he could end up at center back or even defensive midfielder. Seattle Sounders' back Brad Evans or multi-position man Fabian Johnson could play there, with Michael Parkhurst, Timmy Chandler, and DeAndre Yedlin possibly seeing time as well. I'm just glad I'm not Jurgen in that situation, because personally I would have no idea who to play there right now. Who gets cut, though? I think big centerback John Brooks, Nürnberg man Chandler, and Sounders fullback Yedlin all get uninvited.
At the midfield, Joe Corona and Brad Davis were semi-surprise picks for the 30-man roster and probably don't have a real shot for the final cut. The big question at the moment is, who plays with Bradley at center mid? Jermaine Jones is the most talented all-around player for that job, but he is more offensive-minded and mistake-prone than Real Salt Lake captain Kyle Beckerman. Jurgen has to decide who fits better with Bradley, who will likely never step off the field in Brazil. Since it seems clear that Julian Green, right or not, is probably going, that means one of either Philadelphia Union mid Maurice Edu or Mix Diskerud will get left off. As much as I think the 23-year-old Diskerud is a stud and one of the best creators in the USMNT midfield, I think he misses the plane. Edu has the experience and that counts for something when the rest of the midfield is relatively unseasoned.
That's 6 guys left behind, so we need one more. Of the forwards, Jozy Altidore, Clint Dempsey, Landon Donovan, and Aron Johannsson are safe. That leaves just Terrence Boyd and San Jose Earthquake Chris Wondolowski for one spot. Considering both guys have been burning up the nets, it might be a toss-up. Boyd has poured in 20 goals in 38 appearances for Austrian side Rapid Wien, while Wondolowski has knocked in 5 in 7 MLS games this season. Wondolowski has also scored all 9 of his international goals since July 2013 (albeit against lesser competition), and Boyd is yet to score for the USMNT. I believe Wondo has earned the spot and will be rewarded by Jurgen.