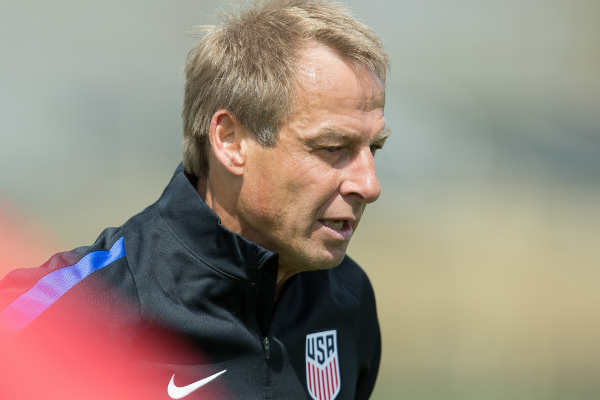 The 40-man rosters for the US National Team have been announced, with a few surprises gracing the list. As everyone knows, the roster must be whittled down to 23 for tournament. Here's a look at the current 40-man roster, and then note some of the missing names.
GK: Brad Guzan, Tim Howard, Ethan Horvath, David Bingham, Nick Rimando
DEF: Matt Besler, John Brooks, Geoff Cameron, Omar Gonzalez, Deandre Yedlin, Matt Miazga, Brad Evans, Steve Birnbaum, Kellyn Acosta, Tim Ream, Edgar Castillo, Michael Orozco, Ventura Alvarado, Eric Lichaj, Timmy Chandler
MID: Michael Bradley, Alejandro Bedoya, Fabian Johnson, Christian Pulisic, Jermaine Jones, Graham Zusi, Darlington Nagbe, Lee Nguyen, Mix Diskerud, Danny Williams, Kyle Beckerman, Ethan Finlay, Perry Kitchen, Alfredo Morales
FWD: Jozy Altidore, Bobby Wood, Jordan Morris, Clint Dempsey, Gyasi Zardes, Chris Wondolowski
When looking at the list, quite a few names are old hat. The stalwarts were all there, including captain Michael Bradley, Clint Dempsey, Geoff Cameron, and Jozy Altidore. There were a couple expected youngsters as well, with Christian Pulisic, Jordan Morris, Bobby Wood, and Matt Miazga each grabbing a spot on the 40-man roster. The youngsters have each seen their stock risen over the past few months, rising at their clubs and being included regularly on gameday rosters. But where some youngsters were included, some fringe vets were left off entirely.
Some names being left off were surprising, while others were not. Players like Aron Johannsson, Greg Garza, and Rubio Rubin have been injured and out of commission for awhile. A couple other youngsters were left off amid struggles with their club situation like Emerson Hyndman, Gedion Zelalem, and Julian Green. Finally, there were two shockers that were left off in William Yarbrough and Brek Shea.
Yarbrough has been consistently called in for the USMNT, and has been playing great lately, reclaiming his starting spot with Leon. Brek Shea being left off was shocking as left back is a position in need. Shea has had a few ups and downs, but it is a bit surprising to see him left off the 40-man and not even get a look from the staff. Where these two were left off, it opened up two spots for some shocking inclusions.
Most of the forwards and midfielders were cut from the expected cloth, with Perry Kitchen and Alfredo Morales being the only fringe inclusions. Calling in 5 goalkeepers was a surprise, although each of them have their own merits. A more standard 4 would have been expected, but there aren't really any gripes outside of leaving Yarbrough off the list. Defender is where the most second guessing will occur. No Brek Shea or DaMarcus Beasley, but Jurgen Klinsmann included players like Edgar Castillo, Eric Lichaj, Kellyn Acosta, and Timmy Chandler. Like many decisions made by Jurgen Klinsmann, the roster decision will depend completely on how his selections fare at the tournament.
The job is not done however, as 17 names will have to leave this list before the final roster is released. Surely some will be hampered by injury between now and then, but let's see if we can crack what is going on in Jurgen Klinsmann's mind.
23-Man Roster Predictions
GK (3): Brad Guzan, Tim Howard, Ethan Horvath: The goalkeeper spot must have 3 players, and 2 of the spots are pretty locked up with Guzan and Howard providing a 1-2 punch. The question turns to where Klinsmann goes with the final spot. My sporadic guess is Horvath, the 20-year-old playing for Molde. He has played well for his club during the Europa League, perhaps giving him the edge for the future. The problem for Horvath is that the vital international team experience might not work, as the Norwegian league will be in season during the tournament. Fortunately, they are taking a break during the Euros, and the Copa matches up well.
DEF (8): John Brooks, Matt Besler, Geoff Cameron, Deandre Yedlin, Omar Gonzalez, Matt Miazga, Tim Ream, Brad Evans: Barring injury, there are 5 players who seem like no-brainers. Brooks, Besler, Cameron, Yedlin, and Gonzalez have all been in almost every camp under Jurgen Klinsmann. Tim Ream has been the most consistent performer at LB during the left back audition process, giving him the slot. Matt Miazga is the future of the centreback position, and Klinsmann has a penchant for bringing a youngster for experience at every tournament. Brad Evans is the perfect utility man, he can play any of the 4 spots in the back in a pinch, which is very valuable when injuries are unpredictable.
MID (7): Michael Bradley, Alejandro Bedoya, Fabian Johnson, Christian Pulisic, Jermaine Jones, Kyle Beckerman, Darlington Nagbe: 5 of the 7 selections here are business as usual. Christian Pulisic's stock has risen so quickly over the past few months, and is now a no-brainer for the roster, perhaps even in contention for a starting spot. Darlington Nagbe has played pretty well with his chances in the red, white, and blue. Quick note: Fabian Johnson can slide back to outside back in a pinch, furthering his value to the squad.
READ: Stock Check on the USMNT Player Pool
FWD (5): Jozy Altidore, Bobby Wood, Clint Dempsey, Gyasi Zardes, Jordan Morris: The forward pool is pretty crowded, especially if Christian Pulisic is deployed as an attacker. Clint Dempsey is still the best option, and Jozy Altidore simply scores in a national team jersey. Bobby Wood and Jordan Morris have been blowing up for club and country, while Gyasi Zardes is a pet project for Klinsmann.
There you have it, the 23 players who will wear the stars and stripes at the major tournament in the western hemisphere. Sometimes Klinsmann decides to defy all logic and sense with his selections, so who knows how close these picks are. For now, it should be fun speculating about the final roster.