Bluuuuuurgh. That just sucked. Oomph.
What Went Wrong?
The immediate answer is "Michael Bradley's Ankle." More on that momentarily.
Players not utilized correctly, frankly. Orozco Fiscal starting along the back line while F. Johnson was in the midfield was mind-numbingly misguided. Fiscal was torn apart during that 20 minute opening stretch, while Fabian added nothing to the midfield because of how overrun they were.
Jones took it upon himself to play as Michael Bradley and failed magnificently. More on that below as well.
Dempsey is much better deployed behind a striker. We've gone down this road before, attempting to play him up top. It has never really worked, and it didn't Friday. Johannsson could've started. Johnson could've started. Altidore obviously wasn't 100%, but even he would have been a better choice.
Zusi started poorly as well. There was zero chemistry between the SKC man and Fiscal, and it showed. Zusi got it together and played pretty well for the rest of his shift, but the damage was done.
Credit to Costa Rica, they were down our throats. But there's really no excuse for not being prepared for that, Jurgen.
Bradley Out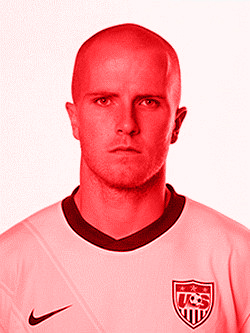 My love affair with our bald linchpin is well-known. But I think I'm being pretty objective when I say that the reason we were so terrible for stretches was because of his absence.
There's a pretty nasty picture doing the rounds of the exact moment he rolls his ankle. His foot is basically at a 90 degree angle to his leg, which is gross. The blame-game is being aimed (so much rhyming) at the pitch over there in Costa Rica. Apparently it had rained torrentially all day prior to kickoff, and so the surface was basically just mud with grass clippings atop it.
Bradley warms up. Bradley gets hurt. Bradley warms down. Seth weeps.
So little Geoffy Cameron does some quick shuttles down the sidelines, gets a slap on the butt and into the trenches he goes. Jermaine Jones takes Bradley's role as the possessor in the midfield and off we go.
I think the first half can be summed up with this stat: Jermaine Jones lost the ball 22 times Friday night. 17 of those migraine-inducing screw ups came before the 35th minute, during which time the US found themselves lucky to just be down 2-0.
Donovan could do nothing. Dempsey could do nothing. This team is seriously ineffective without Michael Bradley.
He's out for Mexico, by the way. Blurgh.
Speaking of Absences and Mexico…
Bradley, Besler, Cameron and Altidore all out v. Mexico. The latter three after picking up yellow cards. Of those three, Jozy is the most ridiculously infuriating. WHAT WERE YOU DOING. THERE WERE WHAT, FIVE MINUTES LEFT? AND YOU GET AN OFF-THE-BALL YELLOW??
In response, Jurgen has called up Brad Davis, Joe Corona, Jose Torres and Clarence Goodson. He also sent home John Brooks, which isn't necessarily a bad sign; if he were afraid Brooks was going to switch to Germany, he would have kept him around.
So this team, which Landon Donovan called the deepest side he's ever been a part of, looks pretty shallow right now. Here's my predicted 11 v Mexico:
Howard
Beasley Gonzalez Goodson F. Johnson
Jones Diskerud
E. Johnson Dempsey Donovan
Johannsson
I would be proud if 50% of that predicted lineup is accurate. There're a lot of gaps to plug.
Oh, and Mexico just fired their coach. Some would say that's excellent. But teams typically perform best immediately after the firing of a bad coach (this happens all the time with European club teams). So maybe' they'll continue to be terrible like they've been throughout the entire qualification process. Or maybe they'll come out and tear our makeshift lineup to pieces.
We'll see.