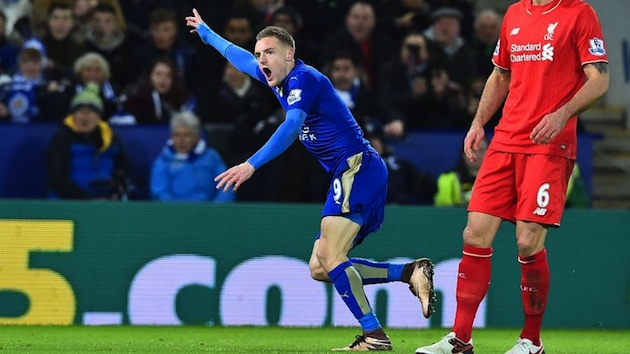 This weekend's Premier League action includes a matchup between the top two teams in the table as Leicester City travel to take on Manchester City. The Foxes currently sit three points ahead of their hosts for the top spot in the table and have shown the world their unbelievable form isn't a fluke. Manuel Pellegrini's side could go back to the top of the table with a win on Saturday, but a loss would see them sink six points away from pole position. Can Leicester hold off City's challenge and stay atop the league?
After a lull in form that saw them win just once in six games, Claudio Ranieri's squad have rediscovered their title challenging form. The Foxes are coming off of back-to-back emphatic victories against Stoke City and Liverpool, and are arguably playing their best football of the season. Against Liverpool, it was only a magisterial performance from Simon Mignolet that kept the score at a reasonable 2-0. Against Stoke, the Foxes outshot their opponents 15 to three. In addition to their outstanding offensive threat, Leicester's backline also managed to keep clean sheets in both of these victories. Granted, Man City have a much more potent attacking threat than Liverpool and Stoke, but the Foxes' defense will be coming into this matchup with a lot of confidence.
In case you somehow missed Jamie Vardy's golazo against Liverpool, here it is. The 29-year-old was struggling to find the back of the net in 2016, but has three goals in his last two games. Before that, Vardy was in the midst of his longest goal drought of the season, failing to find the back of the net in seven straight games. Now, Leicester's star striker looks like the world-beater that topped Ruud Van Nistelrooy's scoring record at the start of the season. The last time that Vardy went up against City's backline, he was anonymous as the two sides fought to a 0-0 draw. Look for Vardy to terrorize the City defense with his darting runs, and possibly another jaw-dropping volley to clinch all three points.
With all of the hype surrounding Leicester's star striker, it's easy to forget that Manchester City has a world beater of their own: Sergio Agüero. Despite missing chunks of the season through injury, Agüero still sits as City's top goal scorer on the season with 13 goals (eight more than the closest competitor). This goal-scoring tally becomes even more impressive when you consider that Agüero has only played 17 times this season. Through his last four games, the 27-year-old has found the back of the net six times. Included in that run are two braces against Crystal Palace and West Ham. Even with Leicester's improved defense, any team would have trouble containing Agüero when he's in this kind of form.
In the January transfer window, Manchester City made arguably the biggest signing of recent memory, and it wasn't even a player. The Cityzens announced that as of June 30th, legendary manager Pep Guardiola would take over for Manuel Pellegrini. This move came as a surprise to few, but it still raises questions about how the squad will play under Pellegrini for the rest of the season. During his time at City, Pellegrini won the league in the 2013/14, and has consistently led a title challenging squad. Even now, his team has a chance to win every tournament that they started at the beginning of the season. Will he still have the same drive that allowed him to orchestrate arguably the best Manchester City teams we've ever seen, or will the fire be extinguished with the guarantee that it's his last season in charge?
As much I would love to see City lose, and Leicester pull further ahead atop the table, I don't think that either team is going to take all three points at the Etihad. Both sides contain very talented players, and I think that they will cancel each other out in the end. Final score: Man City 1-1 Leicester