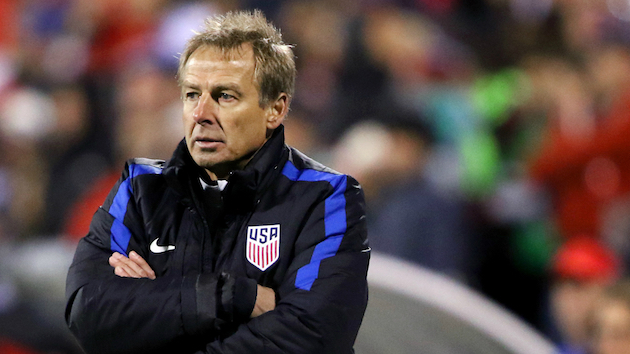 Well, they actually did it. I didn't think that US Soccer had it in them, but they finally did it. Monday afternoon, it was officially announced that the US had parted ways with Jürgen Klinsmann after a five-year stint with him at the helm.
The decision comes after the Stars and Stripes lost their opening two matches of The Hex for the first time in history. Klinsmann's final match in charge was a disastrous 4-0 loss to Costa Rica, and now fans have to wait and see who's next in line for the head coaching seat.
In my humble opinion, this was the right decision. As much as I enjoyed Klinsmann's ability to recruit foreign players, and his role in bleeding in so many young players into the senior side, tactically he left a lot to be desired.
Over the last couple of years, the US has failed to maintain a consistent style of play or even a uniform formation. Players seemed to be constantly switching from position to position *cough cough* Fabian Johnson *cough cough* Geoff Cameron. Against Mexico, Klinsmann's formational experiment saw the US struggle to even get out of their own half. Maybe even worse than that, against Costa Rica it looked like the players seemed entirely disinterested in the match altogether.
Klinsmann had reportedly lost the dressing room during his final weeks in charge, and you can't help but think that somewhere in California, Landon Donovan is jumping for joy.
Now, the question is who becomes the next head coach.
If the media rumors are to be believed, Bruce Arena is set for a second stint in charge of the Stars and Stripes. The 65-year-old led the Men's National Team from 1998 to 2006. During that stint, the Americans made it all the way to the 2002 World Cup quarterfinals, but failed to even advance out of the group in 2006.
Since then, Arena has led the LA Galaxy to the peak of Major League Soccer. Three MLS Cups and two MLS Supporters' Shields highlight his résumé, and he's had the chance to manage some of the biggest names in the league such as David Beckham, Donovan, Robbie Keane, and Giovani Dos Santos along the way as well.
While his domestic record is impressive, I still have concerns that he's the right person to lead the US on through to Russia in 2018. I think my biggest concern in the long-run would be whether or not he has the ability to continually recruit non-American born players to the program.
He's never had experience with a foreign club, and while he has had time working with some of the Galaxy's designated players, he doesn't have nearly the same type of pull that Klinsmann had overseas.
However, I think that he will do something that Klinsmann failed to do: involve MLS players. During Klinsmann's reign, MLS players seemingly took a backseat on the squad with a clear preference to European-based talent. The biggest example of that being Benny Feilhaber. Whether or not this increased MLS participation is a positive isn't clear at the moment, I think that it could provide some fresh blood to a squad severely lacking in passion.
Some reports have hinted that Arena might just be serving as a temporary solution to the US's problems and he could just be there to steer us through The Hex after such a terrible start.
If that's the case, I'm all on board for Arena Episode II. Right now, our biggest focus has to be just qualifying for the 2018 World Cup. Failure to make it through to Russia would certainly spell disaster amongst the US fan base, and would certainly hinder our ability to further recruit foreign-born players to bolster our ranks.
Overall, this is just a time of mixed emotions for a lot of US fans, myself included. Am I happy that Klinsmann finally got the axe? I don't know if happy is the right word, but I am excited to see what the next chapter of US soccer has in store for us. If Bruce Arena is the man chosen, I will give my full support to him, and I will do the same no matter who gets the job.