New York Red Bulls vs. Montreal Impact (Agg. 0-1)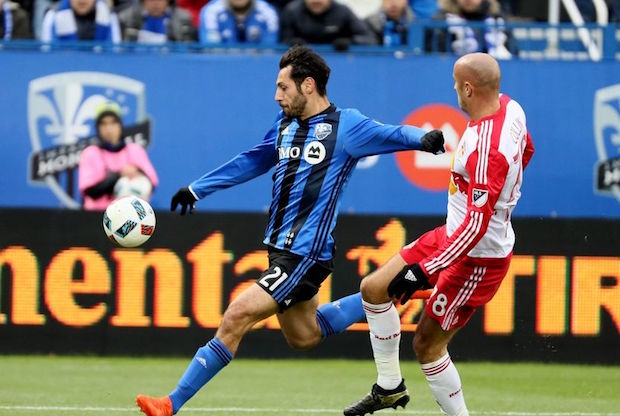 In the first round of New York City team's versus Canadian opposition, we take a look at the Red Bulls versus the Impact. The first leg saw Montreal beat New York with a highlight reel goal from Matteo Mancosu. To add insult to injury to that loss, Omer Damari received a straight red card in stoppage time; so the striker will not be available for Jesse Marsch's side on Sunday. Can the Red Bulls turn it around, or will Montreal be one step closer to their first MLS Cup?
Starting off with Montreal, the biggest question mark for this match, and really the entire playoffs, is Didier Drogba. The Chelsea legend hasn't appeared for the Canadian club since September 28th, and has apparently been throwing a bit of a temper tantrum in recent weeks after being named on the bench against Toronto in mid-October. Drogba has now returned to training for Montreal and pending a flare up in his back or just a coaching decision, he looks set to play at least some part in Sunday's match. The 38-year-old scored 10 times this season, but never against the Red Bulls. Let's see if he can silence the critics in this crucial second leg fixture.
In the first leg, the Red Bulls had no shortage of goal scoring chances. You could easily argue that they should have at least walked out of Montreal with a draw, and maybe even win. Bradley Wright-Phillips alone had several opportunities that you would have bet your house on for him to score. I think that the Red Bulls are going to continue to have a difficult time on Sunday, especially if Montreal decide to park the bus at the back. That puts the pressure on New York's two MVP candidates, BWP and Sacha Kljestan, to unlock the defense and find at least one goal at home (they've only been shut out twice all season at Red Bull Arena).
Even with the potential return of Drogba to the lineup, I don't think that Montreal can pull off another escape act in the second leg. I attribute their 1-0 win in the first leg to the Red Bulls' inability to finish rather than they're defensive talent. New York hasn't been held scoreless in back-to-back matches since July and I don't see that happening now. Final score Red Bulls 2-0 Montreal
New York City FC vs. Toronto FC (Agg. 0-2)
Now for the second round of the Big Apple versus our neighbors to the north. In the other Eastern Conference semifinal, we see Patrick Viera's NYCFC host Toronto FC at Yankee Stadium. In their first leg matchup, the Canadians walked away with a convincing 2-0 win. Now, NYCFC must find a way to rebound or their first playoff run will come to an early end.
For Toronto, I'm not sure that there's too much Greg Vanney needs to change going into Yankee Stadium. For the majority of the first leg, the Canadians looked like the better side as they created chance after chance in NYCFC's final third. The players need to make sure that they keep their composure on the pitch and don't give away any silly fouls, or take any unnecessary cards. At the end of the first leg, we saw some emotion bubble over, and Vanney argued after the game that David Villa should've earned a suspension for his kick on Armando Cooper. After getting a harsh snub from any individual awards from the league, Toronto look determined to take home the biggest piece of silverware and prove their doubters wrong.
Switching to Man City feeder team / NYCFC, Viera is going to really need to think about what type of team he wants to send out on Sunday. The second year club looked outclassed in the first leg, and the Frenchman drew criticism for playing a seemingly defensive lineup at BMO Field. Now, there is no room to play conservatively. In the first leg, we saw David Villa get subbed off while the game was still 0-0 despite being the team's leading goal scorer in the regular season. Back in March, the former Barcelona striker scored twice against Toronto and that type of performance will be a necessity if NYCFC hopes to move on to the conference finals.
This match was a lot easier to predict than the other New York/Canada fixture. In my opinion, Toronto are the more complete team, and with a two-goal advantage, I don't think NYCFC have enough left in the tank to advance. Look for Sebastian Giovinco to show the league it was dead wrong for not including him in the final three for MVP as Toronto ease into the next round. Final score NYCFC 1-2 Toronto
READ: Our MLS Western Conference Preview