Colorado Rapids vs. Los Angeles Galaxy (0-1 Agg.)
Even though the LA Galaxy won the first leg of this tie, I'm not so sure you can consider them the favorites to advance out of it. Not to take anything away from Bruce Arena's squad, but that match could have just as easily have ended in a draw. A headed goal from Giovani dos Santos proved to be the difference, and now the Galaxy must travel to Colorado to try and defend their slim one-goal advantage.
A notable absentee from LA's starting lineup on Sunday was Robbie Keane. The Irish striker was left out due to fitness concerns, but now he looks set to return to full duty. If I had to guess, I would assume that Keane will replace Alan Gordon in the starting lineup, and he could cause some real problems for Colorado's defense. Through the regular season, Keane was second on the team with 10 goals, and despite his age (36), he still has a lethal nose for goal. When the Galaxy traveled to Colorado last season, Keane found the back of the net in a commanding 3-1 win, can he help replicate that result this time around?
Only one team in Major League Soccer was able to maintain an unbeaten record at home this season. Sadly, for LA, that team was the Colorado Rapids. Through 17 matches, Colorado posted 11 wins and six draws. In that span, they scored just 20 times (1.17 goals/game), but defensively they were near impenetrable allowing just seven goals (0.4 goals/game). In their last five home matches, the Rapids have kept three clean sheets. Even with the West's best attack coming to town, you have to feel confident if you're a Rapids fan. The big question will be if they have enough attacking talent to grab just one goal to at least force extra time.
While I think that it would be a lot of fun to see Landon Donovan cap off his brief return to professional soccer with a trip to the MLS Cup, I don't see the Galaxy pulling one over on the Rapids in Colorado. With Tim Howard between the pipes, Colorado should feel confident that they won't have to worry about conceding. This will be a tight fixture, but my prediction is a win for the Rapids. Final score: Colorado 1-0 Los Angeles (Colorado advance in penalty kicks)
FC Dallas vs. Seattle Sounders (0-3 Agg.)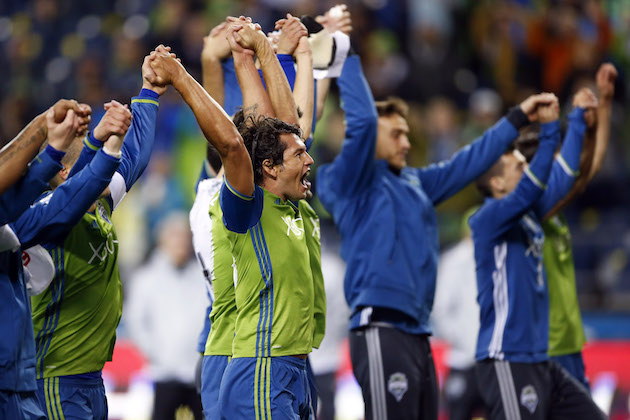 If you're an FC Dallas fan, you can't help but imagine what this match would look like had your team not collapsed for 10 minutes in Seattle. Granted, they were pretty lucky to get that far into the match without conceding in the first place; but now, Dallas is tasked with a near impossible mountain to climb at home on Sunday.
Starting off with Seattle, I think that the biggest concern that Brian Schmetzer is going to have is keeping his team focused on this match and not looking ahead to the Western Conference Finals. Even with a three-goal lead, if the Sounders go to Texas thinking that this fixture is a mere formality, FC Dallas will jump on them. If Seattle can grab a goal early, it will surely zap any momentum and fan optimism at Toyota Stadium. Look for Jordan Morris and Nicolas Lodeiro to set the tone early, and put to bed any hope Dallas has of making a comeback.
For Dallas, I think they have to focus on not throwing everything into the attack from the start. Fans will want Oscar Pareja to go with an all-out-attack playing style as quickly as possible to make up the three-goal gap, but all that's going to do is leave them vulnerable to Seattle on the counter. Like I said earlier, pretty much any goal from the Sounders will be fatal, and being too invested in pushing men forward could cost them dearly. Goalkeeper Chris Seitz will need to be on his toes, and I'm sure that he'll be hoping to make up for the porous defensive effort in Seattle.
In the first leg, Seattle were hands down the best team on the pitch. They looked deadly in attack, and were rarely troubled defensively. With their commanding aggregate lead, I think that fans can safely plan for a trip to the conference finals. Final score: Seattle 1-1 Dallas (Seattle advances)
READ: Our MLS Eastern Conference Preview