It's official, Pep Guardiola will be leaving FC Bayern Munich once the 2015/16 is over and with his announcement begins the feeding frenzy! Just like when he announced his decision to leave FC Barcelona, the Catalan super coach is bound to have the biggest clubs in the world vying hard for his services.
The world of soccer has many great coaches today but even among them, Josep Guardiola is in a class by himself. He transformed FC Barcelona from a giant on shaky ground into the beast they are today. He has transformed FC Bayern from a great club into a great club that plays the best football in the world! Now that his time at Germany's biggest club is at an end, what's next for Pep? Over the next few paragraphs, we'll look over the options.
Pep's ability is not in any doubt. He's a master at refining gold, an alchemist of the highest caliber and his next port of call will be a club with major gold to spare. Gold in terms of spending ability and gold in terms of talent. As much as some people may claim that Pep is the Phil Jackson of the soccer world (*Jackson famously has 11 NBA championship rings as a coach, but he had Michael Jordan and Kobe Bryant in their primes so some say his wins were due to them), it's not easy coaching great talent. Yes, Pep had some super players at Barcelona and Bayern but it takes a special kind of manager to make them gel and play exquisitely while at it. All you have to do is look at Real Madrid and Man United to realize that all the talent in the world without a great coach doesn't count for anything. So yes, he's not going to be heading over to Leicester or Valencia or a smaller side. He'll go to one of the biggest clubs in the world, a side flush with money, ambition to be the best, and great players on the books already, and rightly so.
The big European leagues are Spain's La Liga, Italy's Serie A (barely still a big league at this point but they contain some of the biggest sides in Europe, so we'll give respect where it's due), Germany's Bundesliga, the French Ligue 1 (barely counts), and the English Premiership. There are two giants in Spain, he's already coached one and Luis Enrique is doing a marvelous job so it's safe to assume Pep is not returning to the Nou Camp. The other giant is Real Madrid where Rafa Benitez is struggling to contain the beast that is Los Blancos. It'd make for interesting times to see him go there but it's safe to assume that because he's a fierce Catalan loyalist who coached Barca not too long ago, he won't be betraying that nation by coaching Real so that rules out Spain. Italy has big clubs but none of the traditional giants could afford him except maybe Juventus FC who are enjoying Maxi Allegri's work so that rules out Italy. It's safe to assume he's not going to leave Bayern for another German side and also none of the other Bundesliga sides would meet the criteria stated above so that rules out Germany. PSG is the only French side that comes to the radar when talking of Ligue 1. Laurent Blanc has them playing some scintillating footie lately and would Pep want to coach in another league dominated entirely by one team after his time at Bayern? I'd have to say I don't see it happening, so that rules out France. This leaves us with the richest league in the world, the English Premier League (EPL).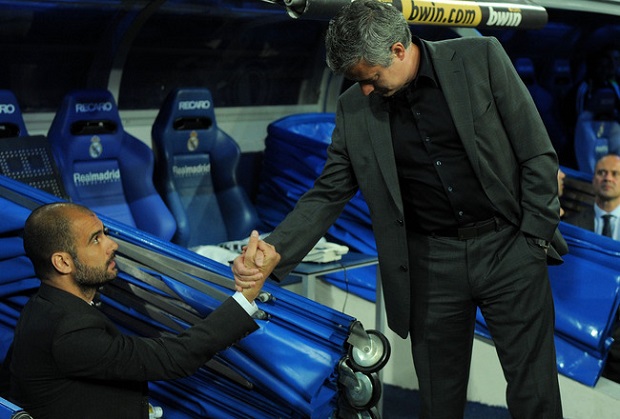 In England, there are a few giants who have deep pockets, great history, a lot of ambition and decent wells of players currently on the books. The two Manchester giants, Chelsea and Arsenal from London, and finally Liverpool. We can very quickly rule out the Liverpudlians. They just got an excellent coach in Jurgen Klopp and from all indications, they'll give him a long rope to achieve set goals. This leaves us with the two London sides and the two Mancunian super clubs. For the sake of reality, we'll rule out Arsenal as well. The London giants would probably be the best fit for Pep stylistically but changing a club's stylistic approach has never been a problem for Pep which means the best stylistic match is not necessarily where he'd go. Furthermore, Arsenal have Arsene Wenger, a legendary manager who has shown no signs of slowing down and whose contract runs till 2016/17. Arsene is notorious for saying he sticks with his contracts so unless some miracles happen, Arsenal will not be in the Pep sweepstakes. This leaves us with Manchester City Football Club, Manchester United Football Club, and Chelsea Football Club. We'll look at the chances of him going to those sides in descending order of 'possibility of winning the Pep sweepstakes'.
3. Manchester United FC
Manchester United are the richest club in the world. Alex Ferguson laid giant footprints all over their history and those prints still plague them now as they try to replace one of the greatest managers European soccer ever had. David Moyes tried and he failed. Louis Van Gaal is giving it a go right now and after a fair start, the honeymoon's over. The boo birds have been out at Old Trafford as the side plays uninspiring football while struggling to get results that would appease Red Devils. Van Gaal has United competing for the title in another bad EPL year (the last few years have been poor for the Premiership as the quality of the top sides has been shambolic while the bottom/mid table sides have gotten better, all this leading to a tight league) but competing isn't enough in United land. You have to compete and compete with a force that he's not quite been able to instill in his lads. The latest rumors have linked Jose Mourinho with the Old Trafford job (fresh off his Chelsea sacking). If anyone has the temperament to pull MUFC out of the mire, Mourinho's combative personality would be the one. He should have replaced Sir Alex to begin with but the stars never quite aligned and now may be the time for him. Pep would fit in excellently too and bring them instant success but Van Gaal is still in charge and the other two sides on this list have a better chance of winning this sweepstake.
2. Chelsea FC
The Blues would seem like a perfect side for Pep. They have money to spare. They have great players. They're used to winning. They have recently fired Mourinho and Guus Hiddink is only the interim manager till the end of the season. The job will be open for Pep whenever he finishes his work at Bayern in the summer. Roman Abramovich has wanted his club to win and win while playing stylishly. For long he's been unhappy with just winning. He wants sides that will be remembered for winning while blowing away the world with stunning football. Pretty much, he wants sides like the ones Pep has coached in Spain and Germany. He wants his side to impose its will on the opponent, he wants tiki-taka, he wants the fans gasping for breath at the spectacle of Chelsea but even though different managers have won for him, none of those Chelsea sides has quite gotten to the level he wants. I can imagine he'd give anything to land Pep Guardiola. This would be a match made in footballing heaven. Pep would bring a style to Chelsea that their owner wants, so why is Chelsea only #2 on this list?
1. Manchester City FC
The Blues are only #2 because the Citizens are #1. You can argue that everything City has done for years has been laying the foundation for Pep Guardiola to take over. They wanted him to take over after he left FC Barcelona but he insisted on taking a year away from the game. They tried again when his sabbatical was up but he picked Die Bayern. Now he's free again and they will ensure the third times a charm. City are run by Ferran Soriano (CEO) and Txiki Begiristain (Director of Football) who helped construct Barcelona. The former is Catalan and reportedly close to Pep. For years, one has had the sense that Manuel Pellegrini was keeping the seat warm for Guardiola. Indeed the Chilean is reported to have responded to a question about Pep-City rumors by saying that Guardiola was a great coach and one who would make the club a true giant/behemoth because he was perfect for them and that it was only a matter of time before he joined City. When the incumbent says that, it's simply a matter of time. City and Guardiola would fit well. I have to say it's his most likely destination.
Would Pep be guaranteed immediate success with City? Who knows, the EPL has a strange way of putting men to great test but he'd have as much of a chance of making them the next truly dominant English club in the country and continent as any other coach would. Until then, there's the small matter of winning Bayern the UCL crown. Anything less than a victory there will mean his time in Germany was a failure.