As the Premier League draws to a close, it's time to make predictions about what four clubs will qualify for next season's Champions League. This year, some unlikely names are vying for European spots, and it looks like some of the perennial contenders may find themselves on the outside looking in come May 15th.
4th Place: West Ham United
Right now, the Hammers sit just one point behind Manchester City for fourth place in the table. Slaven Bilic's men have proven to be one of the most skilled teams in the league when they're playing to their full potential, and right now they are in arguably their best form of the season. West Ham are in the middle of an eight-game unbeaten run between the league and the FA Cup, and have only lost twice in all of 2016.
During this impressive streak, the Hammers have gotten results against other top-four contenders like Tottenham (1-0 win), Manchester City (2-2 draw) and Liverpool (2-0 win). They do face a difficult stretch to close the season with fixtures against Arsenal and Manchester United at Upton Park, and also a trip to the King Power Stadium to take on Jamie Vardy's Leicester City. The results against United and Arsenal could see West Ham potentially jump all the way up to third in the table and even avoid the hassle of playing a Champions League qualifier.
One man to watch for West Ham has to be Dimitri Payet. The French midfielder has thrived during his first season in the Premier League, and these amazing performances convinced West Ham ownership to sign him to a five-year-deal earlier this year. Payet is easily one of the most creatively gifted players in the league and his teammates have nothing but great things to say about him. Look for him to control West Ham's midfield, and push them into the top four.
3rd Place: Arsenal
Wouldn't this finish be considered good for Arsenal? At least they wouldn't finish in their stereotypical fourth place. All jokes aside, I think that Arsenal will crawl into a third place finish based on their current form and club environment. Over the last month, Arsene Wenger's men have been eliminated from the FA Cup by Watford, and the Champions League by Barcelona. Now, the Frenchman is facing louder and louder calls for ownership to end his 20-year reign at the club.
Despite the criticism and disappoint that the Gunners faced away from the league, they have actually grabbed some valuable points against the other top-four contenders within the last two months. A 2-1 victory against Leicester City renewed some optimism into the Arsenal faithful, but this was quickly displaced with disappointment when my hero Marcus Rashford scored a brace during a 3-2 loss to Manchester United. After the loss to United, it took an inspired fight against Tottenham two weeks later to steal a point from Spurs and keep them firmly in third place.
Luckily for Wenger's club, they don't face the most difficult stretch to close out the season. Other than matches against West Ham and Manchester City, the Gunners won't play a team that is above 11th in the table. This "easy" finish to the campaign should see Arsenal retain their current third place standing, but who really knows with what else has been going on this season?
2nd Place: Tottenham
Being from St. Louis, I've noticed that more people from my hometown have jumped on the Tottenham bandwagon, as of late. It has nothing to do with Spurs borderline magical form this season, but due to their rivalry with Stan Kroenke's Arsenal. For those of you that don't really pay too much attention to the NFL, Kroenke is the owner of the LA Rams, and over the winter he tore out the hearts of every single Rams fan in St. Louis when he decided to relocate the team to California.
With that being said, I really hope that Tottenham finish above Arsenal this season. Right now, it looks like they have a great shot at doing just that. Mauricio Pochettino's squad sit six points ahead of their North London rivals, and have been one of the most in-form teams in the league in recent months. Ignoring their elimination from the Europa League and the FA Cup, Tottenham have actually only lost once in their last ten matches, with their only loss coming to West Ham earlier this month.
There are so many talented players on Tottenham that you could highlight during this final stretch, but I'm going to focus on Harry Kane. The masked English striker has now proven, without a doubt, that last season's 21-goal tally wasn't a fluke as he's already matched it with eight games left in the season. A brace against Bournemouth last matchday, and an absolute screamer against Arsenal showcase his amazing nose for goal, and no one should be surprised when he bangs in a few more to close out the season.
1st Place: Leicester City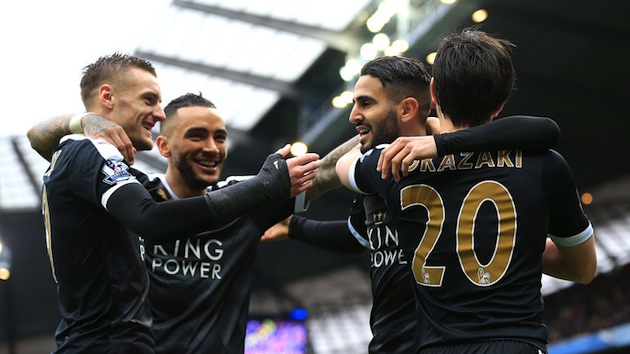 One of the things I didn't mention for Tottenham are their chances to catch up to Leicester City for the top spot in the league. That's because I really don't see them doing it. The Foxes have shown time and time again that they aren't just riding their luck against the "big" clubs, but that they actually have the skill and the passion to take down anyone in the league. Even with their relatively tiny wage bill, Leicester have taken down the likes of Manchester City (3-1) and Liverpool (2-0) within the last two months.
Their head-to-head record against Tottenham this season isn't the best (two draws, two defeats), but luckily for Claudio Ranieri they don't have to play Tottenham again. Out of their eight remaining opponents, the Foxes haven't lost to any of them this campaign. Granted, they do face difficult matches against Man United, West Ham and Chelsea to close out the year, but I think that they'll be able to handle themselves and secure the title with two or three games in hand.
The partnership that will drive home this completely unexpected title run will be Jamie Vardy and Riyad Mahrez. These two have grown into one of the most lethal attacking duos in the league combining for 35 goals and 17 assists. While it's unclear whether or not both players return to the club next season, it looks like no matter what they'll finish this year as the champions.