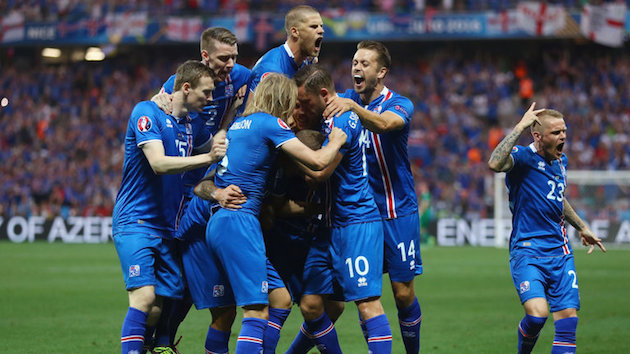 Unless you've been sleeping under a rock during all of the European Championships, you've heard of the miracle story that is Icelandic soccer. The Vikings have captured the hearts of fans around the world over the last month as they've risen from tournament newcomers to quarterfinalists.
The small nation with a population of just over 330,000 (my hometown of St. Louis has just 10,000 less people) wasn't even expected to earn a single point this tournament, and now they've gone undefeated with victories over Austria and England. While some underdogs gather a new fanbase for the sole reason that they're underdogs, Iceland's story is so much more than that.
The Fans (the ones actually from Iceland)
How much of a crowd can you really expect a nation of less than half a million to muster up at a soccer tournament? Apparently you can expect quite a lot. According to the Associated Press, almost 27,000 Icelanders have bought tickets to attend the matches in France. That number represents eight percent of their entire population.
In an interview with VICE Sports, Iceland's co-manager/part-time dentist Heimier Hallgrímsson said, "We don't have an army. We're too few to have an army. So this (the team) is kind of our army." The support shown to this "army" is nothing short of inspiring. The connection between the players and the fans is obvious during every match. Support never wavers and so far there hasn't been a reason for the fans to be anything less than ecstatic about their team's performances.
After their historic victory over England, the players immediately sprinted over to their home corner of the stadium and celebrated with the fans. While some others nations may take their support for granted, Iceland's tight knit community has established a very real bond between the players and their compatriots in the stands as shown by Hallgrímsson's home pregame tradition of announcing the starting 11 at a pub full of fans. It also doesn't hurt to have The Mountain counted amongst your faithful.
The Commentator
While the team and the fans have been exciting to watch, you can't forget about the voice illustrating the match to Icelanders back on the motherland. Gudmundur Benediktsson (I'm glad I only have to type that because pronouncing it would be a nightmare) has become an internet sensation thanks to his passionate play-by-play announcing.
When Iceland scored a stoppage time equalizer against Austria to seal a place in the knockout rounds for the first time in their history, Benediktsson went absolutely nuts. Clips of his announcing made its way around the world on networks such as ESPN, and Stephen Colbert even sang his praises on his new Late Show.
After the victory against England, the enthusiastic commentator endeared himself to even more fans after making a jab at the UK's decision to leave the EU. While Benediktsson unfortunately lost his day job as an assistant manager of KR Reykjavik, he has quickly become the voiceover for Iceland's Cinderella run through Europe.
(Last but not least) The Team
While it's fun to live vicariously through the fans and enjoy a nice internet clip, you really can't get behind a team if you don't like the players. Luckily, Iceland's players have made it very difficult to dislike them. Their enthusiasm and excitement just to be at the Euros is intoxicating and it's so refreshing to see players really celebrate after a positive result.
I know that some people *cough cough* Ronaldo *cough cough* haven't been the biggest fans of Iceland's exuberant celebrations on the pitch. CR7 was none too happy after the Vikings nicked a draw against Portugal in the opening match, telling reporters, "I thought they'd won the Euros the way they celebrated at the end. It was just unbelievable…this in my opinion shows a small mentality and [they] are not going to anything in the competition." While I love Ronaldo for what he did with Manchester United, I have to wholeheartedly disagree with him on this one.
In a tournament where every team seemingly has several superstar players that no normal fan can relate to, Iceland is full of "normal" guys. You watch them and you connect with them. You live vicariously through their success and are overjoyed when they take out the big guys. I know that the chances of them getting past France in the quarters are slim, but I can't help but hope that this miracle run continues all the way to the final.