The second half of La Liga is providing soccer fans with one of the most entertaining title races in top division competition. At the end of 23 weeks, the top three spots are separated by a grand total of seven points. Real Madrid lead the pack with 57, Barcelona follow closely behind with 56, and Atlético, who dropped a valuable three points this week, sit in third with 50. Each team has shown impressive form during this campaign and it is very apparent that any streak of poor performances will almost certainly cost each of the three a chance at the title.
Los Galácticos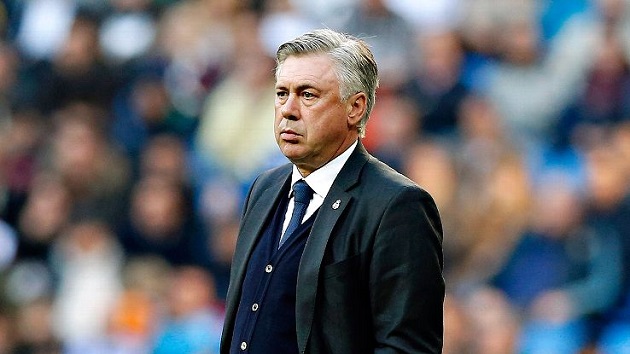 Last year, Madristas saw their team finish a disappointing third in the league behind the two teams that they currently lead in the title race. The disappointment from their league standing was quickly dismayed by their long awaited tenth Champions League title. The Champions League victory paired with the signing of James Rodriguez from Monaco and Toni Kroos from Bayern München gave fans a lot to be excited about for the 2014-15 campaign.
Real Madrid's star-studded lineup currently sits atop La Liga. The BBC attack force of Karim Benzema (12 goals), Gareth Bale (10 goals) and the reigning Ballon d'Or winner Cristiano Ronaldo (28 goals) have helped to pace the Madristas to a +50 goal differential. The only team with a better differential is their bitter rival Barcelona. Perhaps the most impressive stat of the campaign thus far is the amazing 22-game winning streak that Los Blancos put together between September 16th to December 20th. This was the longest string of victories that the club has ever had in their illustrious history.
2015 has seen Real rack up a total of 18 points from 24, losing only two games out of eight. It is hard to imagine any team stopping a squad with the depth that Madrid has on their bench. Players that would walk onto almost any other starting eleven in the world such as Pepe, Sami Khedira and Javier Hernandez (Chicharito) can barely find playing time under Carlo Ancelotti. Their midfield group of Kroos, Isco, James, and Luka Modric has assisted 23 goals this season. The Sergio Ramos-led backline let up a grand total of 22 goals through 23 games (0.95 goals/game). It will take a strong run from either of the challengers to usurp Madrid from their pole position. If the current leaders are able to balance their Champions League, domestic cup and league schedule in check, they should be able to keep their position atop the table.
What Problems?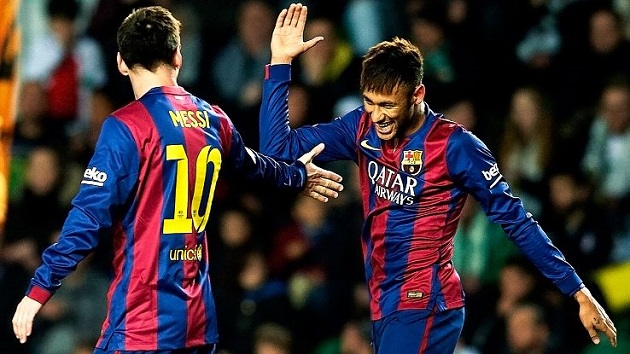 Any team that has Lionel Messi, Neymar and Luis Suarez is going to challenge for whatever title they are competing for. After appealing their FIFA-imposed transfer ban, the Catalan squad were able to sign the prolific Suarez in the summer window (31 goals for Liverpool in 2013/14). Although they did not splash as much money on star players as Real, Barça has been able to stay very much within striking distance of the league leaders.
There was a period of concern for the Catalan faithful earlier in the campaign. News stories were circulating about a possible rift between manager Luis Enrique and rumors of Messi trying to convince the board to choose between him and the new manager. This made people think that the Argentine's storied career at the Nou Camp was at its end with Chelsea and Manchester City seen as possible destinations in the Winter window. Well, January has come and gone and Messi and Enrique remain at the club. Since the start of the New Year, the duo has helped Barcelona win 10 out of their first 12 matches in La Liga and the Copa del Rey. Some would argue that the Blaugrana has been the best team out of the gate to restart the Spanish season.
Although Suarez hasn't yet hit the form that he had in England since his lengthy suspension from FIFA ended in October, Neymar and Messi have made up for it by netting 43 goals between the two of them. The young Brazilian is continuing to prove to the world that he is worth the hype that convinced the Spanish outfit to spend an astounding €87.2 million to bring him over from Santos in 2013. Since his move, Neymar has scored 26 goals and registered 12 assists in league play. He has been instrumental in the team's attack and is able to take some of the attention away from Messi, which gives the four-time Ballon d'Or winner more space and time to work with. If Messi and Neymar are able to continue their impressive form for the rest of the season, Barcelona will be able to make a strong push to retake their league crown after a disappointing second-place finish last season.
Reigning Champs
Atlético Madrid were the surprise team in Spain last season as they overcame both Barcelona and Real Madrid to win the league. This was their first league title since 1996. The play of Diego Costa and Thibaut Courtois lifted the often overlooked team from Madrid to new heights domestically and even brought them to that year's Champions League final where they lost to their crosstown rival dramatically in extra time.
Many fans were doubtful that manager Diego Simeone could recreate 2014's success with both Costa, Courtois and defender Felipe Luis leaving the Spanish capital for Chelsea at the end of the season. However, Simeone has been able to make shrewd transfer dealings by bringing in Antoine Griezmann and Mario Mandzukic in the summer (the two players lead the team in goals with 12 and 11 respectively) and bringing Fernando Torres back to his boyhood club. These new additions paired with the strong existing core of players including Diego Godín, Koke and Tiago have kept the team firmly in the title hunt.
Perhaps the most interesting storyline of the year for Atlético is the resurgence of Fernando Torres. It wasn't too long ago when Torres was the butt of almost every joke in the footballing world. His big money move to Chelsea seemed to put more pressure of the Spanish striker than he could handle. His misses became internet sensations and his name became slang for other's horrendous shots. Perhaps the most notable miss was his misfire against Manchester United.
The striker never found his goal scoring form at the London club and moved to AC Milan in 2014 in an attempt to revive his career. Italy only brought more disappointment for the player they once called El Niño. More notable misses graced blooper reels and many fans lost any faith they had left in the player that once scored four goals against Manchester United at Old Trafford. His time in Italy was short lived as he was loaned back to the team that he started his career with in Spain.
It seemed as if all Torres needed was to be back at the Vincente Calderón to score goals again. In his third appearance for the club, the striker scored twice against Real Madrid in their Copa del Rey tie. Then in the next round of the tournament, he scored in both legs against Barcelona. So far, Torres has collected four goals and one assist in his return and has started almost every game that he has been a part of, playing the full 90 minutes seven times.
Even though Atlético currently sit seven points behind first place, it's worth noting that they have yet to lose to Real Madrid this season (three wins and two draws). As long as they keep up their pattern of never going more than two games without a victory, the reigning La Liga champions could very well add some extra drama to the final weeks of the season.