In match day eight, several teams needed to find their winning way in order to avoid being sent packing early from Brazil. Colombia and the Ivory Coast would be looking to stand on top of the table after their match, England and Uruguay would need a win in order to avoid being put in a very difficult situation within their group, and Greece and Japan would be hoping to sneak back into the competition for their group. Who would steal the headlines for today and would any of these teams have to walk off the field knowing that their journey is over?
Colombia vs Ivory Coast
In a match where the leader for Group C would be decided (this tournament has truly spoiled us in terms of expecting an outright winner instead of a draw), Colombia and the Ivory Coast got the day started. In the opening stages, the Ivory Coast would dominate possession with Colombia attempting to score on the counter. However, the opening exchanges would result in very few clear-cut chances…that is, until the 28th minute…when Gutierrez would spurn one of the easiest chances of the tournament as he was given the ball on a plate…perhaps the Colombian was paying tribute to Fernando Torres…? There would be the occasional flash of opportunity for both teams, but neither seemed to be able to get on top in this contest.
The second half would look amazingly open, with the only true question being which team would score first. Defensive openings and clumsy fouls would become ever-present in the second half, with neither side able to grab hold of this game. Still, if you provide a team with enough chances, they will eventually score, as Colombia did in the 64th minute from a cannon-blast of a header from Rodriguez. As Drogba had entered into the game a few minutes prior, could Ivory Coast find a response? The opening goal had completely opened this game up, but the next goal would come from Colombia in the 70th minute Quintero finished off a counter to take control of the game and the group. While Gervinho would duck and weave his way into the box to take the score to 2-1 in the 74th (all the while having Arsenal fans go "Where was that!?!?"), the Ivory Coast will not feel completely out of contention as a victory in their last game could still propel them to the knockout rounds.
England vs Uruguay
"Suarez starting" was the biggest order of the day for this match. While everyone wondered how big of an impact the Liverpool star would have, it seemed obvious that Uruguay (as a whole) were more confident with their number 9 on the pitch. The opening chances for England came from dead-ball situations, but the keepers for both sides seemed unprepared for the occasion as both showed a few questionable decisions early on. England certainly felt the more likely to score, but both squads looked unable to find an adequate attack. It has to be said, that for the first 30 minutes, there was never a very dangerous shot on target from either team (though, Diego Godin did flirt with a second yellow card…). Then, on almost the stroke of 30 minutes, Wayne Rooney continued to be found wanting at World Cups as he missed a point blank header to put his squad ahead. Then, after 38 minutes, Luis Suarez (who else?) scored a goal to put Uruguay 1-0 up. A nice cross from Cavani that Suarez placed just beyond Joe Hart's outstretched hand. While England would press hard for an equalizer in the remainder of the half, the intermission would come with Uruguay on top.
The second half would begin with Uruguay attempting to go up 2-0 instead of looking like England could level the match. Suarez may have lost some speed after his surgery, but his class and talent were starting to shine through. However, Uruguay just could not find a finish to nearly constant pressure…and England looked like they were still in the locker room from halftime. And, of course, Wayne Rooney would add to the drama with the keeper at his mercy in the 52nd minute as he smashed the ball into Muslera. However, in the 60th minute, Pereira set Twitter alight by going down with an obvious concussion and then (almost immediately) returning back to the pitch…just ask Taylor Twellman, and he will tell you that this is an issue that needs to be discussed at the highest level of FIFA. Still, England pressed for their equalizer and much needed relief, making it unbelievably fitting as Wayne Rooney would provide the crucial tying goal in the 75th minute. The relief would only be short-lived, as Suarez would pop up with the soul-crushing winner in the 85th minute to put England in a horrible position. Who will survive the group and who will perish? The pressure piles on…
Greece vs Japan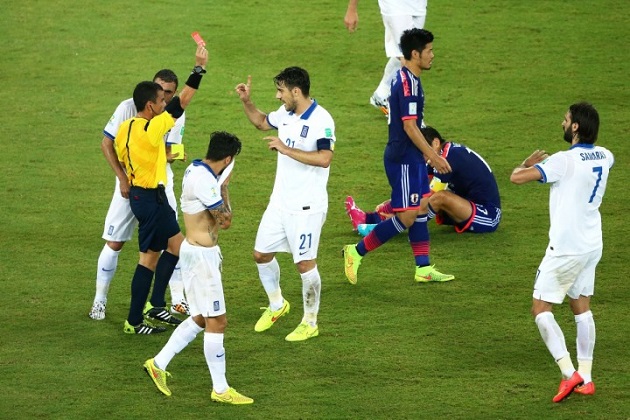 In the last game of the day, both Japan and Greece would be aware that a win could see them in perfect position to progress, while a loss would (effectively) knock them out of the tournament. While Japan would start the brighter of the two, Greece would begin to grow into this fixture in order to provide a decent ending to the day. Lots of tackles, lots of free-kicks, and very few shots that actually looked very dangerous…such was the order of the first 37 minutes. Then, two yellows for the Greek captain would send the Greek side down to 10 men and create more intrigue in this fixture. Sadly, Japan would not be able to take advantage as the first half would come to a close…a victor would have to be found in the second 45…
While ten men should have been a good prospect for Japan, their final ball always seemed to be poor and Greece refused to allow Japan to break them down. Surprisingly, it almost seemed more likely that Greece would snag the first goal of this fixture. For Japan, however, every attack seemed to culminate into an extremely poor final ball that would allow Greece to keep the score at 0-0. Although the Greek defense was formidable and should be praised for getting a point after going down to ten men, it really feels like Japan wasted the opportunity in a very promising situation. Poor from Japan, but lots of pressure piled on the last group game.
The suffering for England may have already begun in this young tournament. While some may point to Steven Gerrard's header late in the game, the Liverpool skipper had performed well in the tournament to this point and England fans would do well to remember that he should not bear the sole blame for their performance. For the members of Group C, they would have all felt extremely capable of qualifying when the groups were originally made. Now, only Colombia will be sure of their continued presence in Brazil. Who will be the non-Colombia team to qualify? And how much worse can it get for England?